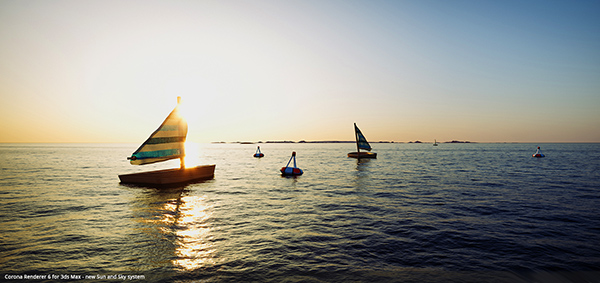 The Corona Renderer 6 update for 3ds Max from Chaos Czech was developed for greater realism, faster rendering and simpler workflows with better creative control of 3D objects and environments for artists and designers.
A new Sky Model can now depict twilight and dawn accurately, producing natural, beautiful looks for the sun positioned down to 2.85 degrees, about 5.4 sun diameters, below the horizon.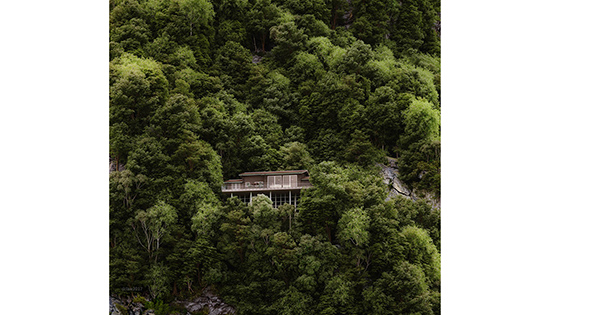 Texture randomisation
As a fully procedural model, it is also simpler to animate and to create time-lapse sunrises and sunsets. Artists can apply multiple skies or suns to a scene, and then toggle through options for afternoon or dusk, for example, using LightMix, which allows you to render once and then change the colours and intensity of the lights directly from the Corona virtual frame buffer.
With the Adaptive Environment Sampler, artists can set up cleaner, more accurate environment lighting without taking time to place skylight portals. Noise levels are improved, showing results that are from 2x up to 9x better.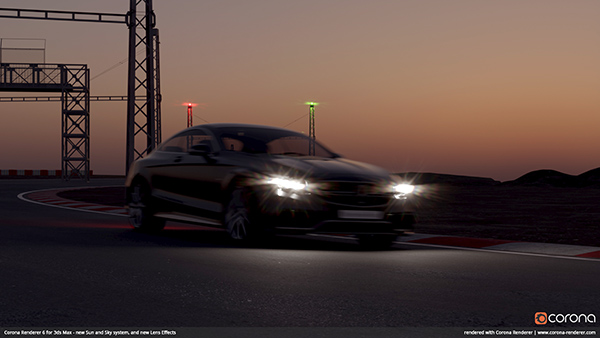 Lens effects
New lens effects have bloom and glare controls that give the artist a chance for more creativity and control over realistic lens effects by including lens dust, scratches and so on.
When using texture tiles, users can automate Texture Randomization in the Corona UVWRandomizer to remove the tiling artifacts for more realism across a scene. The UVWRandomizer map allows you to apply random offset, rotation and scaling to textures and procedural maps, and can now also generate a randomised tiling effect.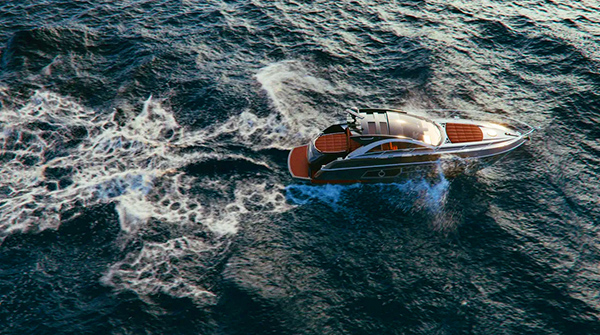 Foam support is added for Phoenix FD artists.
Artists who need to simulate and render foam for realistic moving water features like fountains, the wakes of boats and other flowing liquids now have Phoenix FD foam support.
New Masking options now work within the reflections and refractions of an image, giving the artist more control in post over what happens to reflected and refracted elements. Using the Corona masking elements CMasking_ID, CMasking_Mask, CMasking_Wirecolor, propagation of masks through Corona materials is possible. Artists can choose whether the material can be seen through other masks with refraction propagation, can reflect the masks of other objects, or take both reflection and refraction into account depending on importance.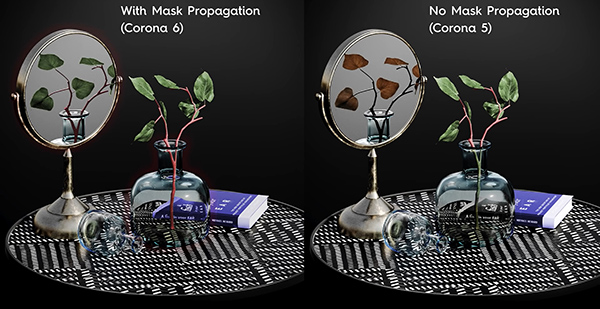 The Material Library in Corona Renderer 6 is also extended with 78 new photoreal assets suitable for archviz projects. Designers looking for different options they can drag-and-drop into scenes have three new categories – flooring, carpet and ceramic tiles – plus 13 new assets in the existing concrete library. corona-renderer.com