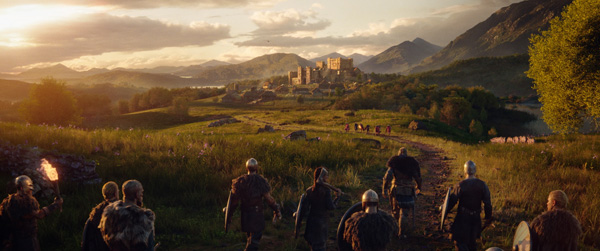 Chaos Group has completed the first steps of its support for Universal Scene Description (USD) in V-Ray 5 for Maya and V-Ray 5 for Houdini as a non-destructive way for artists to collaborate and assemble their scenes. The USD interchange format stores and moves scene data between different applications.
Initially developed by Pixar, the USD format holds the most common types of scene data – geometry, shaders, lights, rigs, hair and so on – to make it easier to share and dynamically update assets without workarounds or compromises to accommodate different software. As pipelines have begun to incorporate more tools and grow more complex, the need for a universal format has become more significant. V-Ray's current support for USD is expected to give artists more flexibility and will continue to evolve as USD itself continues to develop.
Persistent Render Settings
USD also allows a renderer to attach its data to the scene description, which means the definitions and assignments of shaders, materials, lights, cameras and environments persist within the USD file. This makes non-destructive iterations and new assembly workflows possible. When SideFX added Solaris – look development, layout and lighting tools that support USD-based scene graphs – to Houdini, and Autodesk developed MayaUSD for the Maya 2022 release, V-Ray decided to support those new tools so that assets may be shared and combined between the two applications with consistent V-Ray rendering results.
The existing OBJ, FBX and Alembic data exchange formats are well-established and work well, but only store a limited portion of the original scene data and do not carry production rendering information. USD shares data at near full fidelity between artists working on the same assets with different software, and allows round trips.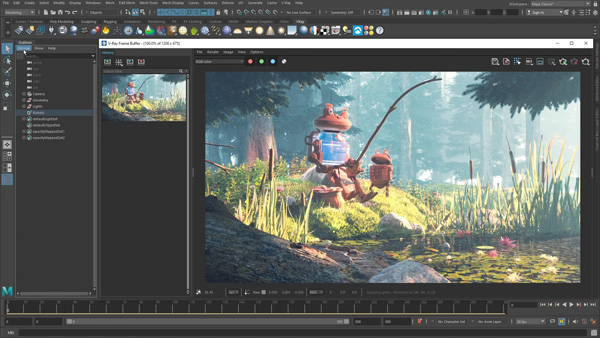 Changes made to data in the USD format are also non-destructive because modifications are stored as layered, incremental edits on top of the original. Each layer establishes scene variations and permutations and brings in specific edits or updates that affect the original.
The USD format can be extended to support any type of data involved in a pipeline. All V-Ray features, for example, can be encoded in the final USD stage, as well as materials, textures, render settings and others.
USD Procedural vs Hydra Delegate
V-Ray's new Maya implementation adds a USD procedural that makes it possible to load and render USD data with V-Ray, as well as export data to USD. V-Ray for Maya supports several of the main asset exchanges, including static/animated meshes, V-Ray materials, subdivisions and displacement, and more will follow. V-Ray workflows with USD in Maya are completely native to MayaUSD support – Maya 2022 users only need to utilise MayaUSD in order to load USD files and render them with V-Ray 5, update 1.
Because SideFX has included Hydra as part of Solaris, V-Ray for Houdini also implements support for Hydra, which serves as an interactive rendering mode for USD. V-Ray 5 for Houdini coincides with the beta launch of V-Ray for Solaris, a dedicated V-Ray Hydra delegate that helps artists work natively in Solaris. The Hydra rendering architecture processes artists' scene updates using delegates that carry scene, change tracking and render data, in order to render asset previews to the viewport.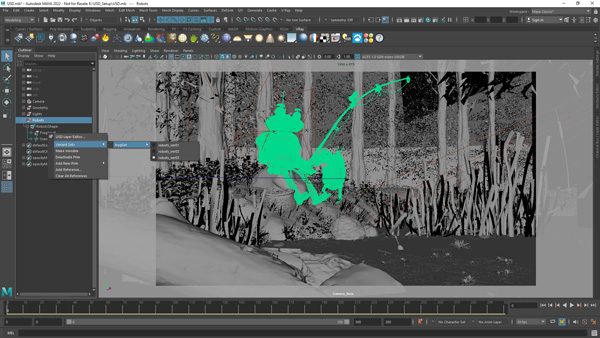 "Having V-Ray run within Solaris joins our layout, lighting and look dev processes into one unified workflow, giving real-time feedback on lighting changes, right in the Houdini viewport," said Dan Englesson, pipeline technical director at Goodbye Kansas Studios.
"Because the V-Ray Hydra delegate is quick, we can interactively change things on the fly without having to restart the renderer. We can navigate around fully textured, lit scenes and, by seeing live changes, make more informed artistic choices than we could before. Furthermore being able to reuse assets made in V-Ray and port them over to USD makes using the format much simpler."
More Updates – Realistic Lights, Frame Buffer, GPU Acceleration
V-Ray 5 natively supports Maya 2022 features, including MayaUSD, has a library of over 500 materials with 4K textures and gives access to V-Ray's masking render elements directly in the V-Ray Frame Buffer's Compositor, including Cryptomatte, MultiMatte and Object, Render and Material IDs, to make adjustments without re-rendering or opening another app.

In V-Ray 5, users can tint the transparency colour of volumetric environment fog, which is useful for underwater scenes. New translucency controls and built-in volumetric random walk subsurface scattering have been added to the V-Ray Material, to improve rendering of realistic skin, plastic and wax. A thin-walled refraction option has been added to render translucency on single-sided objects like a soap bubble or a sheet of paper. Users can also use caustics to simulate how light interacts with reflective and refractive surfaces for more realism.
Light Cache global illumination is now GPU-accelerated for speed and consistency. Out-of-core rendering also supports V-Ray GPU to help with large scenes that exceed the memory limits of the GPU. Once you have rendered a scene with multiple dome light environments, the V-Ray Light Mixer can be used to create custom lighting combinations.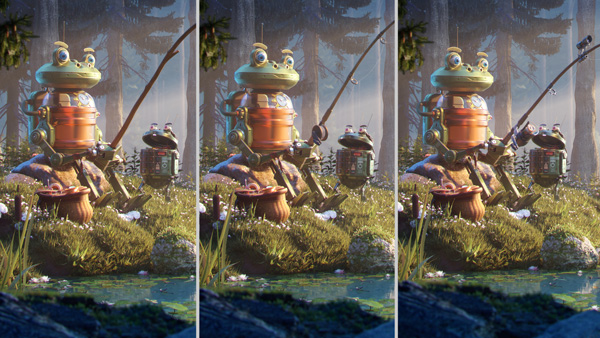 Intel Open Image Denoise improves interactive rendering by quickly cleaning up noise. The Coat and Sheen layers of the V-Ray Material are now visible in the viewport, as well as an initial representation of the VRayLayeredTex.

In Maya, V-Ray can convert opacity-mapped cutouts of objects like tree leaves into geometry to render faster. Importing materials from .vrscene files has been much improved, and imported shading networks will also include more native Maya nodes. In Houdini, texture baking now supports packed geometry, and the Phoenix foam shader helps render whitewater effects faster when creating effects like bubbles, splashes and foam. www.chaosgroup.com