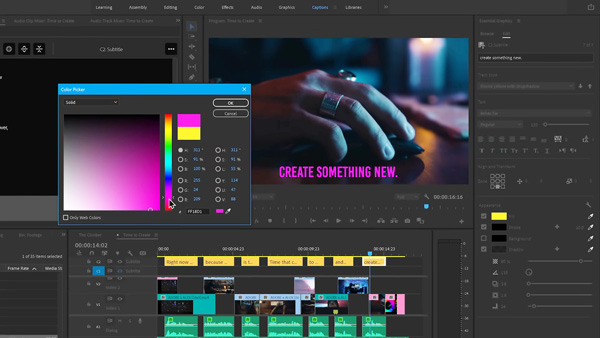 Adobe released updates across the Creative Cloud applications Premiere Pro and After Effects, Substance 3D, Mixamo and the mobile painting tool, Fresco. These updates contribute to simpler, faster workflows, and launch new integrations with the open source 3D tool, Blender.
Speech to Text is a new tool and workflow in Premiere Pro that completes each step of the captioning workflow inside the NLE automatically, while leaving the creative control over the results to the user. As well as shortening the time it takes to create a transcription and captions, it gives the editor new ways to search and navigate video sequences – when you double-click on a word in the Text panel, the playhead moves to that position in the Premiere Pro timeline.
Where changes are needed, users can edit the text in the transcript. When finalised, captions are automatically created from the transcript on the Timeline, using Adobe Sensei machine learning to match the pacing of human speech. The captions can then be customised using the design tools in the Essential Graphics panel. Supporting 13 languages, Speech to Text is included with Premiere Pro or Creative Cloud All Apps subscriptions at no additional cost.
Substance 3D and Mixamo Plugins for Blender
As well as joining the Blender Development Fund, Adobe is launching two new plugins — Substance 3D in Blender and Mixamo Auto-Control Rig Plugin for Blender. The Substance 3D in Blender plugin allows Blender users to access the Substance library of textures and 3D assets without leaving Blender itself, and use the Substance materials (SBSAR) files in Blender projects. With the plugin, users can tweak parameters and switch presets to iterate and reuse assets faster, optimizing the workflow as they go.
Mixamo speeds up the process of rigging biped characters for video games or visual effects, which normally is very time consuming. Mixamo's ability to create a control rig on a character model, by applying motion capture clips, can now be accessed directly inside Blender. The plugin allows you to edit Mixamo's mocap animations – choosing from over 2,500 clips – non-destructively in Blender. Both of these plugins are now available in beta.
Rendering in After Effects
Since the release of After Effects Multi Frame Rendering for export in March 2021, more features have been developed that accelerate After Effects by using all of the cores in the system it is running on. For example, Multi-Frame Rendering for Previews accelerates projects by taking advantage of the system's CPU cores. Speculative Preview will automatically render compositions and any associated pre-comps in the background while After Effects is idle.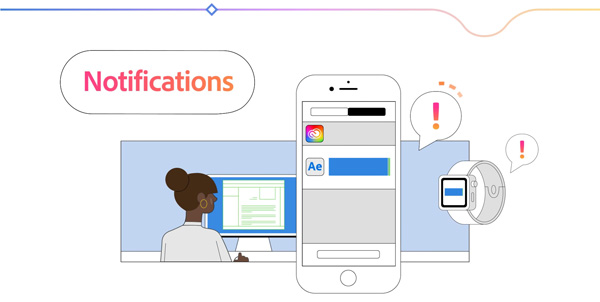 For rendering out compositions, especially to H.264, Multi-Frame Rendering export from Adobe Media Encoder can render multiple compositions in the background while users continue working on others. After Effects will send a notification when renders are complete via the Creative Cloud app, and Render Queue Notifications will display on the user's phone.
Non-destructive Layers in Fresco
Adobe Fresco is Creative Cloud's drawing and painting app built for stylus and touch devices like iPad, Wacom tablets and phones. It has vector and raster watercolour and oil brushes, and AI-powered 'live' brushes. In continuous development, it now has non-destructive Adjustment Layers, Graph Grids for precise placement, expanded preferences and masking support in iPad and Windows. Like iPad users, Windows users can now access the Photoshop brush libraries by Kyle T. Webster, as well.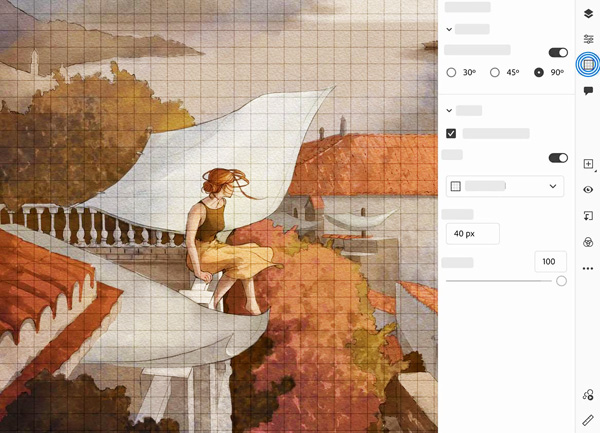 With the Colour Adjustment Layers, you can experiment and make a colour change without making a permanent colour commitment, which is useful for applying non-destructive tonal and colour edits. Hue/Saturation, Brightness/Contrast and Color Balance are accessed through the Appearances icon in the taskbar.
In Fresco's Precision panel, users can now access and control new Grids graph overlays used to align the elements of a design with the overall vision, Transform mode to snap a layer to the centre of the canvas, and Rotation Snapping. Masking support is now available for Vector, Type and Image layers. Layer masking makes changes reversible on every layer in Fresco.
Beginning with this version, Fresco will remember the customisation of your work surface each time you open the app. It will also remember which tool you were using when you last closed a document. www.adobe.com