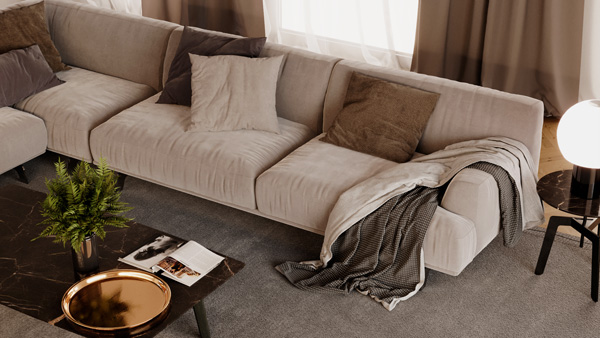 Corona Renderer 7 for Maxon Cinema 4D includes the new Physical Material for setting up photoreal surfaces, gives artists access to the Corona Materials Library directly from within Cinema 4D, adds realistic lacquer with Clearcoat and depicts digital weather using real data. The Corona Volume Grid now loads OpenVDB files to render simulations including smoke, fire, water and others.
New Physical Material and Materials Library
With 35 new presets for glass, metal and fabric, artists can use the new Physical Material to quickly set up accurate surfaces in a straightforward manner, but it also has features for greater control. For example, anisotropic refraction can be applied with reflection – something that was impossible before in anisotropic materials, which have directionally dependent properties. To control the look of a metal, the Edge Color can be adjusted to achieve the end result visually.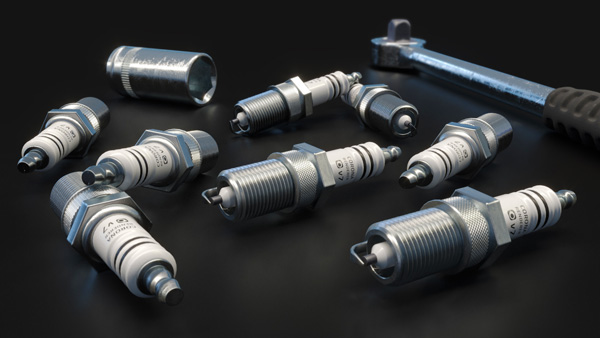 Clearcoat allows lacquer to be added to objects like cars and wood without losing their inherent properties. It has its own absorption layer, which will affect the colour of all aspects of the base layer such as Diffuse and Reflection. It also has its own bump map, which means you can have a rough surface with a smooth varnish over the top of it, or add a slight ripple to the Clearcoat independent of the rougher bump underneath.
A new physical model is now in use for all kinds of glass created using the new Physical Material. In particular it gives rough glass more realistic reflections and refractions, and thin glass can now blur refraction as well as reflection when roughness is used, like frosted glass. Bouncing within thin glass is also correctly simulated.
Because fabrics typically have a sheen effect due to their fibres, new Sheen parameters contribute to photoreal fabrics like velvet. Instead of scattering individual fibres across fabric surfaces, artists can take advantage of these parameters to create and control fast-rendering, realistic effects.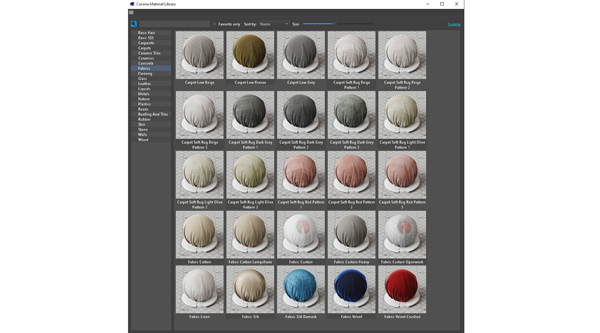 The Corona Materials Library is now available in Cinema 4D with options for instantly tailoring a 3D scene – from the start to a customised finish. It contains over 500 materials for you to use instantly in scenes, organised by category in a dedicated browser. Materials can be viewed by category or in groups of favourites. Users can also select all objects in a scene that use a certain material. Many use the Corona Triplanar map, which means you can avoid UV mapping.
PRG Clear Sky Model
The PRG Clear Sky Model receives a major expansion in Corona Renderer 7. The new Altitude Parameter uses real data to accurately depict what the sky will look like from a camera at any height. The Volume Effect improves the look of large-scale scenes by blending distant objects like mountains more naturally with the atmosphere, and can be controlled via a single value. Turbidity allows you to determine whether the lighting is from a clear or cloudy sky.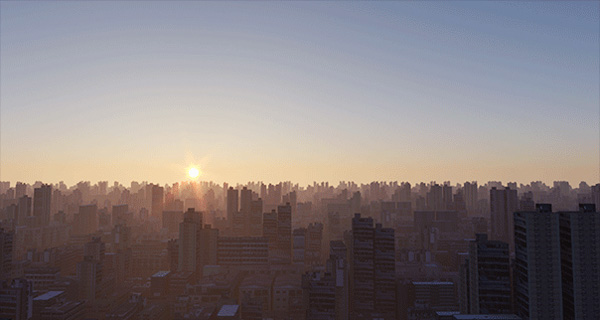 The developers of Corona Renderer 7 expect that users will experience faster render times – from 5 to 50 percent faster – on scenes that make heavy use of newly optimised features such as transparency processing and denoising. The software also automatically applies Roughness and IOR values as material defaults to better match industry standards. Users can always switch to Glossiness and Specular when needed.
Corona Renderer pricing is subscription-based. A free 45-day commercial trial is available HERE. corona-renderer.com