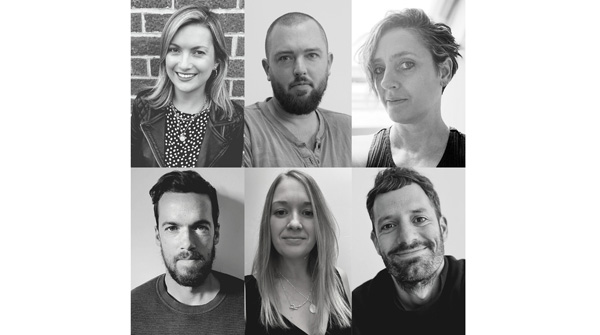 Top row L-R, Alex Belgeonne, Oliver Cubbage, Anna Fuller Clarke. Bottom row L-R, Jan Guilfoyle, Sarah Tulloch, Jorge Cañada Escorihuela
The VFX & Post Talent Agency has added six more post and VFX artists to their impressive roster. The new signings coincide with the anniversary of the company's first year in business.
The new starters are Associate VFX Producer Alex Belgeonne ('No Time to Die'), VFX Supervisor and Artist Jorge Cañada Escorihuela ('The OA'), VFX Editor Anna Fuller Clarke ('The Last Bus'), VFX Supervisor Oliver Cubbage ('The Witcher' S1&2, Netflix), VFX Producer Jan Guilfoyle ('Wheel of Time') and VFX Producer Sarah Tulloch ('Cruella').
Starting her career as a VFX PA on the 'Harry Potter' franchise Sarah Tulloch has risen through the ranks to become an experienced VFX Producer. Her credits include the TV series 'DEVS' (DNA Films), Philip K Dick's 'Electric Dreams' (Amazon), 'Man from UNCLE' (Warner Bros), 'Assassins Creed' (New Regency) and most recently 'Cruella' (Disney).
Jorge Cañada Escorihuela is a creative and technical VFX Supervisor, who has worked both in-house and production-side. Working with some of the worlds top Directors, his credits include 'Cloud Atlas' (Warner Bros), 'Under the Skin' (Film4) and 'The Crown' (Netflix). Jorge has also produced and directed several short films and worked on a number of art installations.
Bluebolt gave Jan Guilfoyle his first job as a VFX PA on S1 of Game of Thrones, working his way up at the facility to become the VFX Producer on the award-winning series 'War & Peace' (BBC) and Peaky Blinders (Carnival). After a stint at Union VFX, Jan has now transitioned production side and is working on S2 of Avenue 5 (HBO).
Stepping up to an Associate VFX Producer role, Alex Belgeonne has worked production-side throughout her career and is a master at running shoots and all aspects of VFX production. Working across film and television with highly talented teams, her recent projects include 'Aladdin' (Disney), 'MI: Fallout' (Paramount) and 'Maleficent: Mistress of Evil' (Disney).
Starting from a Concept Artist and 3D background, VFX Supervisor Oliver Cubbage has built a reputation for creative flare and technical ability, with a capacity to translate the Director's vision into workable, effective results. His recent credits include award winning The Midnight Sky (Netflix), Jurassic World: Fallen Kingdom (Universal) and The Crown (Netflix).
Beginning her career at John Downer Productions as an Assistant Editor, Anna Fuller Clarke has taken on multiple roles on an array of award-winning natural history films, IMAX and TV series. Anna is a VFX Editor with a excellent eye and extensive knowledge of editing, post-vis, VFX composition, 3D stereo and colour. Moving away from natural history, Anna is currently working on sci-fi series 'The Last Bus' for Netflix.
MD Harriet Donington said, "I am proud and grateful for the opportunity to guide, nurture and mentor established talent and rising stars. Our search for emerging talent continues daily and we have big plans to develop and expand the 'Futures Scheme', an initiative to help emerging VFX and post stars get onto the next rung of the career ladder.
"Launching mid-pandemic certainly brought its own set of challenges but the support, dedication, trust and loyalty of clients, studios, network and Producers has been tremendous." Harriet also plans to launch a VFX and post consultancy service next year. www.thevfxandposttalentagency.com