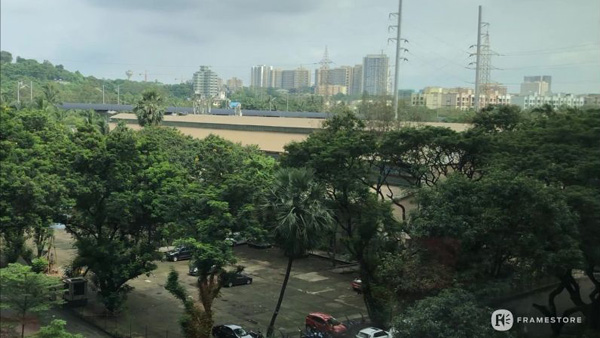 Framestore has opened the doors to a new 30,000 square-foot, purpose-built studio in Mumbai. So far, the new studio accommodates 120 of India's top VFX specialists working across titles such as The Matrix Resurrections, His Dark Materials, Fantastic Beasts: The Secrets Of Dumbledore and Spider-Man: No Way Home. The company is continuing to hire in areas such as compositing, tracking and CFX, and aims to achieve its first phase of a 300-person team early in 2022. This will be followed by a phase two build-out, resulting in the studio doubling in size the following year.
"Stepping through the doors and feeling the studio crackle with life is a real joy after so much hard work," says Akhauri P. Sinha, Managing Director, India. "While the pandemic delayed the physical opening we've already started to bond as a team. The additional time has meant we've really been able to fine-tune and finesse what the studio can offer our artists. It represents a high point for India's burgeoning visual effects sector. Our ambitious plans to expand and grow demonstrates our commitment to the city and the country's wider VFX industry."
The Mumbai studio will work on Framestore's film and episodic clients. "The growing demand for film and episodic means a parallel demand for the best possible VFX," says Fiona Walkinshaw, Framestore's Global Managing Director, Film. "We have more projects on our slate than we have had before, and Mumbai is a vital addition to our global team, given the wealth of talent in the area. Our growing team there is highly skilled and ambitious. In very little time they're becoming a fully integrated part of a global production work force that now spans four continents."
Located in the busy Goregaon area of Mumbai, the new studio is based in the Nesco IT Park in the heart of Filmi Nagari. The site's proximity to Mumbai's tech, film and TV production companies makes it an ideal location for Framestore as a company that works at the intersection of technical innovation and masterful storytelling.
"The new Mumbai space represents part of a strategy that has seen an increase in studio locations," says Sir William Sargent, Framestore CEO. "These plans include the integration of Method Studios' film and episodic teams, the growth of our pre-production services division and our R&D ambitions - plans that relate to scale, capacity and the ability to predict and meet industry demands.
"This is also a state-of-the-art creative space designed with artists in mind, and with many new systems being installed first in Mumbai it will, in some regards, be our most advanced location. Beyond the space and the equipment, everyone working there will have access to our global training and, of course, the combined skill and knowledge of a community that has been leading visual effects innovation for the past 35 years."
The Mumbai team will work alongside Framestore's established film and episodic teams to create a cohesive international team that delivers best-in-the-business work. New recruits can expect to work on some of the world's biggest films and franchises, as evidenced by a slate of recent and upcoming titles that includes The Matrix Resurrections, Red Notice, The Suicide Squad, No Time To Die, Doctor Strange In The Multiverse Of Madness, His Dark Materials, 1899, The King's Man, Cowboy Bebop, Don't Look Up and The Wheel Of Time. www.framestore.com