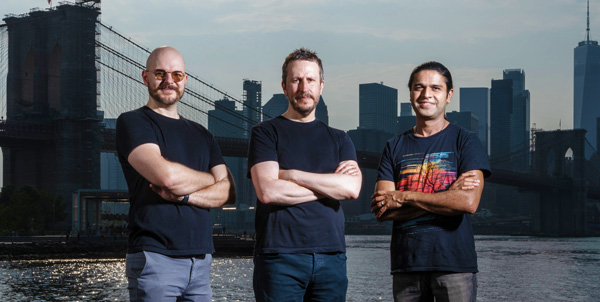 L - R: Rune Holst Månsson, Greg Cutler and Hassan Taimur
Creative studio Preymaker has hired Rune Holst Månsson, Greg Cutler and Hassan Taimur to its creative team. One of the first 100% cloud native creative studios, Preymaker uses a custom cloud-based platform that creates content entirely in the cloud. The three artists bring many years of experience to Preymaker and are award-winning artists and developers in CGI and compositing.
Preymaker's Chief Creative Angus Kneale said, "We're excited to welcome Rune, Hassan and Greg to our stellar team. They each bring with them exceptional creative and technical skills. We are building a company focussed on creating and crafting the best work in the world by taking advantage of new techniques. Rune, Hassan and Greg each have excellent experience and are firmly focussed on the future."
Born in Denmark, Rune Holst Månsson launched his career as a web and graphics designer and quickly changed to CG Generalist. He eventually joined MPC London, later relocating to the company's offices in Los Angeles to become CG Supervisor, and then moved to The Mill New York as 3D Lead. Månsson has worked with top directors such as Doug Liman, Janusz Kaminski and Michel Gondry, and for brands such as Disney, Apple, Samsung, HP, Riot, Coca-Cola, Audi, Honda, Nissan, Toyota and Ford.
"The Preymaker cloud-based way of working is the way of the future," said Rune. "I want to be part of that revolution and help lead it. The exciting real-time work that Preymaker is doing is why I joined, as well as the company's philosophy of creating a more sustainable future for artists, with a better work-life balance. My goal at Preymaker is to assemble and enable talented people from around the world to work on the projects of tomorrow."

Greg Cutler
Greg Cutler honed his compositing skills in New York, and has spent nearly two decades primarily as a freelance compositor and Lead/VFX Supervisor with studios including Framestore, Method, Psyop and MPC and worked with brands from Mercedes-Benz, Google and IBM to Calvin Klein, Stella Artois and Facebook. He was part of the VFX team who helped bring Björk's 'Lionsong' music video to life, which debuted as part of a 2015 retrospective exhibit at MoMA in New York.
After freelancing with Preymaker for several months, Greg joined the team full-time.
"It's such a rare thing to see people with years of experience at the highest levels of the industry starting a company with a clean sheet design," he said. "Preymaker's approach is not to replicate successes of the past but rather to push the technology, and the company, in fresh and very forward-thinking directions. The opportunity to join such an innovative company, with such a solid group of talented people, was simply too good to pass up."
Hassan Taimur is a top FX Artist bringing expertise in Houdini and Massive that stems from working in AI as an undergraduate, learning Massive at SCAD (Savannah College of Art and Design) and later becoming Lead Massive Artist at The Mill where he spent nearly five years. For the past seven years, he has freelanced with focus on FX work using Houdini as his primary tool. His credits include VES nominated PlayStation 'Perfect Day' and Ciclope Gold winner 'Hypervenom' for Nike.
He has worked on commercials and branded content for Bud Light, Budweiser, ESPN Nascar, adidas, Star Wars: Battlefront, Spotify, Coca-Cola, Jim Beam, Puma and DirectTV. Other credits span films The Bronze, Zoolander 2 and Let Him Go, and music videos for Steven Wilson and Casualties of Cool. Taimur has freelanced at Method Studios, R/GA, Ntropic, Carbon and Zoic. After several freelance assignments with Preymaker, he joined the team full-time.

Hassan Taimur
"What attracted me to Preymaker was the people," Hassan said. "I've worked with many people on the team before and understand how they operate. I have had an amazing working relationship with them over the years. Also, I was ready to join a young company where I can continue to grow myself and also help the company grow into a unique entity that can work across different platforms, implementing the latest methods and promoting true collaboration across various time zones."
This past year, Preymaker has had a strong start. They were part of the team that created Grey London's Volvo 'Ultimate Safety Test', directed by Ivan Zacharias and honoured with a Cannes Silver Lion. Since opening its doors in late 2020, Preymaker has worked on content for high-profile brands including Google, Progressive, Lincoln, Comcast Xfinity, Volvo, Macy's, US Cellular and Army National Guard.
The team has collaborated with agencies such as Arts & Letters, McCann, BBDO, 72andSunny, Johannes Leonardo and Arnold. The company also has worked with directors Peter Thwaites, Kathryn Bigelow, Guy Shelmerdine, Jess Coulter, Brian Beletic and Henry-Alex Rubin, among others. www.preymaker.com