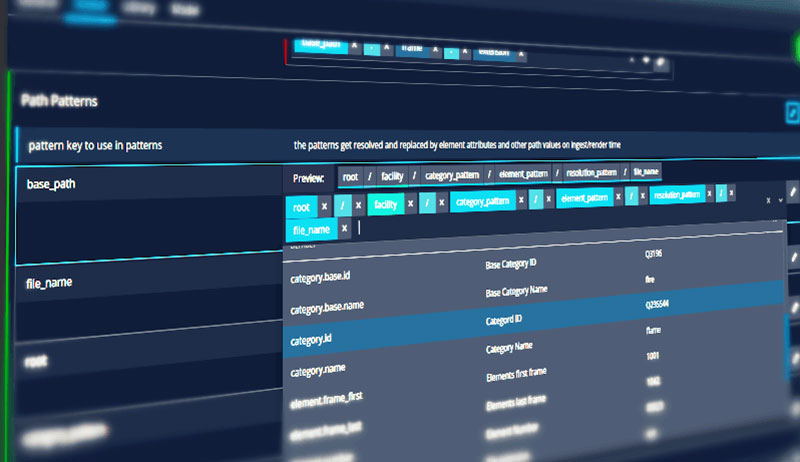 The VFX library software das element helps visual effects studios tag and organise their asset libraries. The application runs entirely offline and, by making libraries more accessible, gives a studio the flexibility that modern VFX projects need. Because element libraries play a significant role in the daily VFX workflow, it's essential that these libraries are well structured and organised, making it possible for artists to quickly find the elements that fit the shot best.
In the latest update, the developers have continued to improve the user interface for ease of use and to enhance the software's stability and reliability. Because many libraries contain mainly random previews that do not reflect the content of an element, the new version will automatically grab a representative frame for the element, generating meaningful thumbnails for file sequences and movie files.
Support for project files has also been added so that, as well as PDFs like camera reports or lineup sheets, users can ingest and organise Nuke templates, After Effects projects and Illustrator and Indesign files. The new rating system of elements, allowing users to further group certain elements together by quality, is also new.
Database Options
A file-based database can now be used on servers, which reduces the need for IT support, making it easier and faster to setup the software. Jonas Kluger, Founder and creator of das element explained how users can take advantage of this update. "Each library inside das element consists of a database and the library configuration file. When you first create a new library you can choose between a file-based (or SQLite) database and a Postgres database.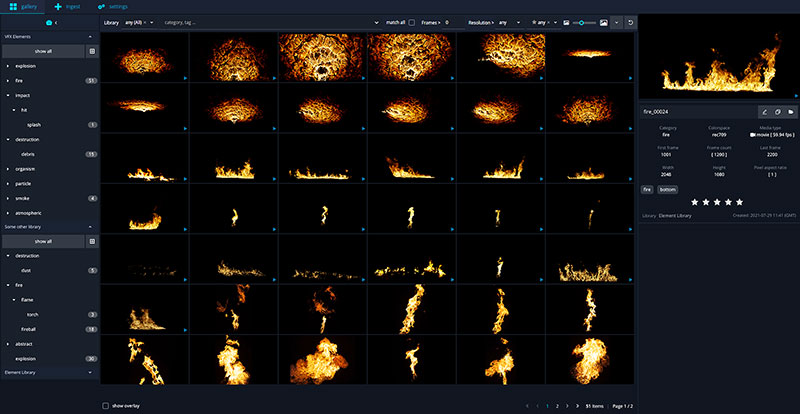 "The file-based database is a simple file that the software will create for you. It's by far the easiest way to set up, but for larger studios it may have some drawbacks, such as a drop in performance when many artists are using it at once. Also, a SQLite database normally doesn't work very well if saved on a file server, but we have developed a work-around that now runs smoothly.
"The difficulty of Postgres is that it needs an additional database server that can run all the time, requiring an IT Department to handle the installation. So, for smaller studios or freelancers, being able to use a file-based database reduces overhead. The general idea is to make to set-up as easy as possible for users."
Using das element
das element software runs on Linux, MacOS and Windows operating systems. As an offline application, an internet connection is not required, which means companies don't have to worry about security when working under NDAs for feature films or TV shows. It is also compatible with many processes and software users may have in place – for instance, existing libraries can be imported with all tags and categories, render management software like AWS Deadline can be used and data can be exported to another project managment software like Shotgrid or Ftrack.
Jonas said, "It's fairly common for VFX studios to use Nuke for transcoding high-resolution data or proxy files because it gives you full control over the process. For example, it allows you to control the colorspace conversion (e.g. with OCIO), and reformatting or scaling of images with different filtering algorithms. Some studios also use it to render text overlays for proxy files. das element supplies various example files that help studios use Nuke in this way for asset libraries.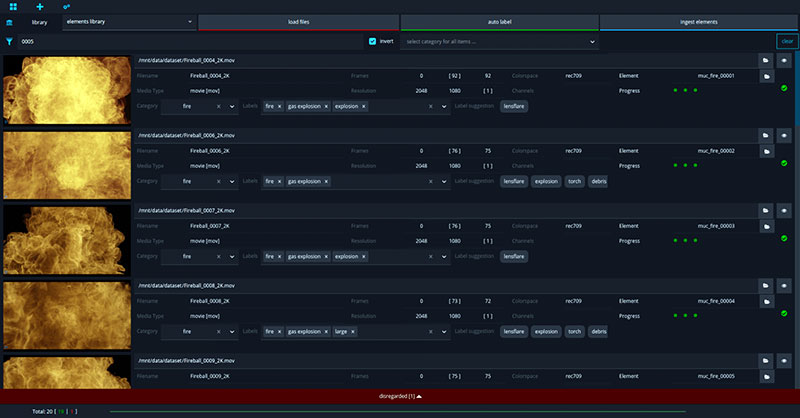 Tagging of VFX elements is automated using AI, based on a machine learning model specifically trained for visual effects elements. Users can create multiple libraries for different purposes such as practical elements, textures, references or matte painting libraries, and customise the configuration of naming conventions and folder structures. It is also possible to set up your own proxy templates for generating thumbnails, proxy movies and so on.
Open Standards
"das element focusses on using open-standard file formats -- that means that no configuration files or the database is ever encrypted in any way," said Jonas. "We aim to develop an open system that gives VFX studios as much flexibility as they need.
"If a company decides to use das element, the software generates a tidy folder structure with all the proxy files, and saves all the metadata information – that is, tags and categories for elements -- are saved in the database. However, even if the license is running out and the software can no longer be opened, all the files stay in the same location.
"All information about elements can be exported from the software at any given time as a JSON file or CSV file. Since the database uses an open standard it can be accessed with other database applications that know how to deal with that database format. The worst-case scenario for a company is that they have a nice folder structure, and nothing is lost." das-element.com