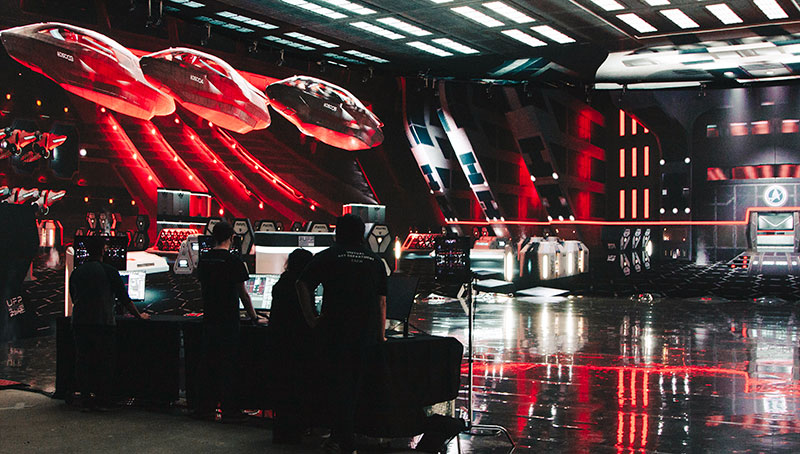 Over the past two decades, VFX studio Pixomondo (PXO) has devoted time to R&D and innovation with different tools and techniques to create entirely new kinds of entertainment, based on its clients' needs. Most recently, they have added virtual production capabilities.
PXO began building their first stage in Toronto in 2020, later on launching a Vancouver stage and then another in Toronto, and now plan to expand further. To help support this growth, they anticipated the need for teams working with the virtual production pipeline to collaborate across locations, and chose to incorporate Amazon Web Services (AWS).
"The requirements for virtual production are extremely different from traditional visual effects, so instead of trying to build on top of an already solidified pipeline, we decided to move to a more flexible platform. We were immediately drawn to AWS as a tool on the platform because it allows us to iterate quickly," said PXO Head of Virtual Production Josh Kerekes. "We were able to sidestep the conventional processes and prototype our pipeline quite separately from our studio's creative arm. We can rapidly deploy the set-up from anywhere."
Supporting In-Camera VFX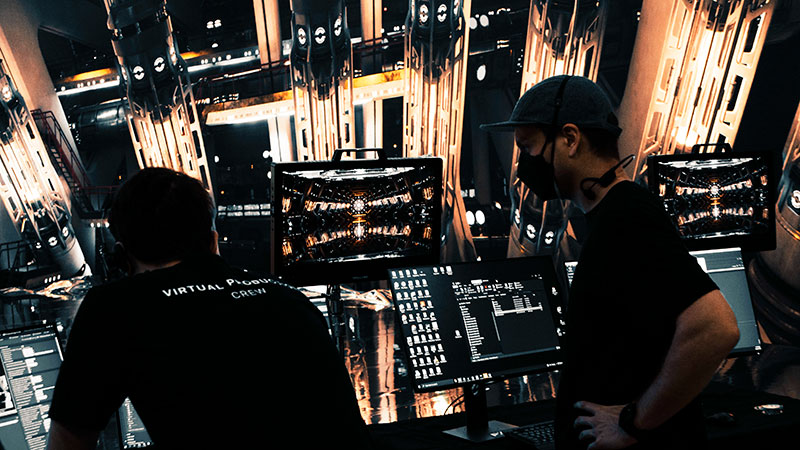 PXO's virtual production stages are used to capture in-camera visual effects (ICVFX), which is accomplished by displaying real-time digital environments built in Unreal Engine on large LED screen capture volumes that are tracked. PXO artists around the world often create the visuals for the screens, but clients also use other vendors depending on the project scope.
To move assets from the creators to the set for production quickly and securely, PXO uses a virtual machine on Amazon Elastic Cloud Compute (Amazon EC2) instances. The screens are tracked to allow accurate projection of the digital imagery, as well as control over camera motion. Work is immediately synced to the stages, so that production teams can share feedback in real time.
The virtual machine also runs Perforce software to help large teams work together through the numerous iterations. Perforce are development and DevOps specialists. All their tools are based on their original, long-standing Perforce version management system Helix Core, and now include dynamic development, intelligent testing, risk management and dispersed collaboration applications.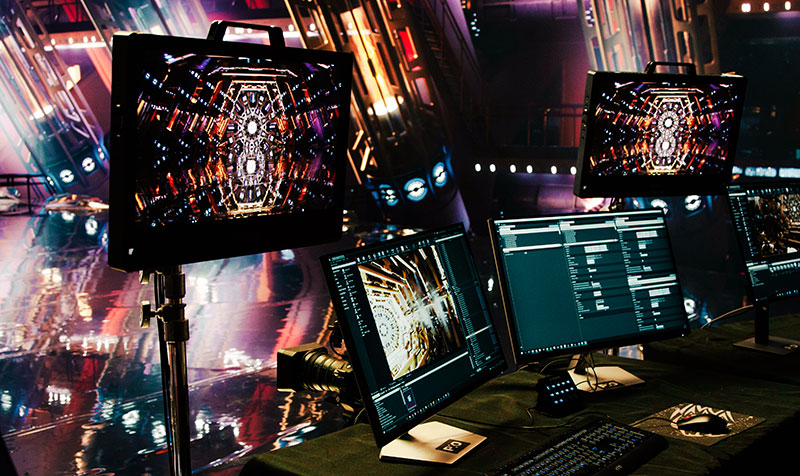 Iteration and Review
"We are currently in production on an episodic series that has almost a hundred different environments and scenarios in a season – ten is about the average a team might expect to work on, so this was an order of magnitude larger," said Josh. "We have several VFX houses creating environments for the project, and even studios based overseas have said the speed at which they are able to download and submit was fantastic. They're uploading 10 to 20GB commits every hour with minimal bottlenecks. To be able to implement massive changes on environments and synchronise them onto the stage almost instantaneously has been essential."
Traditional VFX are often delivered via FTP servers by a group that serves as an aggregator, such as the studio's production VFX department. Applying this approach to virtual production would force vendors to first create a zip file of their work and send it to the aggregator, who would then go though the process of sharing scenes to the stage for ingest, which could take several hours.
With each change, the process has to be repeated. No matter how rapidly iterations were generated, processing would slow the workflow down. Using AWS, PXO can pull down asset changes and display them on the LED wall within a few minutes for immediate review and feedback, even during a shoot. This immediacy factor is what makes ICVFX possible because it keeps post-production time to a minimum.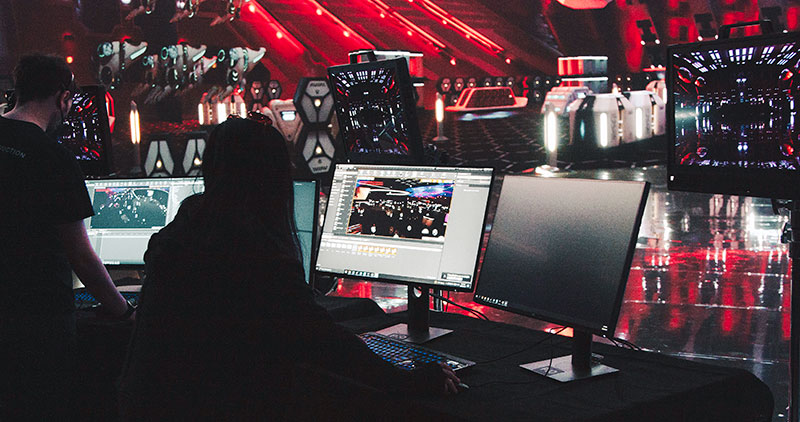 "Currently, I don't know of any other way of performing this series of tasks," Josh remarked. "We considered using central on-premises servers that everyone could funnel into, but it would have been extremely slow and confusing. No matter how great a support team and hardware you have behind you, downtime is expected, either for scheduled maintenance or unforeseen difficulties, but with the cloud-based support, we have seen much better uptime."
Look and Feel
PXO also uses Amazon Simple Storage Service (Amazon S3) to store assets. With assets made easily accessible in Amazon S3 buckets, filmmakers have more flexibility to reference previous environments, which can be very useful for maintaining a show's look and feel. Because the director and cinematographer for TV shows often vary by episode, having an independent control over the look is important.
"Having the ability to scale up our storage and make multiple environments available for review is valuable for our clients," said PXO Executive Producer Paolo Tamburrino. "On top of being able to execute environment changes quickly while shooting, which are normally done in post, makes sure that in-camera capture is as close to final pixel as possible."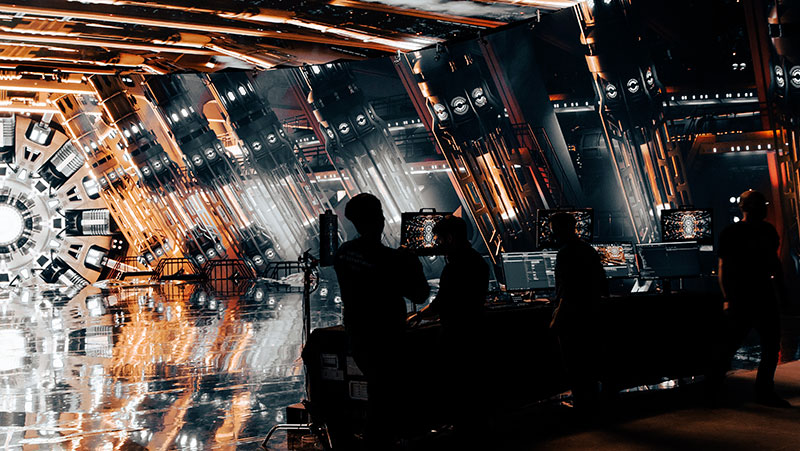 PXO considers their initial cloud implementation as a first step. The studio also has several upgrades planned, including launching a unique virtual machine for each show, which will allow producers to accurately meter and monitor usage costs for more accurate bidding. They are also working with the AWS virtual production service team to explore other more complex use cases for cloud-enabled virtual production.
The Advantage of Agile
Another aspect of the new approach is helping clients themselves understand the agile filmmaking methodology and how they can take better advantage of it, whether shooting a high-profile entertainment intellectual property (IP), a commercial, or anything in between.
Josh concluded, "Many filmmakers are used to a very sluggish way of working, but AWS makes a night and day difference in iteration time. Everyone can collaborate and work in real time in the same shared space, regardless of their department or the stage of the filmmaking process they typically work in. This wouldn't be possible without cloud-based services." aws.amazon.com