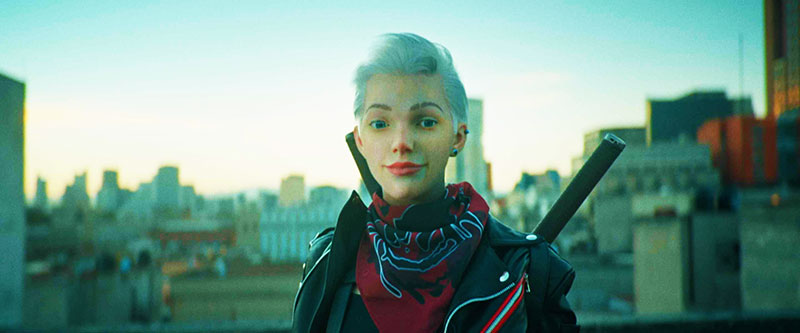 In the new music video for mobile battle royale game 'Free Fire', live action characters morph into digital heroes while around them swirl extreme sports sequences, epic combat and rhythmic dance rivalry to the game's theme song, 'BEATz Go Boom'.
For the artists at Post Panic in Amsterdam – the in-house VFX studio at The Panics Film House – production for the music video required developing highly stylised characters, vehicles and environments, and invisibly meshing photoreal digital elements with live action plates. SEE the video here, and the breakdown film here.
Cityscape
Under the direction of Creative Partner and Head of Production Ivor Goldberg, the Post Panic team's scope of work encompassed building out a massive digital cityscape environment to serve as an arena for the climactic battle sequence. The team concepted the environment in a Neo-Tokyo style recalling a graphic novel, with a high enough level of photoreal detail to match the plates. The entire city needed to be viewable from an aerial point of view for establishing shots, as well as at street level for shots that zoom in on action.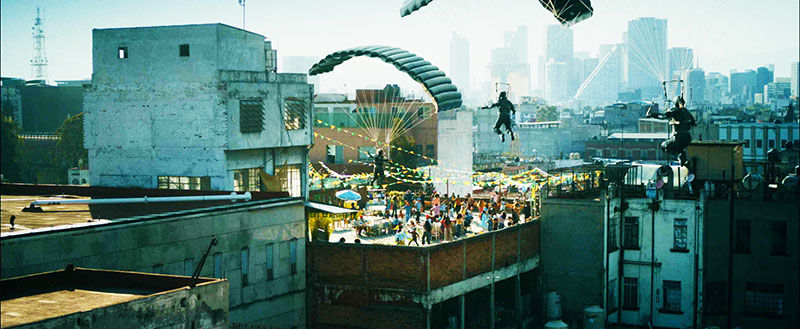 To help flesh out environmental details including buildings, streets and alleyways, the team used two model kits, Warzone and Future Slums, made by KitBash3D, borrowing elements to quickly block out virtual sets and speed up scene creation. KitBash3D produce and distribute libraries of customisable 3D models organised by theme – futuristic utopias, devastated war zones, cyberpunk underworlds, modern metropolises, and so on.
To help studios and artists share and distribute the assets, KitBash3D develops DCC-compatible file formats to store 3D data, conversion tools and a digital asset management platform, which are built for speed and ease of use within production workflows. Ivor said, "Using the kits gave us a huge head start. Once we had blocked out the virtual sets, we could, in effect, go on a 3D location scout with Director Mischa Rozema to create the shots we needed. This allowed us to spend much more time on the creative aspects of production and the final look – where it ultimately counts the most.
Detail Fall-off
"We quickly discovered that the key to creating the project's style was to let the high level of detail and realism fall off with distance, becoming more graphic and undefined the further elements were from the camera. To achieve this, we had these details swallowed up in a graphic fog effect, which became a primary component of the project's look."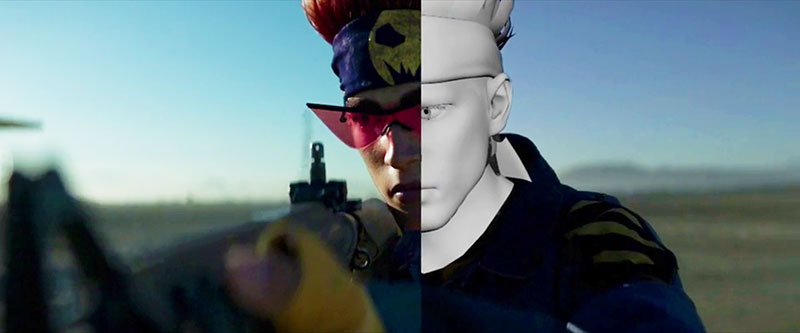 Post Panic used a combination of Houdini, Maya and Blender for modelling, rigging and animation, Nuke for compositing and editorial, and Redshift for rendering. "It's been easy to bring the KitBash3D assets into our creative software and get started working with them. We primarily used Blender at the concepting stages, and were able to import the Kits, update or tweak the shaders where necessary to achieve our desired look, and then adjust the geometry to match the style and composition," said Ivor.
"For final look development, we need to perform a detailed series of tasks – convert the model shaders into Redshift shaders and then add all the details in the textures, shaders and geometry so that they will hold up for the close shots and overall visual style. Working with KitBash3D assets gave us a solid base for all of this work, for every shot."
Heroes and Enemies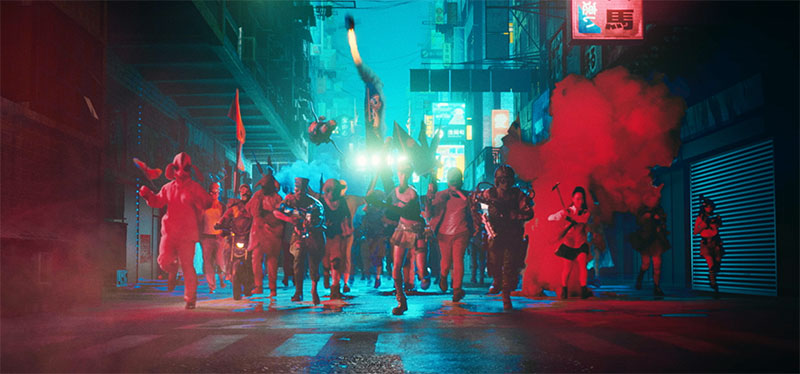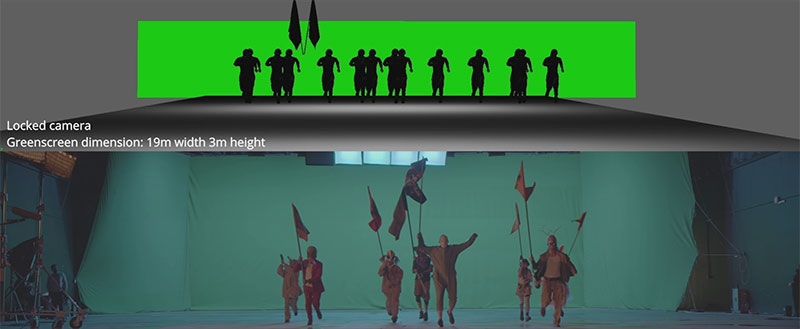 Another part of Post Panic's work was developing the hero characters and enemy opponents, which required both digital head replacements for live actors, and full, digital characters in the same graphic novel style as the project environment. The game publisher Garena supplied the existing game assets for some of the characters, but this kind of asset is typically built at a fairly low resolution. The team still needed to rebuild the models and shaders to match the high level of detail and realism in the music video production.
The character designs from Garena were still in development and required changes even while Post Panic was creating the project models, which added to the challenge. "The sheer scope and range of work on this project felt intense and required bringing together so many different elements," said Ivor. He also felt the project presented them with a contradictory contrast in visual aesthetics between highly stylised and photoreal that had to work together in a pleasing, eye-catching way.
Assets on the Move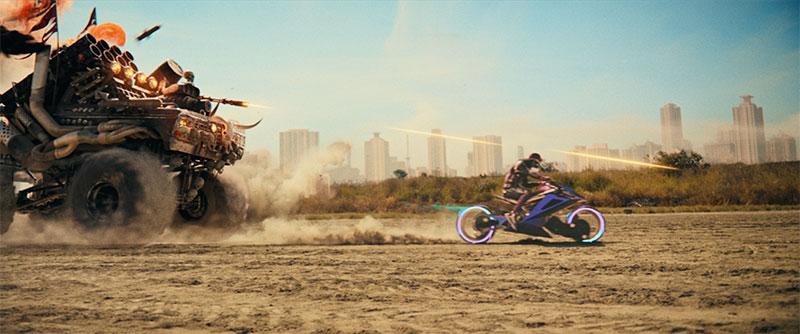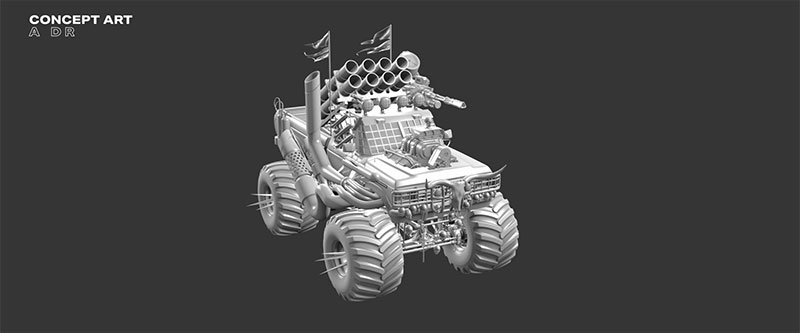 Ivor's team were in charge of creating CG monster trucks, mopeds that morphed into stylized hyperbikes, rockets and grenades. As the story progressed, it called for considerable FX work as well – explosions, crowds of charging enemies, disintegrating characters, collapsing buildings and environment destruction – plus parachuting, abseiling and, of course, plenty of dancing.
Despite the heavy post-production workload and tight deadlines, using KitBash3D in the early stages as the building blocks for the environment, instead of building every single element, helped the team to deliver on time. They were able to use their time and budget more selectively and reach the final image in the fastest, most efficient way. Ivor said. "We were able to flesh out the worlds quickly, which ensured this project was genuinely fun from beginning to end." kitbash3d.com