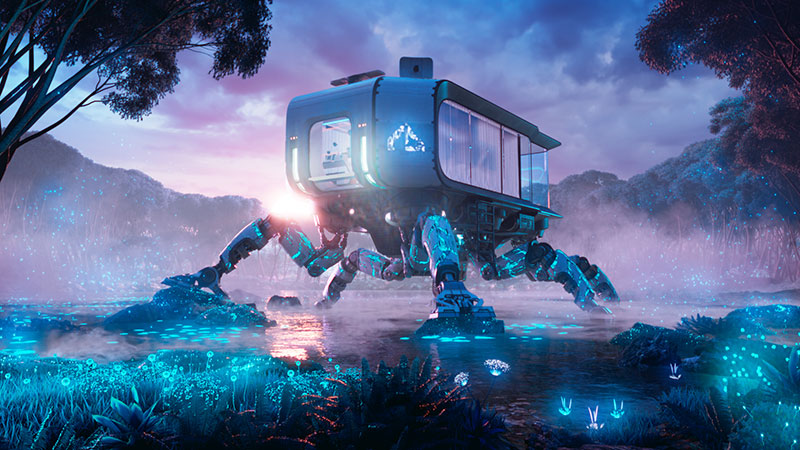 V-Ray 6 for Cinema 4D supports the ACEScg colour-encoding system.
Software training and tools developers Chaos Group and Greyscalegorilla have released products to help artists enhance the quality of renders they achieve of assets created in Cinema 4D -- Chaos V-Ray 6 for Cinema 4D and Tactile, Greyscalegorilla's collections of specialised materials for 3D designers.
V-Ray 6 – Surfaces, Procedural Clouds, ACEScg
Chaos V-Ray 6 for Cinema 4D gives C4D artists access to new looks, lights and materials handling including VRayEnmesh for surface geometry, a new procedural clouds system and V-Ray Decal for surface projections.
The new VRayEnmesh system repeats geometry across the surface of an object in a memory-efficient way, handling geometry in the same way as a texture. Artists can create patterns like panels, fences and fabrics that are ready for close-up scrutiny. The system's memory-efficiency means users can add billions of polygons to a scene without compromising the surface geometry.
V-Ray Decal, in contrast, can project elements, varying from 3D stickers and labels to weathering elements like cracks, stains and scratches, onto any surface using a short workflow that is simple and fast. Decals can be applied at angle without extra UVW work or disturbing the underlying materials. A displacement setting is also available for assets that need more realism.
Procedural Clouds have been added to the V-Ray Sun and Sky system, improving users' options when a static HDR or cloudless sky is not suitable. Scenes can be customised while taking advantage of ray-traced lighting, ground shadows and volumetric effects as they animate. The LightSun and Sky textures are developed to work together to reproduce a realistic sun and sky environment. Both V-Ray Sun and V-Ray Sky are coded so that they change their appearance depending on the direction of the LightSun.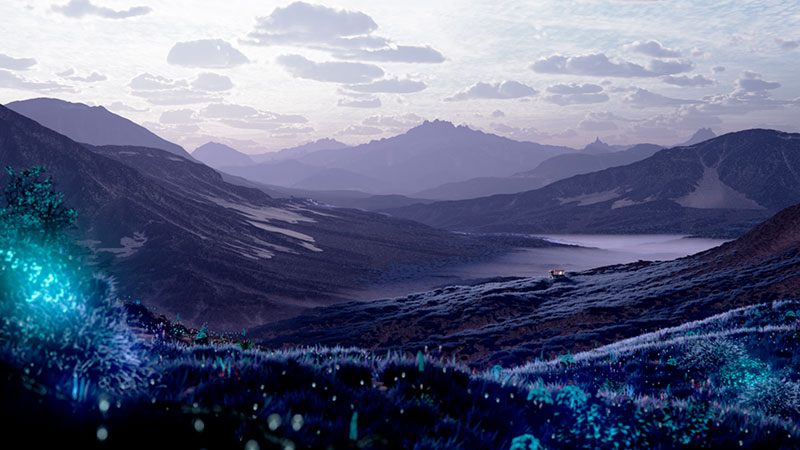 Cinema 4D artists now have support for the ACEScg colour-encoding system, resulting in a wider colour palette and including automatic adjustments for textures, dispersion, sun-and-sky and light temperature. ACEScg is the version of the ACES encoding system for computer graphics, now in wide use, and considered the industry standard because, compared to sRGB, it can handle much more colour information
Particle Rendering and Lights
As well as these major updates, V-Ray 6 also supports particle rendering based on different parameters such as size, speed and colour, making it easier to use particles to create diverse effects from splashes, foam and bubbles to sparks. They are optimised to render very fast compared to a regular material shader, while still being able to achieve many different effects.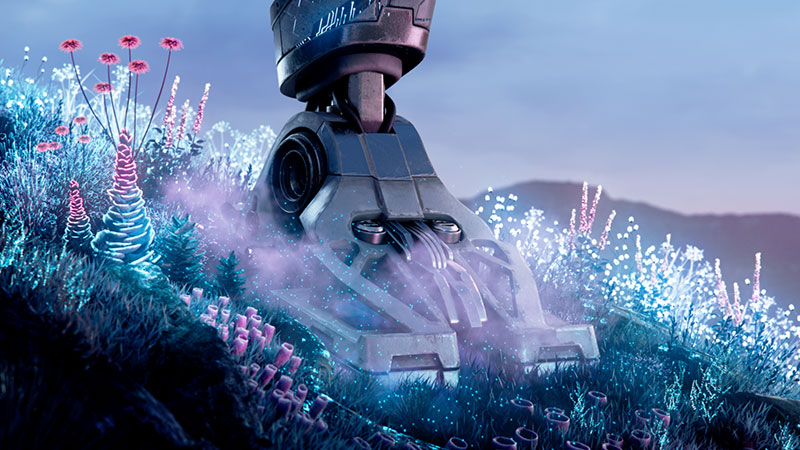 The V-Ray Dome Light, which shines inward at a scene as if from a spherical light source beyond the scene edges, has a new finite mode with more flexible ground projection features that allow users to control the size of a dome light and blend the settings. Dome Light is often used for IBL based on panoramic HDR images and, with this new ability, will help fine-tune the scale and depth of product designs and HDRI renders.
When using Light Cache in V-Ray's Interactive Production Renderer (IPR), the output is now identical to the production renderer, so that teams can make better lighting decisions on the fly.
V-Ray Material Updates
The new energy compensation updates in the V-Ray Material give reflections in rough metals and surfaces a more realistic look. Users can determine the shape of the highlights, and render translucent materials like frosted glass and marble faster with a new illumination mode. A new thin-film layer has been added to the V-Ray Material as well, designed to create iridescent materials like soap bubbles and oil spills.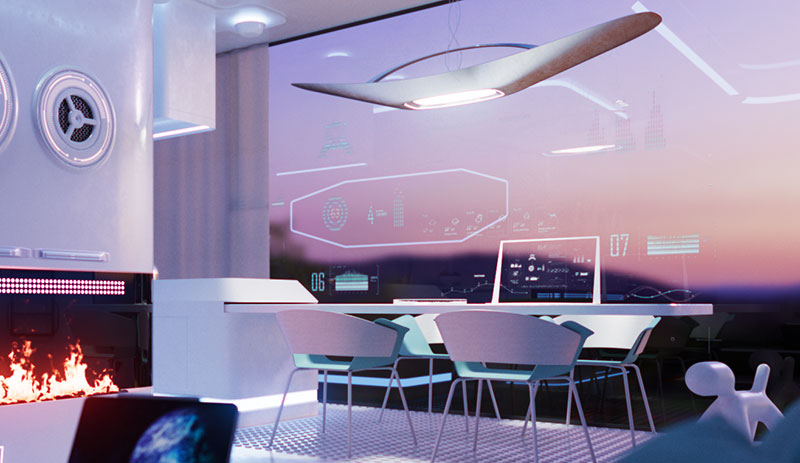 Ease-of-use updates include the Panorama Viewer allowing artists to explore and edit panoramas in the V-Ray Frame Buffer (VFB) without using third-party tools. A new proportions layer helps determine the right camera angle with visual composition guides like the rule of thirds and the golden spiral. When using interactive rendering in the VFB, materials, objects and focal points can now all be selected with a mouse while rendering. www.chaos.com
Greyscalegorilla Tactile – 3D PBR Material Library
For rendering in Redshift, Octane and Arnold, motion design training and tools developer Greyscalegorilla has designed Tactile, a library of attractive, realistic 3D PBR (Physically Based Rendering) materials for Cinema 4D. The first five collections available on launch – Clay Fine, Clay Rough, Clay Sculpting, Clay Doh and Unfinished Wood – add up to more than 210 materials, ready to work with in Cinema 4D. Tactile's materials suit applications in 3D design, architectural visualisation, product and interior design artists and motion graphics of all kinds, wherever realistic 3D renders are necessary.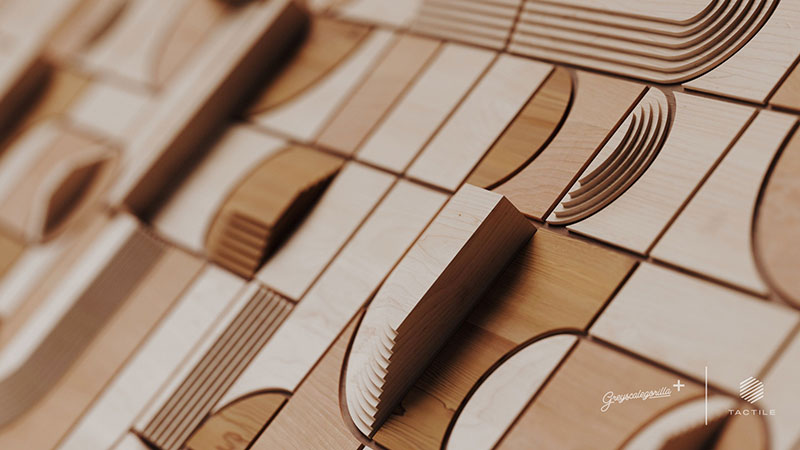 Greyscalegorilla has increased the fidelity and level of detail in each material using a new capture process they have developed for Tactile, aiming to record surface details and also a true representation of the physical nature of the material and what makes it unique. The Tactile library incorporates standard material channels like diffuse, normal and roughness with physical properties like translucency, displacement and optical reflectance (specular and diffuse).
The goal is to reveal surface properties that may not be visible to the naked eye, but result in materials with a highly realistic, overall look. The materials are curated by designers in order to create visually cohesive collections that work well together. All of them are used with drag-and-drop functionality.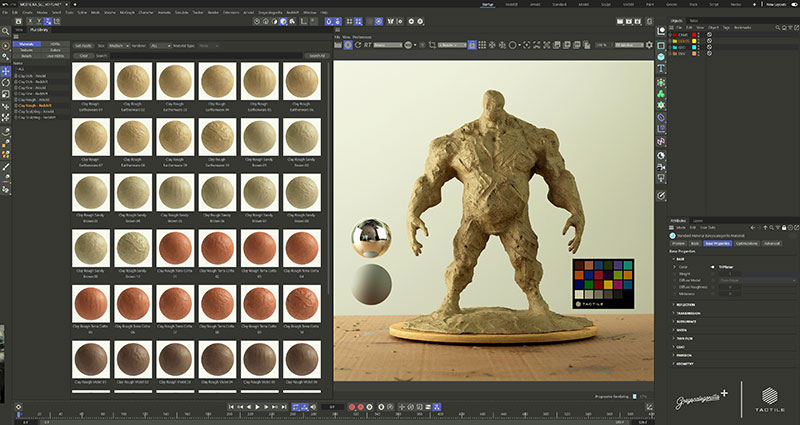 V-Ray 6 for Cinema 4D is available now for all supported host applications. Tactile is available as a part of the Greyscalegorilla Plus subscription tier, only, and is compatible with Arnold, Octane and Redshift in Cinema 4D. Greyscalegorilla is a subscription based community of Cinema 4D users. greyscalegorilla.com