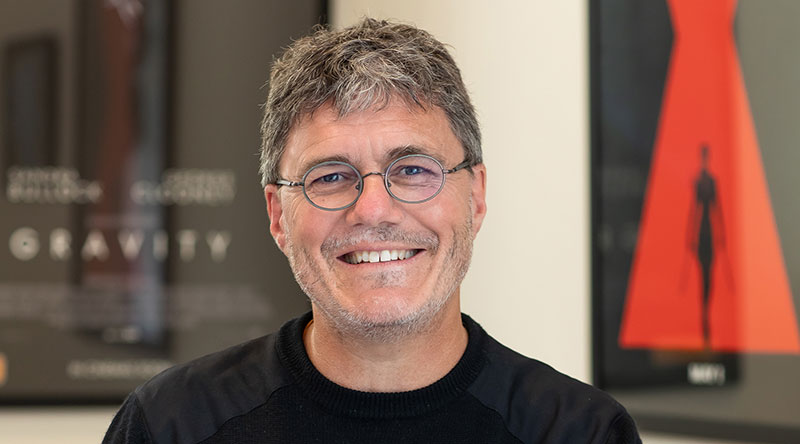 Rising Sun Pictures Co-Founder and Managing Director Tony Clark has been named as a VES Fellow by the Visual Effects Society. The first Australian to be named a VES Fellow, Tony received the honour alongside other 2022 honorees at the organisation's Honors Celebration on 14 October at the Skirball Centre in Los Angeles.

The title VES Fellow, signifies that the individual is recognised for earning an outstanding reputation through sustained contributions to the art, science or business of visual effects, as well as through meritorious service to the Society and the entertainment industry at large for a period of not less than ten years within the last twenty years.

A 30-year industry veteran, Tony was honoured for his work in building Rising Sun Pictures (RSP) into a world leader in visual effects production with credits on many movie blockbusters and streaming series, as well as his role as an industry innovator, whose many accomplishments include co-developer of the remote collaboration software cineSync, for which he won a 2011 Academy Award for Scientific & Technical Achievement.

"I am humbled and flattered to receive this honour from the Visual Effects Society," said Tony. "It is especially meaningful as it comes from my peers. I feel great admiration for the distinguished professionals who've previously become VES Fellows and take great pride in joining their ranks."

Of RSP's success, Tony said, "We've been successful because we've stuck to our values here in Australia, delivering quality effects and conducting business in a manner we think is right. I am extremely proud of the team we've built and the contributions they have made to the visual effects industry, both here at RSP and through their subsequent careers at other high-profile companies around the world."
Technical and Creative Vision
An Emmy Award-winning Cinematographer, Tony's early career included roles at Australia's national broadcaster the ABC and Sky News in the UK, before he was a Director of Photography on Australian independent films.

A keen interest in technology combined with creative vision led Tony to Digital Arts in Australia, where he helped create a unique real-time motion control system and shot his first feature film as DP on Australian Producer/Director Rolf de Heer's Epsilon. 

In 1995 Tony co-founded Rising Sun Pictures (RSP). Following work on Terminator and Jurassic Park, Tony's motivation was to create a visual effects company that combined his twin passions of art and technology, that could deliver VFX from anywhere in the world -- in this instance, his hometown of Adelaide, South Australia, 12,875 km from Hollywood.
Hollywood Break
RSP worked on early local computer-generated animation before their first big Hollywood break. In 1999 Warner Bros. Red Planet, came to film in outback South Australia and RSP was given an opportunity to work on their first Hollywood project. Warner Bros. then tasked RSP with work on Queen of the Damned. 

Shortly thereafter, Paramount Pictures hired RSP to create the shuttle re-entry on The Core, which ultimately led to the lead character of Charlotte in Charlotte's Web.

Tony is credited with multiple VFX Supervisor credits, including Sky Captain and the World of Tomorrow, Harry Potter and the Goblet of Fire, Pirates of the Caribbean: On Stranger Tides and Alfonso Cuarón's Gravity. 

RSP were always early adopters, pushing the potential of the available tools and inventing others, leading to the creation of new tools and several business endeavours. 
Rising Sun Research
 In 2000, Tony led the creation of Rising Sun Research (RSR) in order to commercialise tools created within RSP. An early product, cineSpace, a film colour management system that was critical in matching visual effects with on-set photography, was acquired by Cinetal Systems, and subsequently THX in 2011. However, RSR's prime product was to become a global industry term, 'cineSync'. 

cineSync was released in 2005 and enabled the secure collaboration on synced footage across the world. The uptake of cineSync was organic and immediate and has been used by major filmmakers around the world. Among the first productions to use the tool was Steven Spielberg's War of the Worlds. That tradition continues today with RSP's applications of artificial intelligence and machine learning to produce compelling visuals for films including Elvis and Thor: Love and Thunder.

RSR rebranded as Cospective in 2012 with Rory McGregor leading the team. Tony continued to influence its development, serving as Co-Founder and Board member. In 2011 Tony, alongside Rory McGregor, Neil Wilson and Alan Rogers, received an Academy Scientific and Technical Award for the creation of cineSync.

Wanting to improve access to high-speed internet for Australian filmmakers, Tony established Cinenet in 2004. This elastic broadband network allowed Australian content providers and filmmakers move huge files between Australia and California. In 2015 Cinenet was acquired by Superloop and Tony was seconded into a Non-Executive Director role which he continues today. 
On the Board
Tony has been a member of various Australian Boards, including a role on the South Australian Film Corporation between 2007 and 2012, Ausfilm from 2009 to 2021 and Royal Instuitute of Australia (RiAus) 2016 to present.  

On the Board of Ausfilm, Tony contributed to efforts and initiatives for the creation of the federal Post, Digital Visual Effects (PDV) Offset (tax incentive) to underpin Australian competitiveness in the global market.

After successful lobbying, the Australian Government announced a 15% PDV Offset to both location-based and offshore PDV projects. Tony served on the board of Ausfilm until 2021, supporting the evolution of Australian incentives to their current form. 

Tony's entrepreneurial and innovative spirit was recognised in 2018 with the Pearcey National IT Entrepreneur Award. The award recognises his inspiring leadership, innovation, acclaim, and impact on the world stage. 

In 2021 RSP became part of The Fuse Group, which brings together four growing, talented visual effects studios – FuseFX, FOLKS, Rising Sun Pictures and El Ranchito, and is a portfolio company of investment funds managed by EagleTree Capital.

Tony is Managing Director of RSP and his vision remains the long-term strategy for the organisations with which he is involved and evolving the broader industry as he gets back to his entrepreneurial roots. Tony is keen to fulfill The Fuse Group's mission to create the next generation of visual effects facilities.  www.rsp.com.au