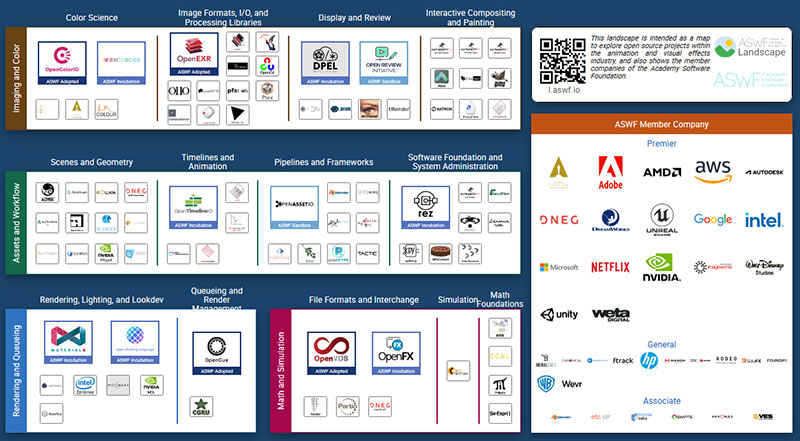 The Academy Software Foundation (ASWF) will host the Open Source Forum on 16 February 2023 at the Academy Museum of Motion Pictures in Los Angeles, CA. The annual event gathers business and technical leaders to discuss the current state of open source software across the motion picture and media industries.

During the afternoon program, leaders will share ideas, insights and experiences to drive the future of open source software, and relay updates on the progress of the Foundation. Executives, businesses, open source program office leaders, technical leaders responsible for key projects and open source strategies, and anyone who is interested in learning more about the Academy Software Foundation, are all encouraged to attend.

A keynote will be given by Dr Andrew Glassner, Principal Research Scientist at Wētā Digital/Unity entitled 'Storytelling in the Era of AI'. Andrew has worked as a film director, computer researcher, video game writer-director and novelist. He now works at the intersection of human artistry and software for creating visual effects, and developing tools for a new generation of storytellers and audiences.
Other sessions will explore:
• Open RV – Journey of Open Sourcing a Commercial Product
• xSTUDIO - an Open Source Playback and Review Application
• Digital Production Example Library Updates - Intel 4004 Moore Lane USD Scene
• Open MoonRay Update
• OpenVPCal - An Open Source In-Camera Visual Effects Calibration Framework
• Metropolitan Museum of Art - Chroma: Ancient Sculpture in Color - Behind the Scenes Challenges, Solutions, and Opportunities for Imaging Standards
Framestore and HP Join the Academy Software Foundation
The Academy Software Foundation (ASWF) also announces new members Framestore and HP. Coming from the worlds of digital content creation and systems development respectively, each company is committed to furthering the vision of ASWF, which forms a neutral forum for open source software developers to share resources and collaborate on technologies for entertainment industry applications. Founded by the Academy of Motion Picture Arts and Sciences and the Linux Foundation in August 2018, ASWF has steadily advanced initiatives.

"Framestore has already been involved in many of our open source projects, and we're delighted to have their continued support. We're also excited to welcome HP and look forward to working and collaborating with them," said David Morin. "We are grateful to have the insight and leadership of both Framestore and HP in the Academy Software Foundation brain trust."

These new members are coming on board as the ASWF prepares for its Open Source Forum event taking place on 16 February 2023 at the Academy Museum of Motion Pictures in Los Angeles, CA. The Open Source Forum annual event gathers business and technical leaders to discuss the state of open source software across the motion picture and media industries.

"HP has a long history of innovation and collaboration in the M&E space, and we believe the ASWF is a great forum for fostering community and solving problems together. While many might think of HP as a hardware company, with our acquisition of Teradici and Poly, as well as other software projects, we are increasingly becoming a solutions company and what's important to our customers is important to us. I think most people would agree that more can be achieved through collaboration than individually, and open source embodies that principle," said Barbara Marshall, Global Segment Lead, Media & Entertainment, HP.

Framestore is an Oscar, BAFTA, Cannes Lions and Emmy award-winning creative studio known for bringing extraordinary ideas to life across films and TV, advertising campaigns and pioneering immersive experiences. Home to over 3,000 creatives, artists, producers and technologists, Framestore is known for blending creative excellence with ground-breaking technical innovation to consistently deliver exceptional visual storytelling.
The company is famous for work on projects such as Gravity, Blade Runner 2049, Doctor Strange in the Multiverse of Madness, His Dark Materials and bringing to life the Geico Gecko, Audrey Hepburn for Dove chocolate and Kiyan Prince in iconic work for brands.

"Open source has been a foundation for much of what we do at Framestore. From using Linux as our main operating system, to formats such as OpenEXR and OpenVDB, to frameworks and libraries that enable our complex and broad workflows, open source is a critical part of our business and industry. Our technology team believes that the industry as a whole grows and becomes stronger through collaboration and partnership. We are excited about joining this organization and contributing to an already vibrant and diverse community," said Michael Stein, Framestore's CTO.
The Academy Software Foundation welcomes support of their mission to foster a healthy open source ecosystem. To learn about more about becoming a member, visit www.aswf.io