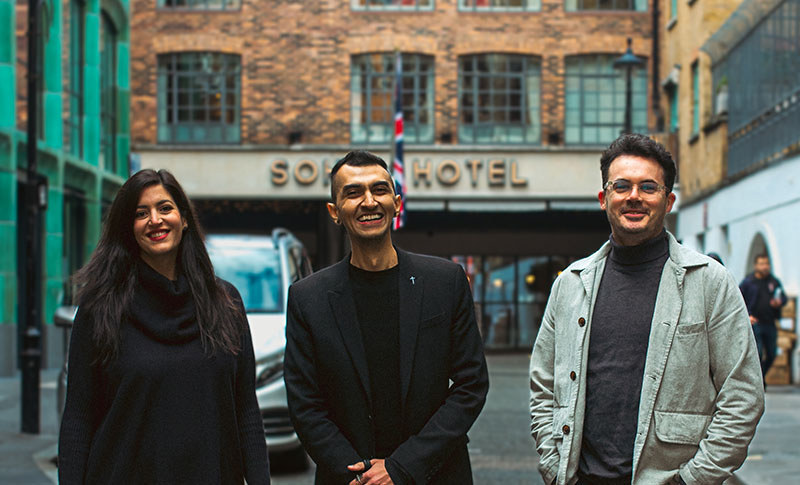 L - R: Mary Stroumpouli, Tamar Chatterjee and David Cordon
Creative Director Chris Lunney and Managing Director Luke Kaile have revealed a series of internal promotions and new appointments to broaden their team of anchor roles and new heads of department. The changes are part of an ongoing strategy to expand and develop key departments and capitalise on new ways of working made possible by the fully distributed infrastructure and global workflow the company is advancing.
"We want our world class talent at NVIZ to be front and centre, developing solid relationships with all our clients so that we can rapidly deliver the tailored services each project requires," Luke said. "These hires are the foundation of providing that service, bringing a depth of knowledge and ability from across the industry directly to the disposal of our global clients, wherever they are."
The new faces include experienced VFX Producer, David Cordon (Avengers Endgame, Pokémon Detective Pichachu) who came on board as Head of VFX Production last year. David has experience in various different roles inside Production at a range of companies including Scanline, DNEG and Framestore. He brings a wide understanding of the industry and best practice in the production workflows. "I felt an instant connection with the team at NVIZ and a lot of freedom and support, as well as a mutual desire to build something great," he said. "Although we plan to expand on 3D in general, we will be focusing on CG Environments during the next couple of years. Our ultimate goal is to establish NVIZ as a reference for quality work and we are taking one step at a time."
Tamar Chatterjee (Black Panther, Wonder Woman 1984), has joined NVIZ as Head of CG, to lead the continued exploration and development of new possibilities and methods in that department. Tamar's experience comes from years working at Rhythm & Hues and DNEG. "I am excited to join the incredibly talented team at NVIZ at such a significant and pivotal time for technology driven creative companies," said Tamar. "I look forward to driving the development of unique ideas, concepts and approaches towards harnessing emerging technologies in the pursuit of effective visual storytelling. I feel especially privileged to be part of an organisation that is just as committed to its people as it is to achieving excellence in our field."
NVIZ's VFX department has been further invigorated with the arrival of Mary Stroumpouli (Chernobyl, Interstellar) as a new VFX Supervisor. Mary comes to NVIZ with 15+ years of experience in visual effects across several London based facilities, including DNEG and MPC, expanding and complementing the company's team of VFX Supervisors.
In addition to these senior roles, NVIZ has also expanded its ranks with several talented VFX team members including Lead Compositor George Palcut (The Crown, Halo), Matchmove Supervisor Sam Swinnerton (Doctor Strange in the Multiverse of Madness, Matrix Resurrections), Lead Compositor Fred Place (Batman Begins, The Lion King) and Digital Matte Painter Lizzie Bentley (The Sandman, Game of Thrones).
Underpinning the VFX expansion, NVIZ is also investing in new strategic tech roles, including welcoming John Leedham as Head of Systems Architecture. John brings a broad variety of skills and experience from his work in the creative world with Framestore and Rushes. "I'm delighted to join the NVIZ family," said John, "The company has always supported a diverse range of ways of working, including a recent move to becoming a hybrid company and 100% remote working for artists, technologists and producers alike. We're really looking forward to what the next few years bring." www.nviz-studio.com