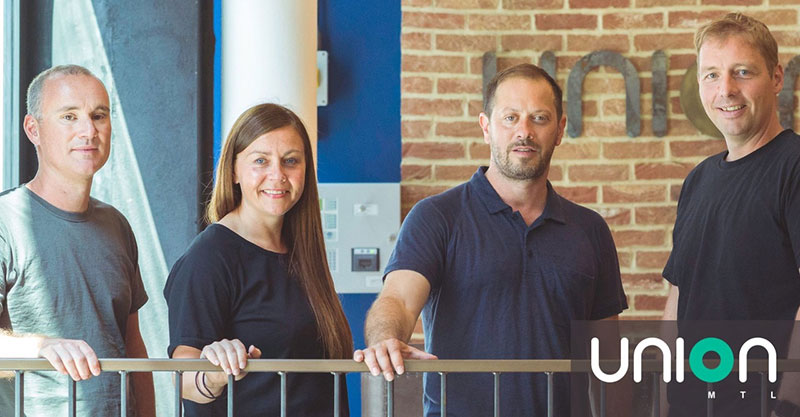 Union has announced the launch of its first international studio in Montréal. Headquartered in London and about to celebrate their 15th birthday, Union's launch of a Canadian studio will expand the services they offer their clients in feature film and high-end TV. The studio is located in a beautiful refurbished industrial building called Le Nordelec, between Griffintown and Pointe-Saint-Charles.
Union's recruitment drive is already in full swing to grow its Canadian team. They are currently recruiting technical, creative and production roles across all levels.
Union, a fully independent studio, was founded in 2008 by Adam Gascoyne and Tim Caplan. The steady growth of the business has allowed it to be financed by its success, resulting in the company's reputation for working on story-led, director-driven projects.
Union's back catalogue features collaborations with Oscar and BAFTA winning directors including Martin McDonagh, Danny Boyle, Sam Mendes and Stephen Frears on a huge variety of projects from period dramas to dystopian fantasies – as well as everything in between.
Since 2020 the company has invested heavily in growing its CG team and has recently delivered exceptional VFX on projects including For All Mankind, The Irregulars, Operation Mincemeat, Wheel of Time, Moon Knight, Pennyworth and the multi award winning The Banshees of Inisherin.
Regarding their decisions behind expansion in Montreal, Tim Caplan said, "Adam and I have backgrounds at bigger VFX studios and our plan for Union was to build a VFX company that had all the best from our experiences, with the benefits and personality of an independent studio. Over the last 15 years we've definitely achieved this in London and, with the ongoing upturn in film and TV projects globally, the time is right to do the same in another region.
"We decided on Montréal before the pandemic. It's the perfect place ideally positioned for us to work with clients across multiple time zones with an incredible pool of local VFX talent, and a generous tax relief system. All this, plus finding a brilliant studio space, made it a simple decision. We are all hugely excited about this next chapter for Union."
Union has just completed work on The Power – a nine part series for Amazon that premiered on 31 March. www.unionvfx.com