'Star Wars' & 'The Revenant' Top 14th VES Awards
The Visual Effects Society has held the 14th Annual VES Awards on 2 February 2016, recognising visual effects artistry and innovation in film, animation, television, commercials, video games and special venues.
Across the 23 awards categories, 'Star Wars: The Force Awakens' was the biggest winner of the event, taking four awards including Outstanding Visual Effects in a Photoreal Feature. The work on the Falcon Chase and Graveyard won the awards for Outstanding Created Environment in a Photoreal Feature and Virtual Cinematography in a Photoreal Project. The character BB-8 won the award for Outstanding Models in a Photoreal or Animated Project.
'The Revenant' achieved three wins, for Outstanding Supporting Visual Effects in a Photoreal Feature, as well as the awards for Outstanding Animated Performance and Outstanding Compositing in a Photoreal Feature for the bear attack. To read about the environmental effects in 'The Revenant', see the feature included in this Newsletter.
In animation, 'The Good Dinosaur' won the three awards for Outstanding Visual Effects, Created Environment and Effects Simulations in an Animated Feature. For broadcast, TV series and the recent commercial for SSE, 'Pier', each earned three awards. To see a list of all of the Award winners visit the VES website.
Rodeo FX created the Volantis environment in 'Game of Thrones' that won Outstanding Created Environment in an Episode. The city of Volantis was created completely in CG, including a crowded market atop a majestic bridge and surrounded by large buildings full of activity. Working from a live plate, using a Roman bridge in Córdoba, Spain as a stand-in, the Rodeo FX team created the buildings and market on the bridge, and the background matte painting. The artists modeled all assets in the scenes, including gutters, roof tiles and windows.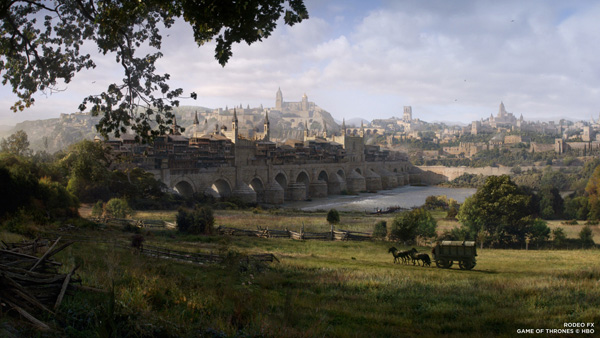 Rodeo FX also carried out animation, crowd simulation and digital matte painting to build other sequences, including the destruction of the Harpy statue and the Smoking Sea of Valyria among 200 visual effects it delivered for the show, working with VFX supervisor Joe Bauer and VFX producer Steve Kullback.
The diploma film 'Citipati' by Andreas Feix and Francesco Faranna created at the Filmakademie Baden-Wuerttemberg in Germany earned the award for Outstanding Visual Effects in a Student Project. Citipati leads the viewer back to the Cretacous period where a dinosaur is dying. During his final moments, the dinosaur's last glimpses of the inhospitable world around him merge with his own personal memories. Working on his diploma project gave director Andreas Feix an opportunity to return to one of his favourite subjects – massive reptiles, rendered here in hyper realistic 3D.

Director-producer Sir Ridley Scott was presented with the VES Lifetime Achievement Award. Industry veteran Scott Ross presented the VES Visionary Award to conceptual artist Syd Mead. The event also featured a salute to ILM's 40th anniversary. www.visualeffectssociety.com