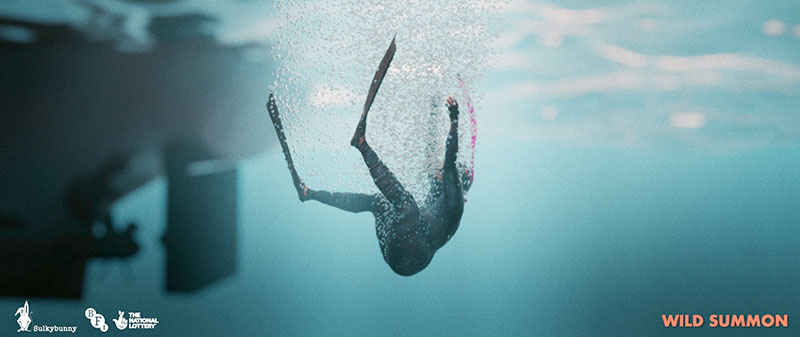 On the surface, short film 'Wild Summon' is a cinematic documentation of a river salmon's lifecycle. Instead of appearing as expected, the film's central subjects have been replaced with human creature-characters resembling free divers, with a result that is ultimately unsettling. An official selection of the 2023 Cannes Film and Annecy Film Festivals, among others, the project was created by UK-based independent film and animation studio Sulkybunny through a grant from the British Film Institute (BFI).
According to the studio's co-founders director and photographer Karni and CG artist Saul Freed, the intention of swapping fish for humans in the context of the short is to both evoke empathy and highlight ecological concerns. They aimed to explore themes of survival and sacrifice for the next generation.
Conveying the journey in an educational documentary style with a first-person perspective, the short takes viewers into the water, which was achieved by blending live action footage and CG content. Though 'Wild Summon' was awarded the grant in February 2020, Sulkybunny postponed filming until summer 2021 because the live action footage was to be captured on location in Iceland.
Around the same time, Saul launched the animation development, since nearly 70 percent of the final film features CG elements. He used Autodesk Maya and Arnold for animation and rendering, with Adobe After Effects for compositing, on a single iMac Pro. The Sulkybunny team then completed all final rendering on the cloud using Conductor.
"After I used a cloud-based render farm for the first time, it completely changed the way I think about projects. You don't need a studio setup to get big results," Saul said. "One of the greatest problems with rendering on your own machine is that it's unusable during that time, and some of our heavier shots were taking 27 hours per frame to render locally. Using Conductor, our final render push was so much easier. Without it, I was looking at months of additional rendering time and would not have finished.
"The heaviest shots were those with water and foam, considering the endless time spent on simulation. On the other hand I could allow for lower quality renders as I was applying significant amount of motion blur and depth of field in post. Still frames were clocking up 20 hours on my local machine.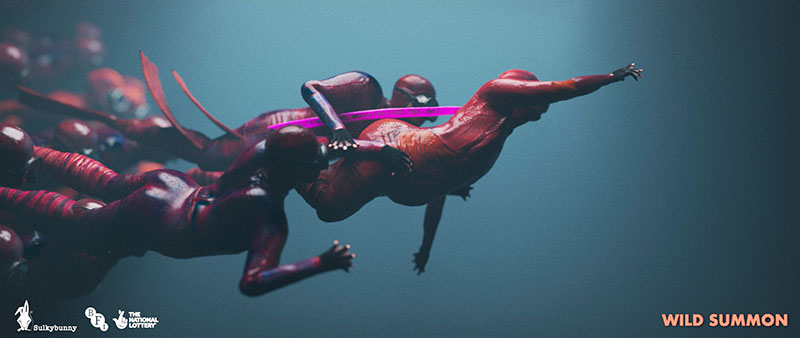 "Our characters have a lot of subsurface scattering in their shading that is definitely a challenge to get clean, and because it was around the eyes and face, I couldn't get away with depth of field or motion blur. It had to come out clean from Arnold."
To augment footage captured in camera and execute some of the complex underwater camera movements, Saul built a CG replica of the riverbed, leveraging 3D Quixel assets to speed up the creation process. He also used SythnEyes for tracking. When it came time to run the final renders, he was surprised at how quickly Conductor returned the results.
He said, "Quixel was a life saver for this project. The assets come with a range of options and you also retain a lot of control within Arnold and Maya. I tend to start out quite rough, since I end up adding loads of grain, blur and depth of field, so I kept the subdivision quite low. If budget permitted, I would probably take it higher.
"I spent two years working on a mountain of shots, then suddenly my work was complete because Conductor rendered it so fast. It was a great relief to have the project finished, and I'm very proud of how it turned out," Saul said. "Tools like Conductor allow me to deliver high quality content as a freelance CG artist, without the backing of studio infrastructure."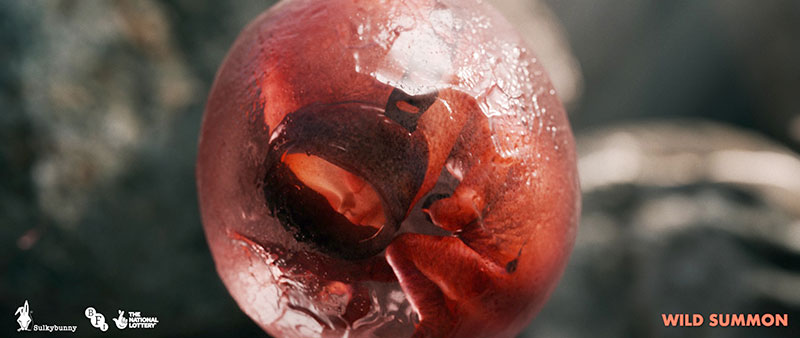 Like all projects, access to budget and time affected the team's decision-making differently, at different stages. "It was a long project with different stages of funding and help from the render farm," Saul said. "Our budget was low, which meant being very careful with render costs. If the budget would allow it, a render farm could serve as a magic trick for directors. Being able to see final results and then correct them quickly is the ideal scenario, specially for smaller crews and studios.
"Similarly, I was very careful to carry out many tests and had to compromise at times. But as soon as help with finance was available, I immediately allowed myself to push the image to the limit – with no compromises!
"I've used Conductor on commercial projects and tend to do a rough estimate of the render costs while allowing for some headroom. Going through that step simplifies the process if anything, as I don't need to think about allocating days or nights for rendering. Bearing in mind that we are a very small team – as the render process becomes simpler, as it frees up the way I think about a project, It also gives me a certain amount of confidence to put more effort into other elements of the production." www.conductortech.com