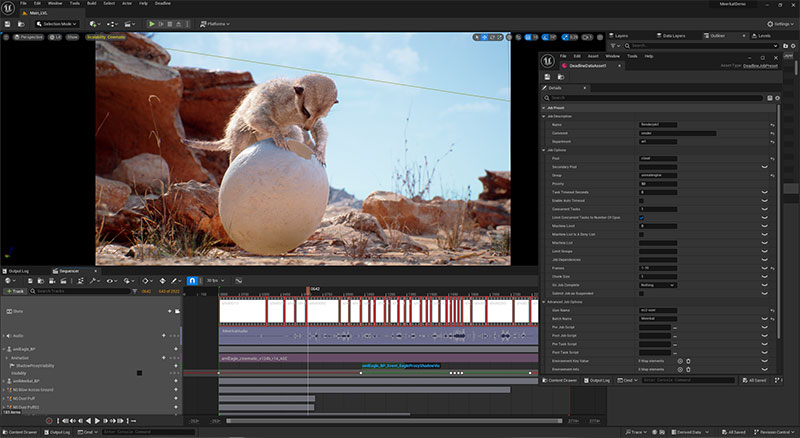 AWS Thinkbox Deadline 10.3, the new version of AWS' batch compute render scheduler, now includes support for Epic Games' Unreal Engine 5, as well as version updates for several other digital content creation applications. Compatible across Windows, Linux and macOS platforms, Deadline 10.3 supports over 80 applications as standard, and can be used with on-premises, cloud-based or hybrid render farms.
Integrating Deadline 10.3 with Unreal Engine 5 means users can continue to use their existing render setups with the same efficiency as usual, or scale with cloud-based resources to speed up their final-pixel outputs. With the integration in place, artists can keep their attention on their own content creation workflows, and meanwhile offload render and pipeline tasks to the farm.
To make this possible, AWS Thinkbox Deadline developers worked with Epic Games to build a new plugin for Unreal Engine 5 that connects Deadline with the Movie Render Queue sequence output tool in Unreal Engine. With a single click in Movie Render Queue, an artist can submit a job to Deadline and immediately continue their real-time creative sequence and shot work without context switching. The farm then handles rendering and pipeline automation in the background.

When artists aren't using on-premises resources such as workstations with high-powered GPUs, they can be integrated directly into a larger pool, making better use of the compute available for rendering with Unreal Engine and other applications. With the new Deadline integration, Unreal Engine links directly into cloud infrastructure, to allow expansion and scaling as needed.
Deadline 10.3, and many other Thinkbox tools, are available as a free download via the AWS Management Console's AWS Thinkbox Download page. In 2022, to support visual content creators and make managing licenses easier, AWS made the entire collection of Thinkbox tools free.
New software versions supported in Deadline 10.3 include Adobe After Effects 2023, Autodesk Maya 2024, Autodesk 3ds Max 2024, Autodesk VRED 2023 and Maxon Cinema 4D 2023. Deadline 10.3 is shipping with Python 3.10 in alignment with the VFX Reference Platform, to make it easier to manage pipelines with closer Deadline integration. aws.amazon.com/thinkbox-deadline