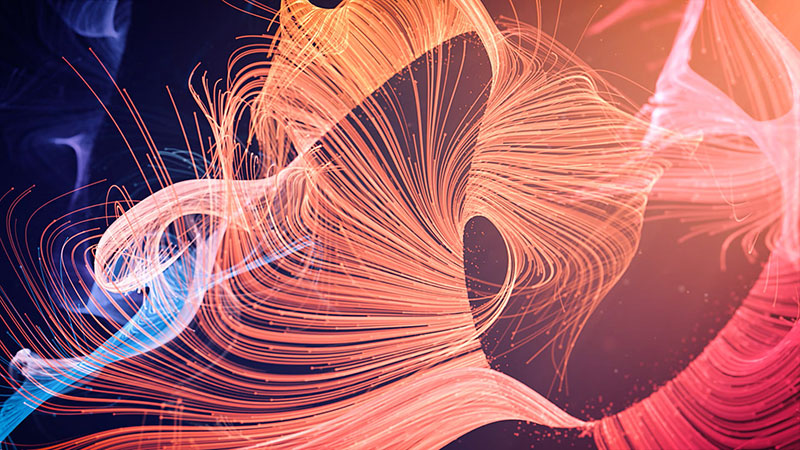 Maxon's September 2024 release updates nearly all of the company's software – Cinema 4D, Red Giant plugins and Redshift renderer – and adds new Capsules assets and materials.
In Cinema 4D, higher performance improves interactive playback, with software updates that include improvements to Rigid Body simulations and a more art-directable Pyro workflow. Motion graphics artists can use the new Combustion feature in Trapcode to create realistic thermal dynamics, and create particle tracks with Stroke from Parent. VFX 2024 expands its lighting control tools and makes several updates to Real Lens Flares, and the colour correction tools in Magic Bullet are easier to use. Redshift brings more creative options for artists, and achieves performance improvements on multi-core CPUs.
Cinema 4D
Maxon has developed a new core that optimises Cinema 4D's performance and allows the software to run much faster than previous versions.
By adding Rigid Body Simulations to Cinema 4D's Unified Simulation System, which is highly multi-threaded, solid objects can now interact with all simulation types in the scene. Users can achieve more realistic-looking simulations that incorporate multiple objects with different simulation characteristics such as cloth, ropes, rigid bodies, soft bodies and pyro. The simulations may be calculated on either the CPU or GPU.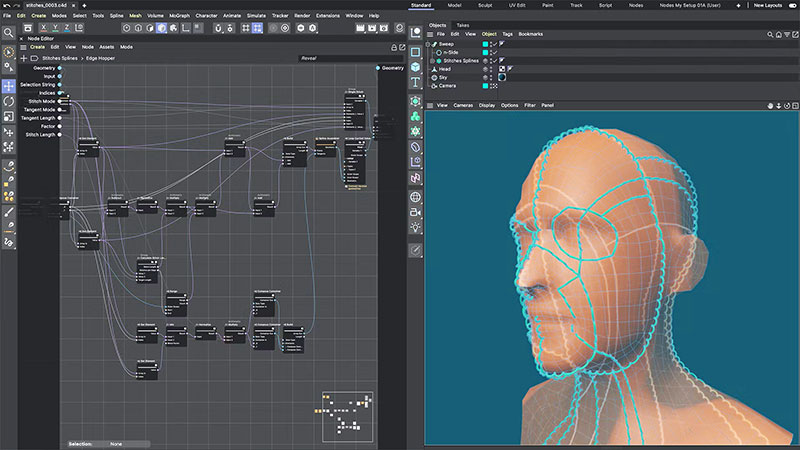 Pyro's controls are now more precise for artists who prefer to art direct their simulations to ensure they match their vision. By adding the Pyro tag to standard particle emitters, thinking particles geometries and matrix cloners, they can now emit Pyro. Artists can to create filmic scenes with fire, smoke trails and explosions – for example, visualising fireworks in the night sky. In terms of management, they can use a lower resolution simulation for quicker turnarounds during the art direction and concepting stage of a project, and then use the UpRes tool to render the simulation in full quality for final output.
Cinema 4D 2024 introduces new vertex normal controls that give artists full control over the adjustment of vertex and polygon normals to remove shading artifacts.
New modelling tools in Cinema 4D will help simplify complex tasks – artists can use Select Pattern to repeat a selection on the surface of a mesh with one click, and Projection Deformer to move points from one object to another, in any direction. The Node UI in Cinema 4D 2024 has also been revamped. Apart from improving the overall look, its new Notes feature places direct annotations in the Node Editor that artists can use to document their nodal network.
Red Giant
The new release for Red Giant includes updates to Trapcode, which has a new subset of parameters within the Particular Fluid Dynamics group called Combustion that adds realistic thermodynamic properties to the simulation. Combustion allows artists to create convincing pyrotechnics directly in After Effects – for example, lighting an unlit torch in an actor's hand with flames that react realistically to position data.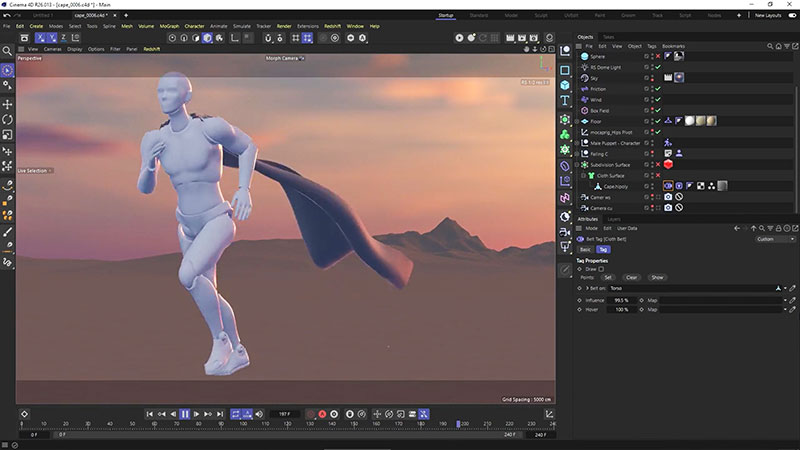 Stroke from Parent is a new emitter type option and an alternative to Emit from Parent. Since Stroke from Parent behaves more like a 3D Stroke, artists can create a seamless trace behind a parent particle.
In VFX 2024, artists can add dimension to their scene with the 2D+Distance feature by changing the distance of the light source in Z-space. The Distance Affects Size and Size Affects Brightness parameters can change the appearance of the flare during movement. This is a good approach for adding flares to dramatic shots of objects moving towards the camera.

Light Control allows artists to precisely position and control the flare in 3D tracked scenes based on AE Lights. Ring Projection gives 1970s and '80s looks to flare styles that mimic the look of movies like 'Blade Runner'.
Artists can improve their performance when enabling Draft mode for the layer to which Real Lens Flares is applied in After Effects. They can work and animate fast at a lower resolution, while still outputting the full quality in the final render.
Due to the new Schmutz Background Illumination, Schmutz can now be illuminated by the brightness values of a shot or a light source, resulting in a more realistic integration into footage.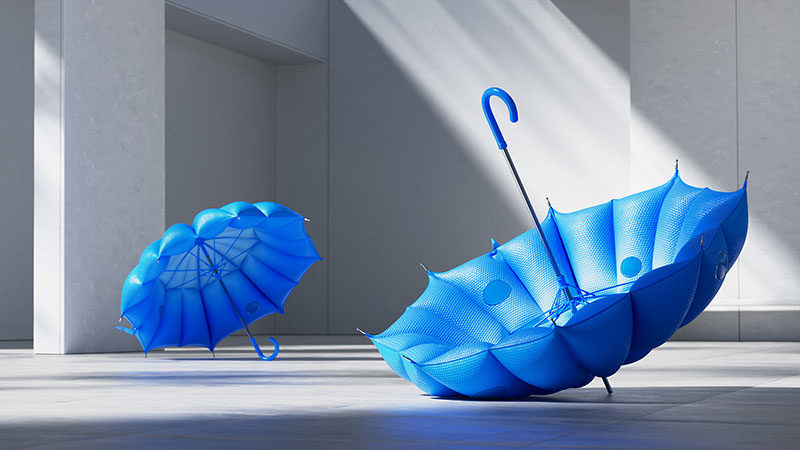 Magic Bullet 2024 has over 30 new presets including film looks, music videos, fashion films and vlogging, The workflow in Magic Bullet 2024 is also simpler. After Effects users now have synchronized OCIO colour management with Magic Bullet's Looks – to overcome the complexity of setting up colour management, Looks saves settings after the setup in After Effects so that the user doesn't have to perform colour management twice.
Redshift
The Redshift 3.5.18 MatCap shader has received additional adjustment parameters allowing users to generate attractive illustrative renders from their own digital sketches, which are useful to quickly create simple, stylized renders
The Distorter node now supports 3D distortion using Maxon Noise. As a result, distortion is no longer limited to color texture inputs and 3D distortion of the Maxon Noise node, and distortion of bump maps is now possible. By using both options independently to distort surface effects on a mesh, you can avoid distorting any other shader parameters
On systems running CPUs with 12 threads or more, render buckets will automatically run concurrently. This will improve performance and accelerate rendering on multi-core CPUs. As bucket splitting has no effect on CPUs with less than 12 threads, the feature will automatically shut down on these CPUs.
Basic Jitter Node support was added to Redshift in Blender, allowing users to quickly vary shader attributes across a large number of assets.
Capsules
The new Catenary Spline Modifier created by Rocket Lasso eases the task of creating hanging wires, ropes and cables. This modifier can be paired with the Break Spline Modifier to create bundles of hanging wires that bunch together at random intervals. Maxon suggests that dropping the result in the Volume Mesher creates disgusting tendrils of dangling slime. This tool is exclusive to Maxon One subscribers.
Break Spline Modifier, which acts as a deformer for splines, has also received three additional example scenes.
A comprehensive collection of Redshift materials is also available, created by visualization specialists Fuchs & Vogel. The most recent series contains 32 Redshift Metal materials ranging from rough gold to smudged nickel, plus 18 Redshift Car Paint materials from pearl to matte black to iridescent flaked reds that change with the viewing angle.
The Capsules library of plants now includes 52 new models by Laubwerk that are Ready to use in exterior visualizations. Among them are numerous variations of the Mediterranean Cypress, Umbrella Tree or the Virginian Witch-Hazel. For interiors, a set of Home Decor models features 10 chairs, three coat racks and three wine racks.
www.maxon.net