Whiskeytree and ILM worked together on many sequences for 'Tomorrowland',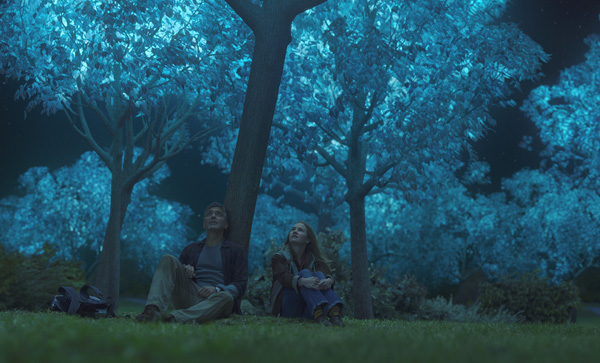 using lengthy iteration to nail the look, with cineSync to collaborate and avoid
surprises or misunderstanding.
---
Whiskeytree and ILM Traverse 'Tomorrowland' with cineSync
The artists responsible for bringing the alternate utopia of'Tomorrowland'to the screen work at visual effects studiosIndustrial Light & MagicandWhiskytree. Whiskytree is located at San Rafael, California, just north of ILM in San Francisco. Consequently, the two companies have worked together previously on 'The Lone Ranger', 'Transformers: Dark of the Moon, and 'Transformers: Age of Extinction'.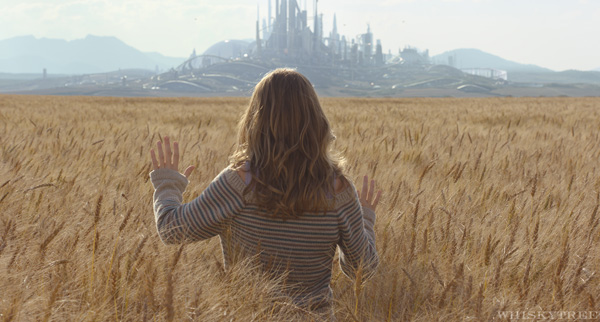 For 'Tomorrowland', ILM's associate VFX supervisorBarry Williamscould stop at Whiskytree en route when travelling between ILM and theLucasfilmsound studio at Skywalker Ranch in Marin. Whiskytree was initially hired to create the exterior shots of Tomorrowland itself, and an unusual sequence that takes place under a copse of trees. However, as the production progressed, Whiskytree's team took on a greater variety of shots.
Fast, Iterative Approach
Because a fast, iterative approach was the quickest, most direct way to achieve and refine the desired look for the production, efficient communication was also critical. Whiskeytree, ILM, Lucasfilm and the director synchronised their work and held reviews throughCinesync. Although originally developed to overcome distances between teams, Cinesync's tools have become a standard for communicating about productions generally. In some circumstances, CineSync sessions may be more useful than holding a conventional conversation or review.
The TDs at WhiskytreeSteven CaronandBrian Meanleyfound it especially useful several times when the studio was asked to put their own creative ideas into their shots. For example, for the exterior shots of the Tomorrowland cityscape of spires, flowing waters and narrow pathways, instead of receiving pre-approved assets, Whiskytree contributed to defining its looks.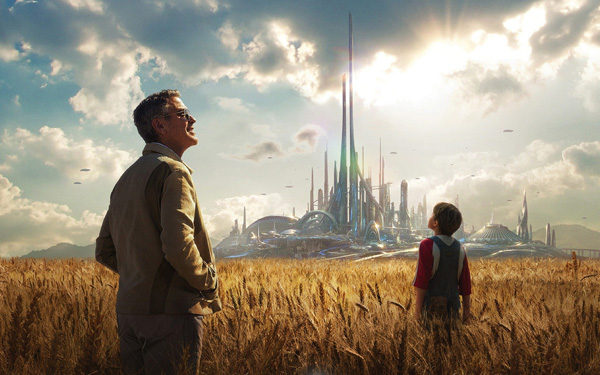 "When ILM first presented the shot to us, the concept art for the city itself wasn't fleshed out or physically complete," Brian Meanley said. "ILM originally provided us with some CG geometry and layouts they were using for interior shots of the city, but when we rebuilt and reconstructed that city and rendered it, from a distance it didn't look like the concept art. We needed to use some creative initiative. We started again with their assets, but modified them and came up with designs that matched the concept art we were initially given, as closely as possible."

While exploring a new vision for this city, Whiskytree would send work-in-progress renders to ILM, holding cineSync sessions a few times a week to make sure their progress was aligning with expectations.
"The key point was getting the silhouette right from a distance," Brian said. "At any point during the sessions, Barry could just draw on the screen different versions of that silhouette, or they would give our renders to the concept team internally at ILM. They would chop it up, work on it and make some variations that Brad could pick favourites pieces from here and there, and form new concept art based on our renders," Brian said. After the director signed off on the final concept, Whiskytree built new assets from this artwork and proceeded to render out the final shot.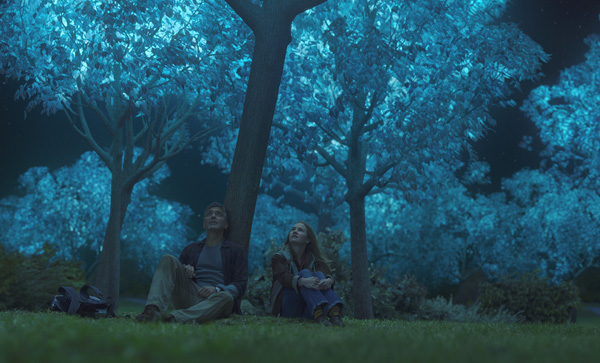 Narrative Intent
A memorable sequence in the film, more pensive than adventurous, unfolds while the film's main characters rest under a small group of bioluminescent crystal trees. The team needed to enhance the glowing light and help define the emotional side of the scene.

"The trees were actually a creatively tricky element in this project," said Steven Caron. "We didn't face insurmountable technical issues but had to find the right aesthetic and give the sequence the correct emotional weight at the point when it appears in the movie." The approach was to iterate over and over while working with ILM's Barry Williams, exploring several looks for the trees to find one that matched the scene's narrative intent.

"During a cineSync session Barry used some of the software's colour adjusting and grading tools to show the direction in which he wanted us to push the shot," Steve said. "That was interesting for us. It's a very convenient capability that definitely helped achieve the right look."
Launching New Techniques
Whiskeytree had known that their involvement in this film would evolve over time, and they were pleased that it continued to demand more creativity from them and bring more variety than usual. During the Paris shuttle launch sequence, for example, the Eiffel Tower splits in two, revealing a hidden rocket to transport the film's heroes to Tomorrowland's alternate reality.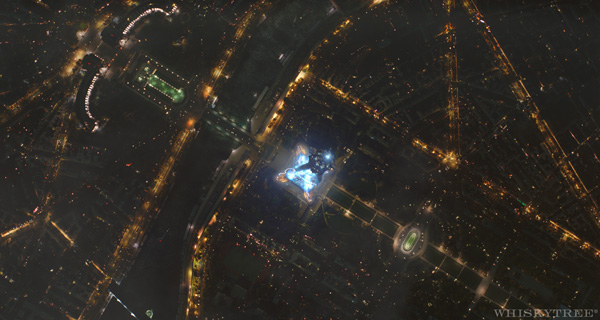 "That sequence involved some techniques that we had not experimented with before," said Brian. "For the shot of the shuttle taking off, we had to recreate the overhead views of Paris as accurately as possible. We used a lot of open-source map data and constructed geometry based on vector map data of Paris. This took us outside of our normal workflow, but worked well."

Variable retimes and speed ramps on a large number of the shots, and invisible effects such as set extensions and modifications to the plate, proved quite time-consuming, and they also compiled a completely digital shot to perfectly resemble footage that was actually shot as a time lapse sequence.

"When ILM forwarded such sequences to us, a similar iterative process always followed. Sometimes a version of a shot would change dramatically from one version to the next, and sometimes it was small tweaks here and there, but cineSync was used each time to collaborate and make sure there were no surprises or misunderstandings," Brian said. www.cinesync.com