Pixomondo's work on 'Game of Thrones' majestic dragons calls for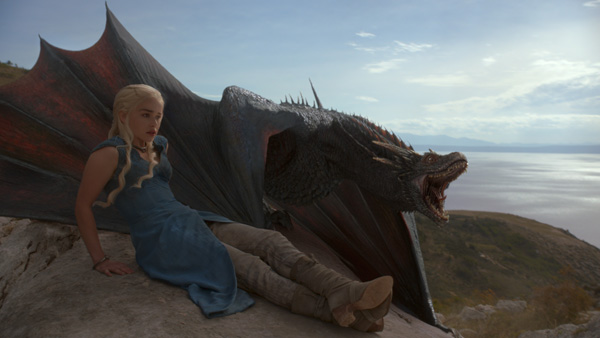 remote team work, running on cineSync, between dispersed artists to
manage complexity as they grow into adult beasts.
---
Pixomondo Tames the Dragons with cineSync
Adventure and intrigue have been primary elements of the'Game of Thrones'story of the Seven Kingdoms over the past five years, but lead character Daenerys' three majestic, fire-breathing dragons are still one of the show's most exciting elements. VFX studioPixomondohas created and developed them since Season two, when their team was the only vendor on the series, working on matte paintings, set extensions, dire wolf integrations and other effects in the ten episodes.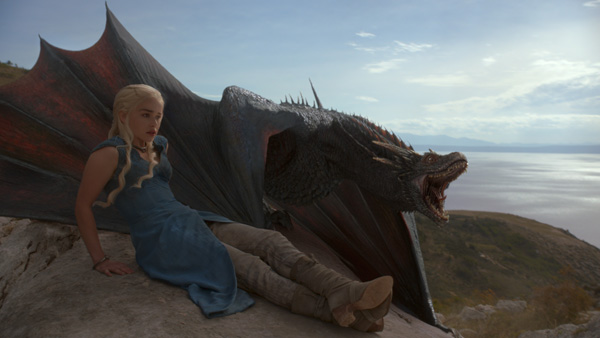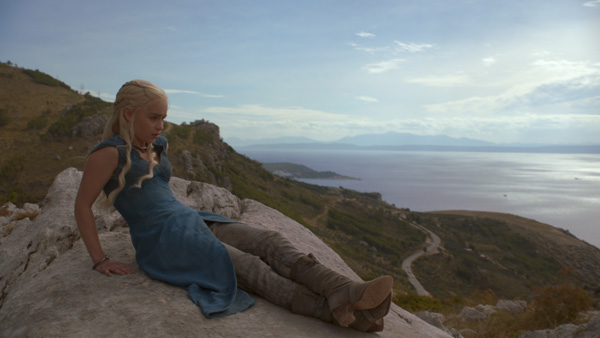 As the show grew in scope and other vendors began contributing VFX work as well, the dragons have gradually grown up in the story, matured and increased in size and complexity, occupying much more screen space. Pixomondo has become primarily responsible for their CG versions. Now in Season five, Rhaegal, Viserion and Drogon are huge, beat their wings against the sky and make close, personal contact with Daenerys, demanding computational power that the show has not required until now.
Dragon's Scales
"We have a lot of close-ups of the dragons, especially when they're coming into contact with Daenerys, meaning the facial performance has had to evolve much further," saidSven Martin, Visual Effects Supervisor at Pixomondo. "We've had to refine our facial rig, and having these digital creatures so close to the camera meant a total rebuild of the textures. In season four, we had about 74 textures over the whole dragon. In season five we're up to about 740.
Also in this season, each of the dragons' scales were modelled individually and then attached to the skin surface itself, meaning the animators could move the skin without causing them to deform. All together, this kind of enhancement has resulted in huge changes."
To make creating three very large, complex creatures feasible, it was critical to make sure all of the artists' work was aligned and coordinated, which can be difficult on a project distributed between locations, like 'Game of Thrones'. Pixomondo's team was in Germany and the show's production visual effects team was either in LA or preparing for shoots in Northern Ireland, Spain or Croatia.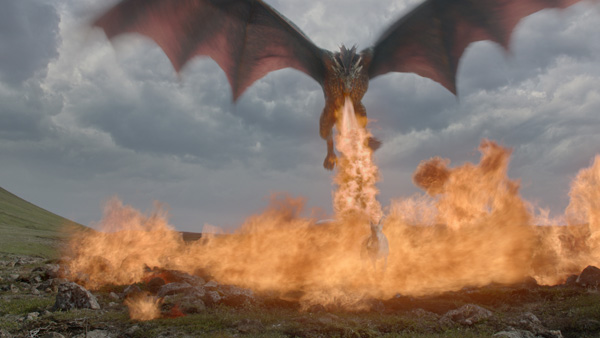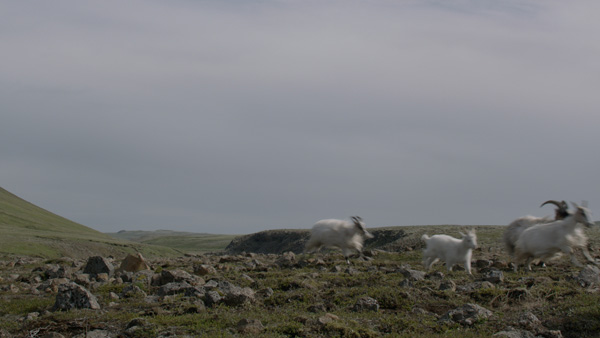 The production is using cineSync to keep the teams connected and, when necessary, working on the same frame.Viktorija Ogureckaja, VFX producer at Pixomondo, said, "The sessions have helped to make processes more efficient. Even though the VFX supervisor Joe Bauer and VFX producer Steve Kullback are hundreds of kilometres away and we're living in different time zones, we can each talk about the same material - right in front of us. It makes it feel like they are just a room away."
cineSync in the Background
Even though cineSync is a media synchronization system, that is, a player connected to the communication and video synchronisation software, it does not have access to the media. The facility or studio is responsible for their own media transfers, through their own servers. Once the media has been transferred to each participant in the review, cineSync checks that the files in each location are the same and then synchronizes the playback and notation.
Also, bandwidth doesn't affect cineSync at all during a review, provided the connection is stable, as only control information is transferred during the reviews, such as play, stop, go to frame 10, draw a line, and so on.
Playback depends entirely on local machine resources, so if the machine can play the file, cineSync can play it. This is a key advantage over streaming or screensharing systems, and makes it suitable for use in frame accurate, full speed playback at native resolution. cineSync's application software does require a small system overhead in order to perform its sync and other functions in addition to playback, but it is not bandwidth dependent. It is all powered by the user's hardware.
Pre-production
This synchronisation allows the VFX artsts to work together across continents. "From the initial dragon design by Dan Katcher to scene blocking, animation and final compositing, cineSync is used to collaborate on all of the production stages of the dragons," said Sven. "From the concept phase we held a lot of cineSync sessions together with the client. We share images a lot, even while we are finding the right reference images in the animal world. We might like a certain texture on the back of a crocodile, for instance, and want to mark out those specific areas."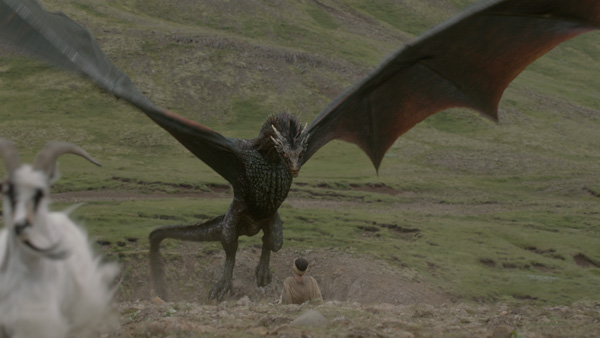 For Sven, the visual nature and interactivity of the software is essential at this stage. Lengthy verbal descriptions won't deliver the message fast or effectively enough. "Not only is writing insufficient to explain abstract ideas, but explaining ideas in an understandable way via email would take a lot of time, and there's also the potential to lose time due to the time zone difference, especially if questions arise," he said.
"Functions in cineSync like annotations become very handy – a certain dragon pose might not be working, and you can immediately react on it and say 'change the tail to this side', and so on. It is like sitting together at one table and drawing with pen on paper."
Turntable QuickTimes
Once the concept of the adult dragons had been decided on and the work on sculpting, modelling and texturing of the actual model started, cineSync contibuted to characteristics that help sell the dragon models to the viewer. "We often prepare close-up turntable renders of the different elements that make up the dragons, which we can then use in a cineSync session for discussions," said Sven.
"For example, we might want to judge the subsurface scattering of certain skin parts of the inner mouth. To see that, you have to work with moving images, so the turntables are really helpful. You can shuttle back and forth to see how the light is reacting through the textures and appearing on the final dragon. With cineSync we can watch and comment on these turntable QuickTimes at the same time in two different continents, meaning everyone can see exactly what everyone else is talking about."
Talking in Pictures
Although its primary use is in group review sessions, Sven has also found cineSync is a quick method for jotting down ideas. "Sometimes I just use cineSync on my own," he said. "For instance, I might want to quickly sketch out some ideas on an image in digital form. I often find it much easier to drag the images into cineSync and sketch my ideas there, rather than loading everything into a graphics program. It's much easier, and I can export and share any annotations I make."

Because the show attracts so much media attention, security is another concern. Therefore, access to cineSync is gained via asession key. "Unless you have the session key, there is no way you can connect and review the material with cineSync," said Viktorija. "We can always see who is part of the session."
Meeting deadlines, security and staying on schedule are major factors in working on a TV series, but the main benefit of cineSync to Pixomondo is visual communication. "Because we are working with visual effects, we need to communicate with images," Viktorija said. "Whatever is written down in text could be misunderstood and lead in the wrong direction. However, even if it's just an annotation or a scribble, an image never lies." www.cospective.com