NABMudbox 2016 has new brush tools within its 3D sculpting and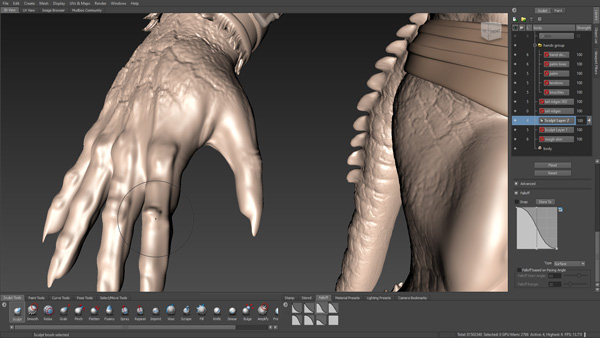 painting set of tools - brush modes Volume Falloff and Surface Falloff,
and Relax Brush – plus a new Twist function.
---
Autodesk Mudbox 2016 Improves 3D Sculpt and Paint Brushes
Mudbox 2016has new brush tools within its 3D sculpting and painting set of tools. Mudbox's digital sculpting tools are designed for fast, smooth, accurate results, painting directly onto 3D models across multiple channels, in multiple formats. Texture baking creates normal, displacement and ambient occlusion maps.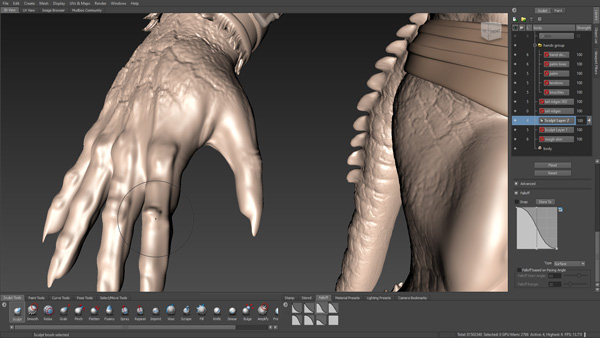 The new tools include two brush modes, Volume Falloff and Surface Falloff, apart from the default Hybrid mode. InVolume Falloff, anything within the brush radius will be affected by the brush stroke, regardless of whether surfaces are connected or not. This mode can be used to deform a character made up of many separate parts.
Alternatively,Surface Falloffmode gives the artist more control by using the centre point of the brush to determine the area affected. This mode is especially useful when working on geometrically tight surfaces, such as separating lips, folding eyelids or changing one finger on a hand.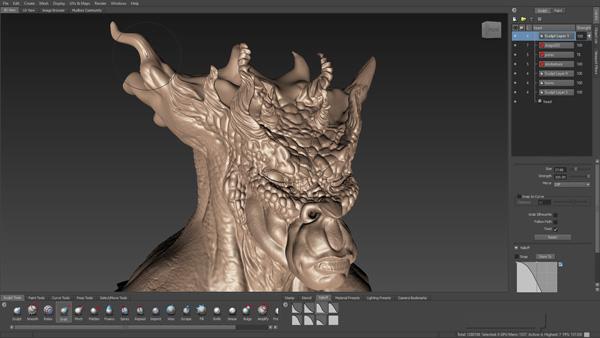 Relax Brushis also new, with aConstrain to Surfacefunction used to even out spaces between vertices while only making minimal changes to the original shape of a mesh. The newTwistfunction in theGrabtool helps you twist all vertices within the sculpting brush falloff radius clockwise or counterclockwise. This is useful for creating swirled objects like soft serve ice cream, for rotating ears and eyes on a character's head, or twisting a character's mouth to create a smile or frown.
These updates are available now. Autodesk supplies standalone products on a pay-as-you-go basis throughDesktop Subscription. Cloud services availability varies by country. www.autodesk.com