VFX supervisor John Paul Docherty and company Doc & A Soc created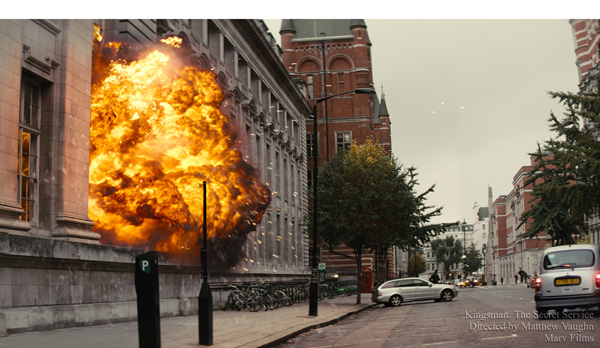 complex composites for action movie 'Kingsman: The Secret Service',
using Blackmagic Design's Fusion Studio.
---
Fusion Studio Joins 'Kingsman: Secret Service' for Complex Compositing
VFX supervisorJohn Paul Docherty, with his company Doc & A Soc in London, created complex visual effects for the recent action movie'Kingsman: The Secret Service', in particular using Blackmagic Design'sFusion Studionode-based software. John worked as a vendor on the film, a comic book adaptation, compositing more than 100 shots in Fusion Studio.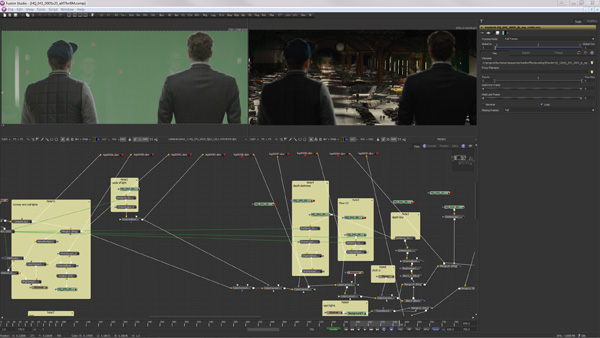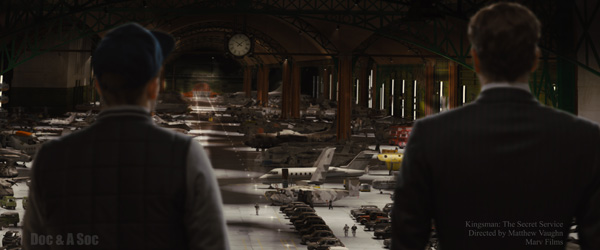 Working in post & VFX since early 1980s with a special interest in rendering and complex 3D animation, John has been nominated twice as visual effects supervisor for a BAFTA. He was VFX supervisor on 'The Imaginarium of Dr Parnassus' and worked on 'Prince of Persia', 'The Wolfman' and, later on, 'Green Lantern' and 'My Week with Marilyn'. Recent productions include 'Inkheart' and 'Skyfall'. He is also speaking at BVE 2015 in London, 24-28 February.
He and digital matte painterJim Bowerscreated 360° environments for various sequences in the film 'Kingsman', including a huge hangar filled with a vast fleet of aircraft and secret service staff, a first glimpse into the true scale of the Kingsman organization that dominates the story.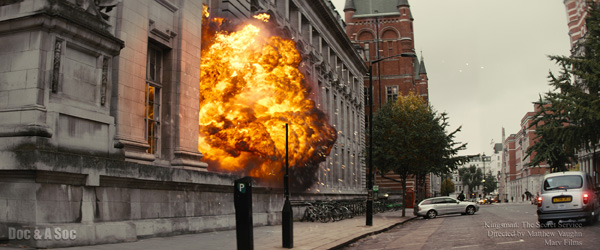 "The whole shot was an environment created by matte painter Jim Bowers, and we added in various moving elements, including workmen, a plane being towed and a man arc welding at the back, which is a little throwback to 'Lost in Space'," said John. "We built about ten layers of environment in that shot, and then brought it into Fusion Studio's 3D environment. The shot underwent many changes inside Fusion, including re-lighting the whole scene, needing no further elements from Jim, and then the foreground shot was keyed on."
Compositing for majorexplosion effectswas also carried out in Fusion Studio. John createdglass shatteringeffects, which were combined with mattes of building exteriors and overlaid on live pyrotechnic footage shot with high speed cameras. "In the explosion sequence we were working with four shots filmed with high speed cameras at Levesden. I then rendered these in, together with the glass shattering effects I'd created. We dealt with multiple image formats and lots of lens distortion, as well as fairly dramatic colour space and resolution differences, before we could effectively composite in the office and taxi elements."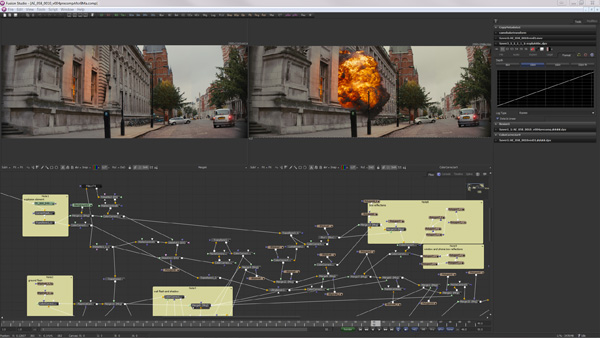 John also needed to use Fusion's Dimension Optical Flow tools at times in his workflow, especially when working out some complex respeeding issues. "In one scene we move from the aftermath of an action sequence to a moving taxi with the Kingsman logo flashing on a back seat monitor. This looks like quite a simple shot but the speeds on both sides had been adjusted by the editor, which works really well, except that he would throw in cut frames for extra drama, making the respeeds very complex. Fusion's Optical Flow did very well handling all of that."
Due to conflicting schedules, overall VFX supervisorSteve Begghad to move onto another production before 'Kingsman' was completed, so John was asked to take over as one of two additional visual effects supervisors, splitting the remaining VFX workload withJohn Bruno. In this capacity John covered shots ranging from full CG and environmental simulation to cosmetic retouches, fixes and pyrotechnical work.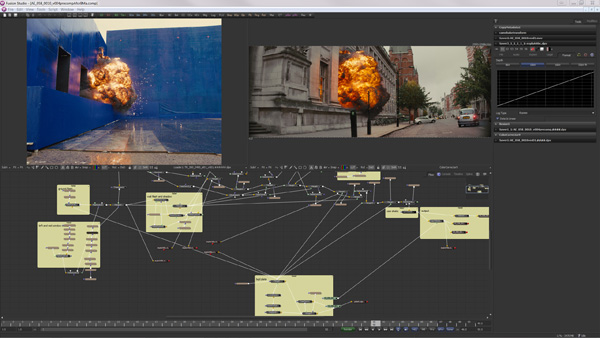 "Another good example is a very long shot in which the villain, Valentine, is revealing his evil plan to the Kingsman leader, Arthur. The actors were shot on different days with different camera moves and no motion control. Consequently, the workflow involved lots of tracked patches, respeeds and reanimated elements as well as heavy colour matching. We could use Fusion to handle this kind of work pretty easily," John said. www.blackmagicdesign.com