Developers at Geomerics show how they have used Enlighten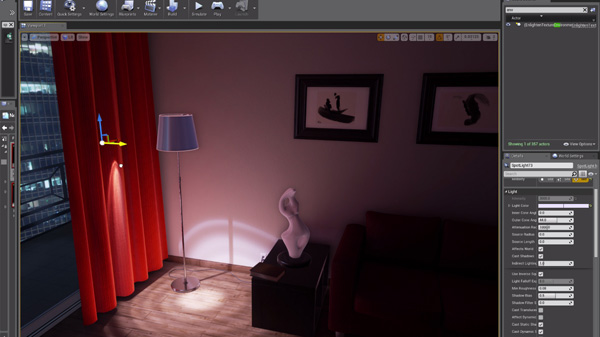 with the Unreal Engine 4 to edit dynamic, indirect lighting in
games in real time.
---
Enlighten & Unreal Engine 4 Edit Dynamic Lights in Real Time
A few weeks ago, Digital Media World posted avideo from Geomericsshowing new lighting techniques in the Unreal Engine 4. It demonstrated how Enlighten and Unreal Engine 4 open new ways of interacting with lights in games, especially indirect lighting. The developers at Geomerics have recently made ablog postexplaining the steps they took to create those effects in their video. The focus of the post is dynamic lighting and gameplay, showing how two spotlights and the Enlighten Skylight can be used to fully light the room very quickly.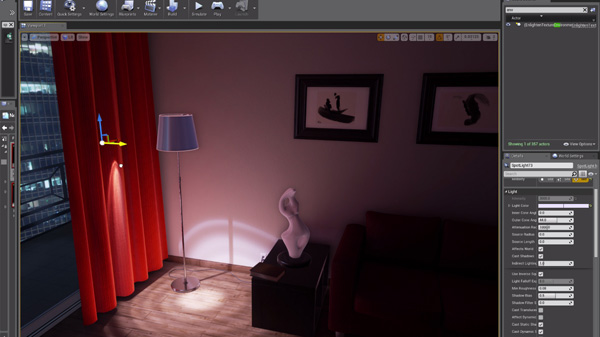 Using UE4 with Enlighten, artists can place or modify lighting when editing or during gameplay. Enlighten will bounce the lighting and provide reflectioncubemapsin real time. Cube mapping is a method of environment mapping that uses the six faces of a cube as the map shape. The environment is projected onto the sides of a cube and stored as six square textures, or unfolded into six regions of a single texture.
The Enlighten software works alongside Unreal's built in graphics, such as ambient occlusion and screen space reflections, both of which you can see in the video. These examples show how to combine UE4's graphical features and Blueprints with Enlighten's real-time global illumination to add more gameplay elements to lighting, while maintaining a believable look and feel. TheBlueprint visual scripting systemis one of the major changes made to Unreal Engine 4, giving a high level of control without writing code.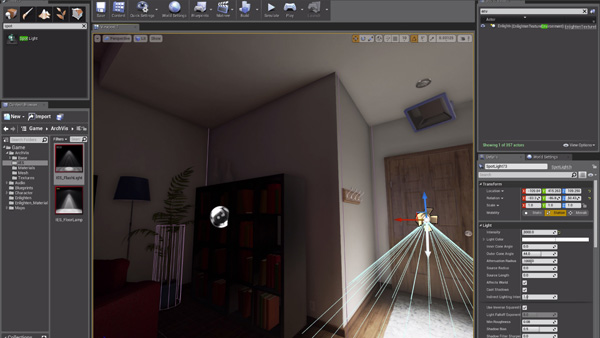 Geomerics plan to cover other aspects of the video in a later post. Enlighten updates the diffuse bounce and dynamic cubemaps of animated scene lights in real time, without having to rebake lighting into the textures. It creates a small indirect lightmap from the Unreal Engine Static Mesh Actors. The game runtime or editor updates this lightmap in memory at runtime. There are presets for tuning the detail of the meshes, and achieving a mix of visual detail and runtime performance.
Enlighten creates light probes to integrate movable objects such as characters and the UE Physics Actors with the lighting around them. It also generates reflection cubemaps from the indirect lighting, which are also updated in real time. The Enlighten SDK is in constant development, and workflows may differ based on different engines and integrations.www.geomerics.com