Propshop uses a LightWave 11.6 pipeline to build precise 3D models of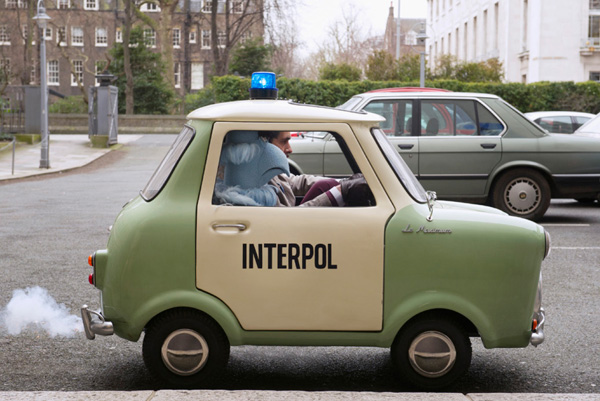 movie props, which they render, texture & animate for production approval
before 3D printing hero props to use on set.
---
Propshop Rolls Out 3D Printed Props with LightWave 3D
Dressing movie sets for super hero and fantasy films often demands props that don't exist in any shop – outsized, intricate and distinctive objects that make the set feel more authentic and help suspend disbelief. Thor's signature hammer Mjolnir, and the king's staff and horse armour in 'Maleficent' are recent examples.Propshopin London has been building these kinds of one-of-a-kind set pieces, which may include hero props, costumes, models and miniatures, for over 15 years.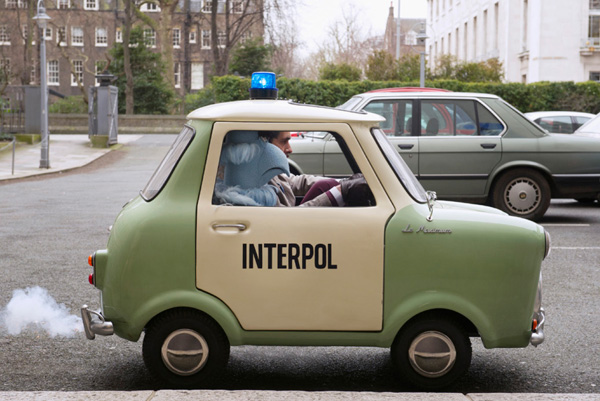 Located at Pinewood Studios, Propshop was the company hired to manufacture the Interpol car for the recent Disney Muppets movie, 'Muppets Most Wanted'. The vehicle not only had to maintain the usual eccentricity associated with a Muppets movie but also had to be functional, as it was driven by a live-action character, Interpol Agent Jean Pierre Napoleon. The waist-high car is seen zooming through the streets as he attempts to track down the notorious Constantine. Propshop also created Napoleon's oversized badge.
Fast Model Production
Propshop's team uses a combination of a pipeline based on LightWave 3D 11.6 and 3D printing to design and manufacture their models. The 3D supervisor at the company, Jet Cooper, has been using LightWave for about 20 years, since version 3.5. "When I joined the Propshop a few years ago, LightWave became part of the process because it is fast and intuitive to work with. One of our first pieces using it was Cerebro for 'X-Men: First Class'. Since then, we have used our pipeline to generate 3D images and models for over 30 movies and productions."
Depending on the project, the pipeline may also include Maya, ZBrush, Modo, KeyShot, Photoshop, Illustrator and various other tools. The company's hardware is a combination of 64GB HP Z620 and Z820 workstations, which are fast and stable under huge workloads, fitted with NVIDIA Quadro 4000 and 6000 graphics cards.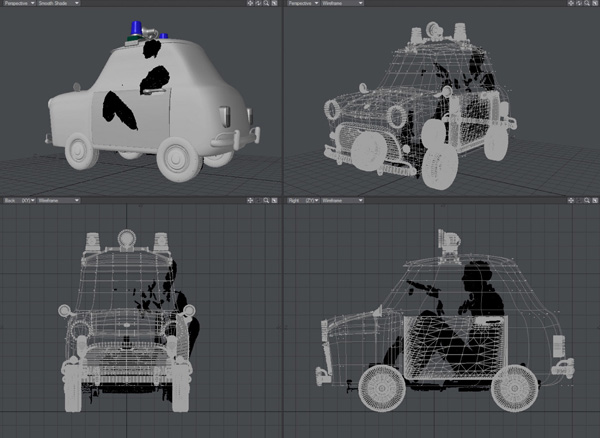 "I use LightWave to build the 3D models before they go to print, and also in the design and concepting process. We can render out animations to explain a prop's form, function and final look. The Modeler is capable of rapidly producing organic, hard-surfaced, quite complex models," said Jet.
Hybrid Vehicle
The design of the Muppets' car was originally based on an old Russian car, but gradually changed to a completely different hybrid over the course of the project. Different versions evolved as the team corresponded with the movie's art department, which had initially supplied photos of Russian cars and some sketches suggesting the form they had in mind. The successive iterations were modelled with LightWave 11 and polished with Pixologic ZBrush when and where required, progressing through six car types including the final choice.
The car was modelled in 3D using subdivision surfaces and the concept artwork, and then used to make a high-resolution poly mesh that could be exported to produce a printable STL file for their 3D printers. Because the car is a large prop, it had to be separated into pieces that were then further digitally cut to fit their large printing beds – for example, the main body of the car, bonnet, trunk, doors, headlight assembly and so on. File sizes ranged from a few megabytes up to a few hundred megabytes.
These larger file sizes are due to the fact that the planes in the geometry have to be small enough to look smooth when printed in three dimensions. The more organic or detailed the subject, the larger the file has to be in order to produce the expected results on a high-resolution printer.
Into the 3D World
"3D printing is a good choice for Propshop's manufacturing process because it allows
us to generate designs that can be adjusted and modified on the fly," Jet said. "Traditional model-making methods - sculpting clay body parts and producing moulds for fibreglass - take longer and are harder to change as problems and needs arise. It also makes sense because once we have nailed the artwork, we can use that signed-off model to produce the actual hero prop. That way, there is no deviation from what the art department and director have seen and approved."
He explained that 3D printing itself has become faster, and the volume is bigger so that larger-size parts can be printed in one piece. The largest can print overnight and measure up to 1.6m per piece. The printers now recycle non-used material as well, thus reducing costs and waste.
"For the Muppets car we primarily used Voxeljet printers, which lay down a fine plastic powder and binding agent, to print the body in seven 3D main parts, plus accessories such as headlights. The end result was a strong print that could be tooled and finished in many different ways. To meet the needs of the movie and script, the car body had to fit over a stripped-down golf buggy and accommodate an actor and a puppeteer.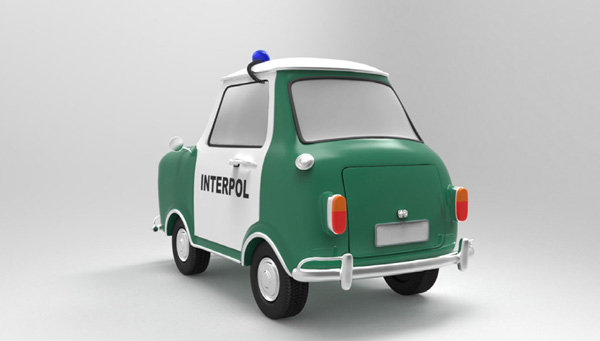 The Perfect Fit
"This was achieved by laser-scanning the buggy, and fitting our LightWave model over the existing chassis data. We then scanned one of our staff sitting in the golf buggy so we could check for sizing issues and tackle the problem of fitting the actor in the passenger seat. The same process also allowed us to work out how and where the puppeteer would be positioned.
"Almost all of our props have to either function or withstand physical wear and tear on set. In this case, the body had to be strong enough to fit and bolt onto the existing host chassis. The panels had to function like a real car and be smooth enough to hold an automotive finish. When modelling, we had to be mindful of scale, tolerances and how it would be assembled."
According to Jet, LightWave's advantage for Propshop is speed, a primary consideration in the film industry. "The Modeler also produces stable, predictable results, and output that other parts of our pipeline can use. LightWave is a fairly complete package as well, which not only generates high quality models but can be used to produce polished renders and animations that are the means to getting work signed off and to expressing ideas." Recently the team has also completed props for 'Guardians of the Galaxy', and are currently at work on another blockbuster science-fiction movie. www.lightwave3d.com