RingSide Creative and teams at studios across the US created a spot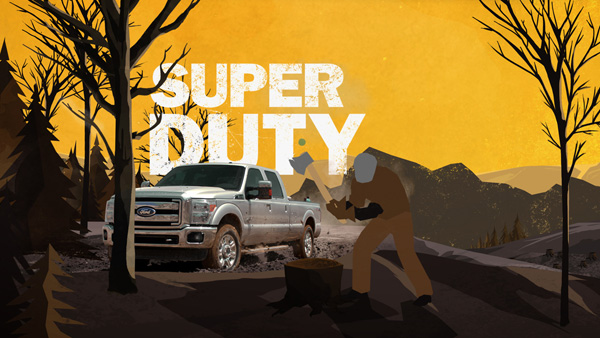 for Ford in a hybrid style combining animation, 3D cameras and original
live-action footage shot on location.
---
Ringside Creative Revs Up a Graphic Spot for Ford's 2015 Super Duty
RingSide Creativeand the teams at Flavor, Cutters and Dictionary Films fromCutters Studiosall worked together from different cities on a new national spot for Ford Motor Company from agency Team Detroit. Entitled'Front and Back', the 30-second commercial continues the long-running Ford Trucks 'Rant' campaign that emphasises bold heroism and reliability. Its hybrid design combines animation, 3D cameras and original live-action footage shot on location in Los Angeles. The spot debuted nationally in August and aired in targeted placements online, during specific broadcasts and on cable.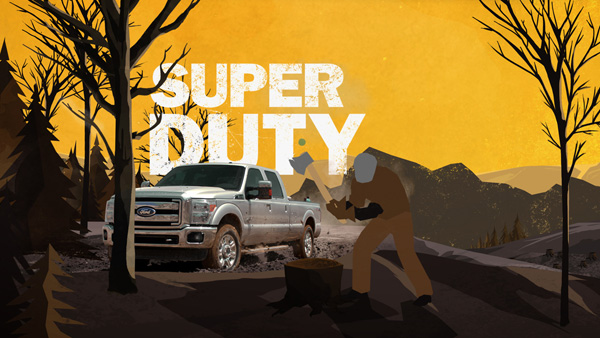 "Over the past couple of years, the visual inspiration for our F-150 Rant campaign has been the graphic design and animation work ofSaul Bass," said Brad Hensen, group creative director at Team Detroit. "We've tried to have a lot of fun with positive and negative space. For Super Duty, we wanted to keep the same visual language, but give it its own identity."
Executive creative directorBrad Tucker, fromFlavorsaid, "To create the look, we experimented to find new ways to combine 3D, live-action, traditional cel animation and motion graphics. The real challenge came in adding the truck to the scene. Since our backgrounds were all created in post, it was easy to make them uniform and to get them to work together. But to add the truck, we needed to add the ground plane from the live action plate into the graphic floor plane.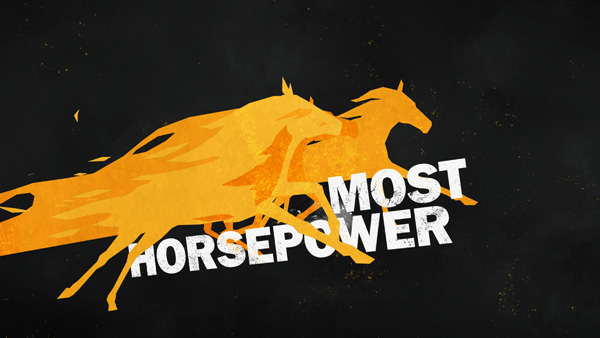 "In the hero shot with the large red truck, we had to single out the mud by rotoscoping it, then combine it and colour it so that it felt graphic. We then needed to roto out the truck so that we could add green from the background to the highlight and reflection colors. Also, in this shot the windows were fairly transparent so we needed a separate matte for them to allow the green background colour to leak through. In the end it was much more involved than just adding a live action plate on the background."
Invited to pitch by Team Detroit, certain technical challenges related to past 'Rant' campaign spots factored into the creative brief especially in terms of enhancing on-screen impact, and developing very original, engaging scene-to-scene transitions.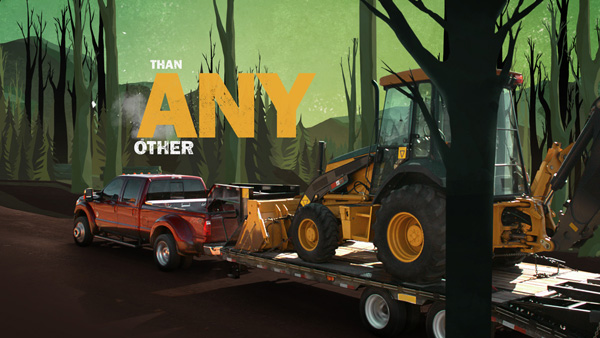 While Brad led the design efforts, storyboards were created at RingSide and work commenced across the US. RingSide also provided VFX and management support from Detroit, and Dictionary Films organized a shoot with 2015 Ford F-450 and F-250 Super Duty trucks in a quarry near LA. Working withDP Jordan Valenti, the crew used an ARRI ALEXA XT on the Mercedes ML55 Edge System from Performance Filmworks, capturing footage at a variety of speeds, craning and rotating to present a multitude of shots for both truck models on different terrains.
Supervisors from Ringside attended the shoot at all times and meanwhile, design and animation got underway at their studio. "Keeping in close contact with Brad and the entire team throughout production was critical to this project's success," said Dave Peyton, RingSide's executive producer who coordinated the efforts of the team of over a dozen artists in Detroit alone, and ensured that work-in-progress and finished content reached Cutterseditor Chris Moorein LA as soon as possible.

"Essentially, Chris's early rough-cut became the template for each step to follow," Dave said. "That allowed us to lock-in timings, identify our selected truck scenes and complete rough comps. This gave our clients early on the confidence that we were on the right track." They already had had a very detailed storyboard moving into editorial so they could concentrate on finding the right takes with the right timing, and putting them together. Ringside put a board-o-matic together with their design frames to give editorial rough timings to work from.
"Chris also had to be creative as he edited, using time remaps, and also leaving enough time for the abstract, seamless transitions," said Brad Tucker. "It's tough to find an editor who can think abstractly about camera moves. Chris did a great job. One section that became difficult in editorial was finding the right shot for the truck pulling the tractor. We eventually chose an outtake that had not been boarded. While it made the tractor look huge and showed off the power of the Super Duty, the truck hadn't been captured correctly in the live action plate. We had to make a graphic truck at the beginning of the shot and then stitch it into the plate as we transition to live action."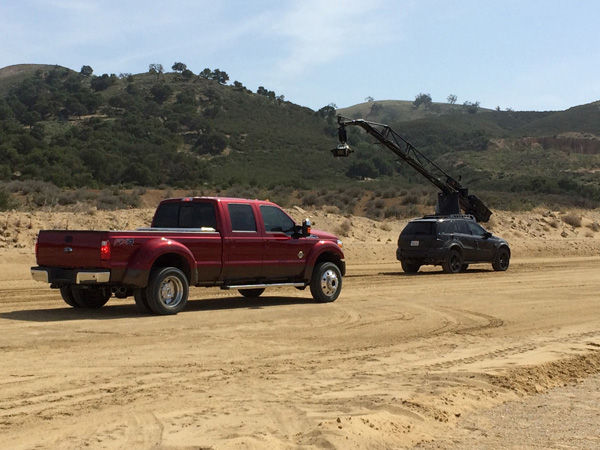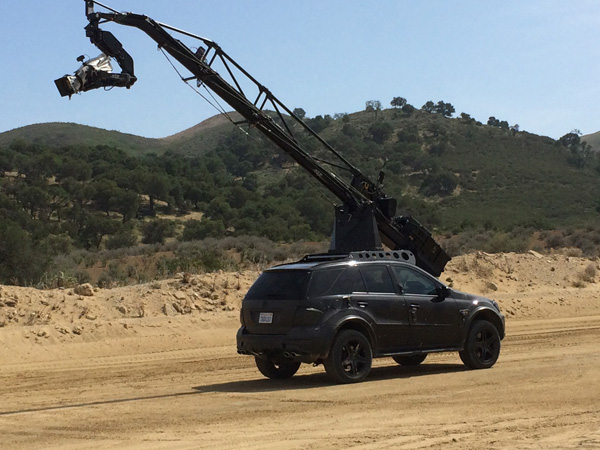 Brad explained the challenges of making theflowing transitionswork in the quick 'rant-like' 15-frame style they had developed for the campaign. "Usually seamless transitions have multiple seconds to look graceful. We literally had frames. Since we had planned ahead and utilized large camera moves to make the transitions, we didn't have to use morphs to force them onto the viewers. Instead we used lots of sleight of hand and parallax gags to make them quick and snappy.
"The driving force behind the graphics is the narrator's voice and pacing. Frankly, it was hard to keep up with him sometimes. We needed fast-paced transitions that weren't too forced, and that could be executed in only a matter of frames but still feel graceful and smooth. We also wanted to incorporate type as much as possible. In previous years we had seen the type placed over the picture.
"This time we wanted to get away from that look and really blend it into the spot. Simple things like placing a corner of text behind the truck but in front of the background helped. Having it interact with objects in the scene - for instance, in the beaker shot we actually made it distort behind the fluids. These little touches go a long way to making the type feel integrated and not an afterthought."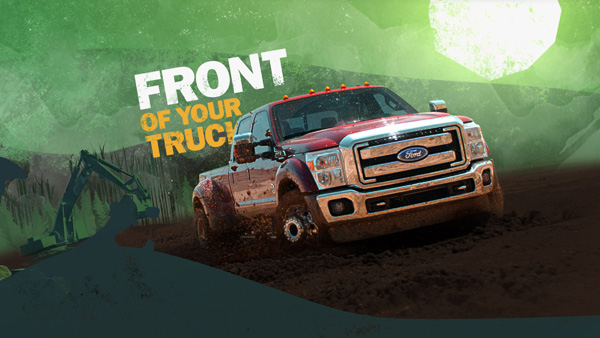 For the most part, they didn't need to animate the trucks at all and successfully used the live action. Once they did have to use a fully animated 3D truck, and several times they had to matchmove the live action plate with 3D to make perfect mattes for windows, lights, and grills in the graphic trucks. The trucks had been shot on real dirt in very rocky terrain, so they used as much real world suspension moves and dirt as possible.
Adobe Photoshop, After Effectsfor compositing andAutodesk Mayaserved as primary production tools. Maya's 3D tools were used more than expected. "Maya was a real workhorse in getting the live action married to the graphics, while keeping parallax between elements. Many of the renderings were treated so they don't feel truly 3D, although several 3D elements – including the truck - had to be built in 3D to match the existing live action plate. Then eventually we transitioned between the two.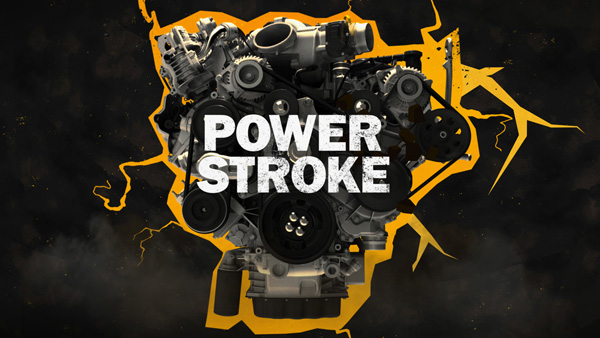 RingSide colouristRick Ungerhandled the final project colour using theirQuantel Pablo Riograding system. "Each of the two Ford trucks had its own rotoscoped matte, which allowed me to manipulate in layers," he said. "While we had a tight timeline, this approach was an efficient means to unify the colours to maximum effect."
Colour was instrumental in getting the final picture to blend together as well. They rendered the final spot out of After Effects, along with mattes for anything that needed individual control. Mostly these were a background graphic plate, truck matte and type matte. Having these mattes gave them the control to closely fine tune the color throughout. They added colour hues to the highlights of the vehicles that would match the scene, or further blend real world mud with the background layers instead of using power windows that would have needed heavy tracking. www.ringsidecreative.com