MPC Enters 'Terminator: Genysis' & 'The Martian' into AEAF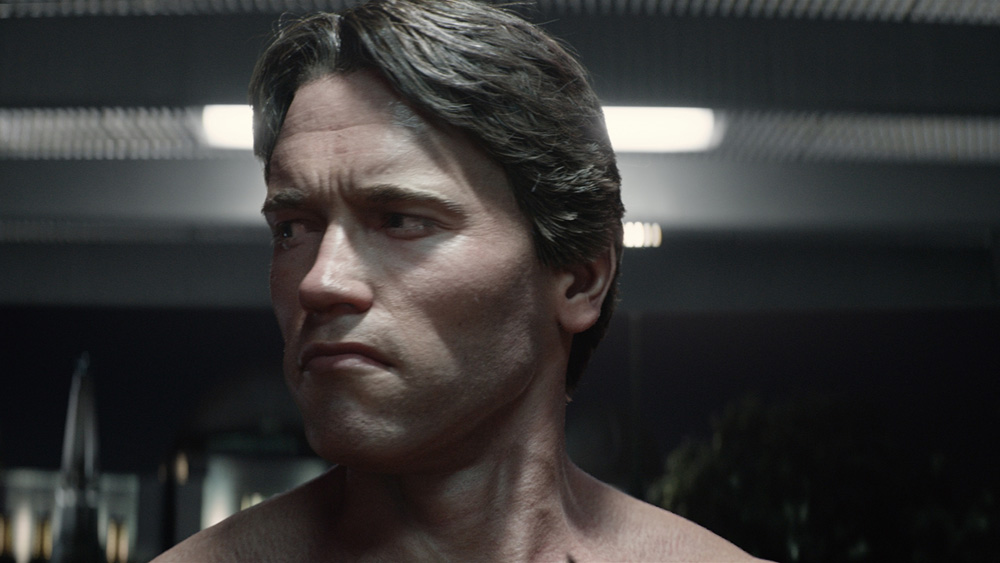 MPC has entered two projects into the AEAF Awards from their feature film team, 'Terminator: Genysis' & 'The Martian'.
The team's work on 'Terminator' includes more than 300 photoreal shots, lead by VFX Supervisor Sheldon Stopsack and VFX Producer Chad Nixon. The project involved creating Endoskeletons, an explosive battle at LAX, various CG set extensions and FX work – but by far the biggest challenge for MPC's team was re-building the digital Arnold Schwarzenegger T-800 character exactly as he was in 1984, to play in 1-1 recreations of scenes from the original Terminator movie and a brutal showdown between the young and old character at the LA Observatory.
AEAF 16 - 17 August 2016
Register to attend AEAF 2016
AEAF Speaker Lineup & Session times at a glance
16 August
11am 16 August
PRODUCING LONG FORM ANIMATION
Practical advice on how to get such projects off the ground and into production
Stefan Wernik
Co-Director of The Magnificent Itch
themagnificentitch.com.au
Stefan will talk about the significance and value of producing long form animation projects - TV series and films - and how the Australian industry will benefit and grow through focusing on long form story and character development. He will also discuss the process and techniques involved in getting
12 noon 16 August
VR/360 PRODUCTION
The Practicalities of Creating Virtual Reality
Tracey Taylor
Executive Producer and General Manager
The Pulse
experiencethepulse.comAfter working on large screen, interactive and VR/360 projects for over 10 years, Tracey is highly experienced in bringing together the necessary skills, resources and teams, and how to develop a pipeline. She'll talk about keeping story as the driver throughout production and keeping up with emerging tools and methods.
1pm LUNCH BREAK & Networking

2pm 16 August
FROM GEARS OF WAR TO LEGO STAR WARS - DECONSTRUCTING GAME CINEMATICS
Dane Maddams Executive Vice President
& Mick Hammell Head of production
plasticwax.com
Dane and Mick will be putting together their collective experience and expertise in games cinematics to reveal what it takes to produce top notch campaigns for games. Dane combines his vision as producer/director with Mick's perspective as production manager for an interesting session.
3pm 16 August
NEW TECHNIQUES IN MOTION GRAPHICS
Simon Bronson
Motion Designer / Head of Design - Method Studios, Melbourne
simonbronson.com
methodstudios.com.au
Simon Bronson will speak about exciting new techniques and tools he has developed for motion graphics. Based on some of his own recent projects, he will show how he has used motion capture with Cinema 4D, and leveraged plugins like Plexus and Particular to make digital work look less digital. He has also been discovering unusual new online sources of inspiration ranging from Instagram to apps like 8bit Photo Lab.
4pm 16 August
VR EXPLODED - A VIRTUAL RIDE THROUGH LIQUID, REFLECTIVE BLOCKS AND CRYSTAL SIMULATIONS
Simon Maddison VFX Supervisor Cutting Edge
& CG and VR lead, Aevar Bjarnason
cuttingedge.com.au
Simon and Aevar will discuss their latest VR project, a virtual ride through an environment of liquid, millions of reflective blocks and dazzling crystal simulations.
5pm 16 August
PANEL SESSION - with the day's speakers
IS OUR FUTURE REALITY VIRTUAL? - AUGMENTED REALITY - IMMERSIVE

5:30pm 16 August
NETWORKING and R&R in the Chauvel bar
17 August
10am 17 August
CINEMA 4D AND AFTER EFFECTS Innovative use of Cinema 4D and
After Effects in creating motion graphics
Tim Clapham
Creative Director
Luxx
luxx.com.au
11am 17 August
TITLE SEQUENCE DESIGN
Scott Geersen
Director and Titles Designer
Substance
sbstnc.co
12 noon 17 August
Colin Renshaw
VFX Supervisor Co-founder Alt.vfx
altvfx.com
1pm LUNCH BREAK & Networking
2pm 17 August
Glenn Melenhorst
VFX Supervisor
Iloura
iloura.com.au
3pm 17 August
Paul Butterworth
Visual Effects Supervisor - Director
Animal Logic
animallogic.com
Paul will share the innovations and creative processes as they evolved on his
most recent projects at Animal Logic
4pm 17 August
To be announced

5pm 17 August

DISRUPTION - The future of VFX

PANEL SESSION with AEAF's speakers about disruptive new ways of creating, distributing and experiencing visual content using: Cloud services - Light Field technology - VR and immersive storytelling and more.

5:30pm 17 August
Drinks Reception & networking

7-8:30pm 17 August
AEAF AWARDS

After Awards drinks and networking
AEAF Schedule
Speaker Program
11am - 5pm 16 August
10am - 5pm 17 August
5:30pm 16 August
NETWORKING and R&R in the Chauvel bar
AEAF Awards
Cocktail Reception 6pm 17 August
AEAF Awards Screening 7:30 - 9pm
After Awards drinks and networking
MPC's work began on set where Gary joined the filmmakers to capture principal photography. For accurate and realistic recreation of the CG character, it was crucial to get the best coverage from the shoot including texture photography, set measurements and HDRI capture.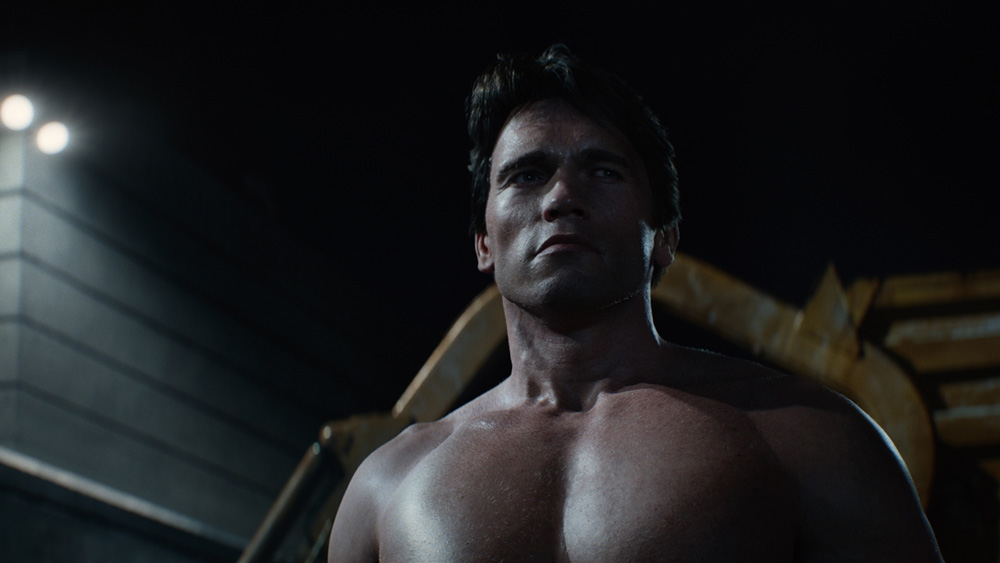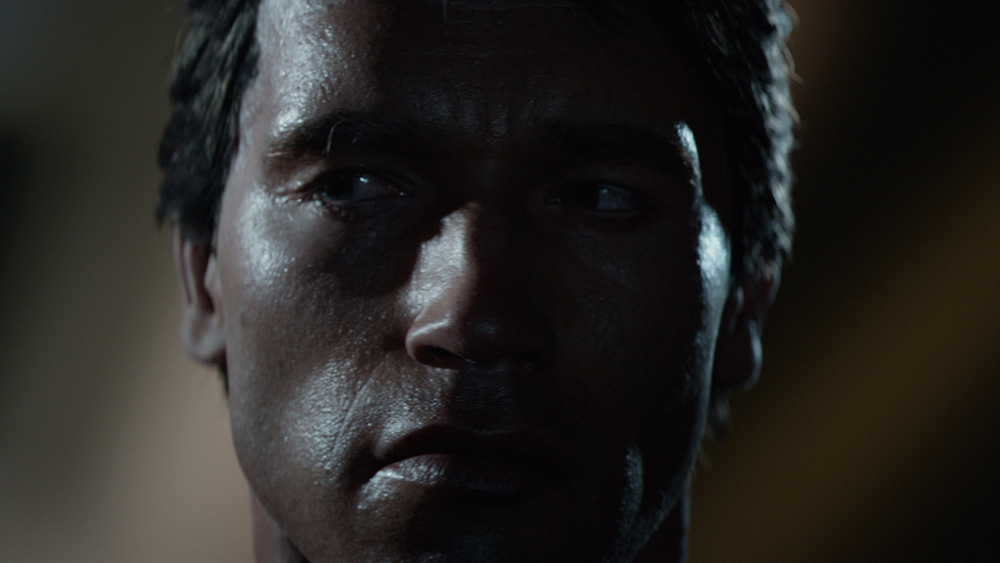 For the model build, a scan of an original cast taken of actor Arnold Schwarzenegger in 1984 was used along with a huge library of reference video and images. Around 220 different face shapes were built as a base for facial performance. The team then completed a MOVA performance capture with Arnold Schwarzenegger himself. This set of defined FACS [Facial Action Coding System] shapes were used to refine what had been built up until that point.
Performances of specific dialogue were captured, giving the animation team a strong base, which they used as a reference to hand animate the digital double's final facial performance on top. The subtleties of the team's facial animation work, was a crucial element in maintaining believability when bringing the character to life once again.
For the character's skin, MPC's techAnim team ran additional cloth solvers for more realistic skin behaviour and the rigging team created controls for fine details such as blood flow tension and compression. A new physically based rendering approach was used to take advantage of recent path tracing techniques, which supported multilayer scattering for the skin shading.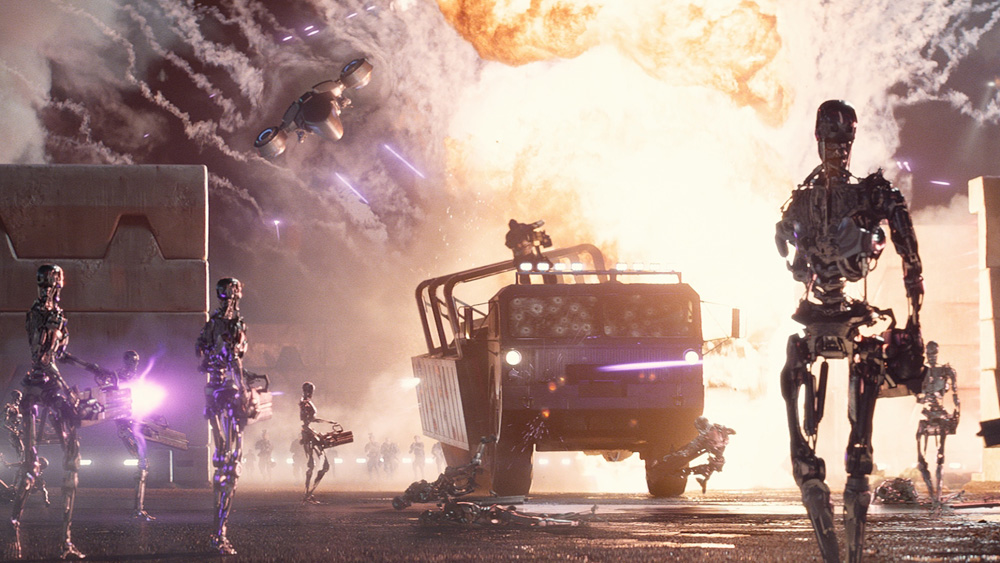 MPC's proprietary fur tool furtility was used for the double's hair. Another challenge was achieving the complex muscle behavior of Arnold's body, not only because a full dynamic and realistic human muscular system was required. It also had to match the unmistakable appearance of Arnold Schwarzenegger at that time. In total, the CG character was built and refined over a period of 11 months.
MPC also worked on the visual effects for the high action LAX battle sequence. The production art department delivered concept art showing aerial views of a destroyed LAX, with an enclosed camp and huge aircraft hanger. From this, MPC's team extended the practical set build, and individual components of the Camp including sections of wall, fuel cells, towers and turret guns were recreated and placed around the CG environment . It was important that the location was recognisable as LAX, which meant preserving the famous landmarks such as the LAX tower and Theme Building / Encounter restaurant were kept in place.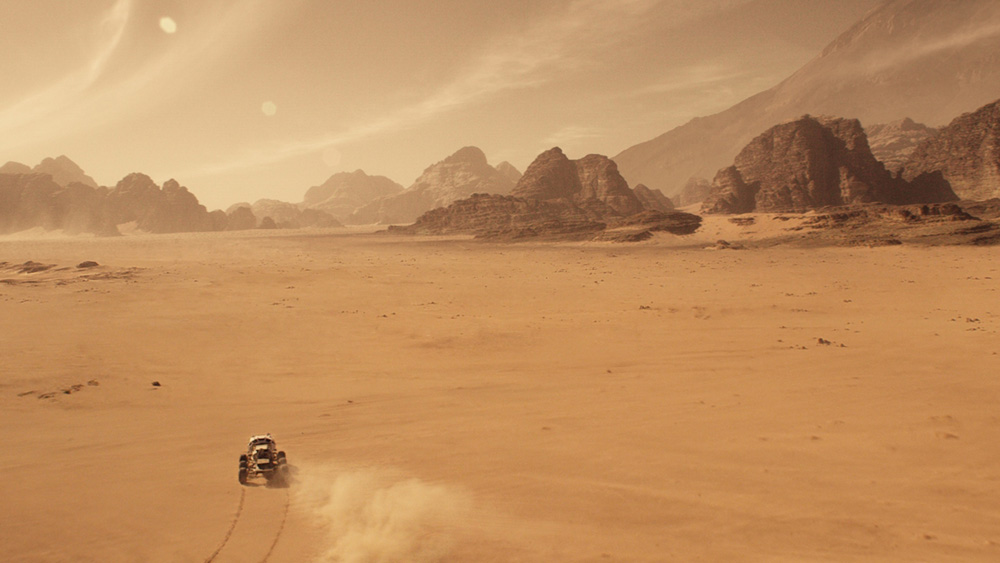 'The Martian'
To get started on 'The Martian', MPC joined the project during pre-production, working with VFX supervisor Richard Stammers to develop the look for the Martian surface. By referencing the archives of NASA's Mars missions, the team collated and balanced the best references to match the shooting location in Wadi Rum in Jordan and, from there, turned this environment, made famous in 'Lawrence of Arabia', into something more alien.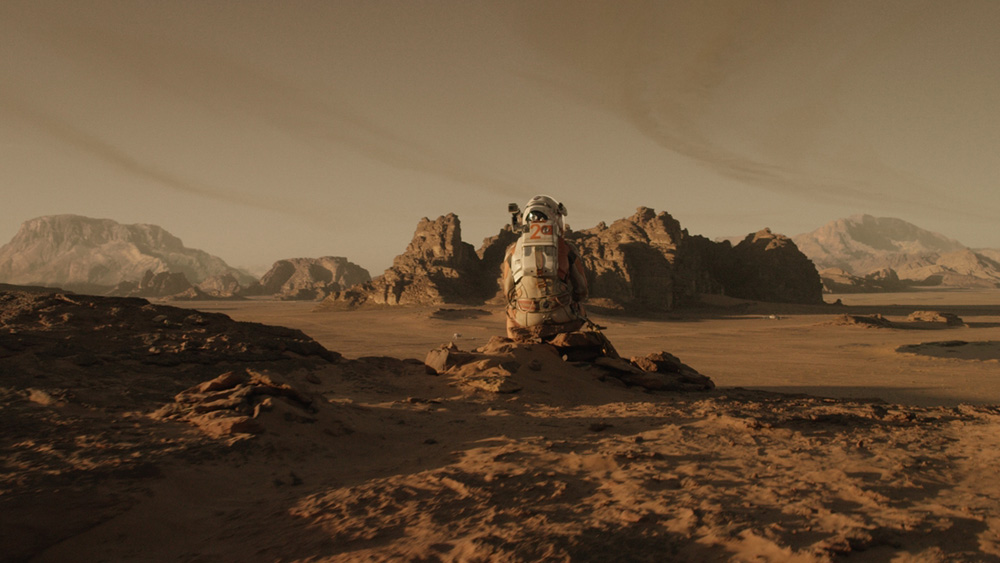 A key component of the work was selectively grading the sky from blue to the bronze and landscape to the butterscotch tones of the director's preferred Martian images. Conventional tools did not give the team enough control for this, so MPC 2D Supervisor Lev Kolobov created a specific tool in Nuke called EarthToMars, or ETM. The tool would detect any traces of blue from shots with the Jordan skyline and remove it using Lev's algorithms that preserved the haze detail in the mountains while simultaneously re-grading the reflected skylight.
MPC's environments team then created a full-CG version of the Wadi Rum Hab environment using high-resolution photography taken on location in Jordan, adding extra rocks, craters, mountain ranges and a view of a distant Olympus Mons to create a grander landscape. Loosely based on NASA imagery, director Ridley Scott wanted to add more drama to the vistas in the form of fast-moving ice and dust clouds, and drifting surface dust devils. The team created these with Houdini and Maya CG fluid simulations combined with practical elements of pouring salt and dry ice elements. The finished environment was used both to enhance the unit photography from Jordan, and to create a matching background for the greenscreen plates shot on stage in Budapest.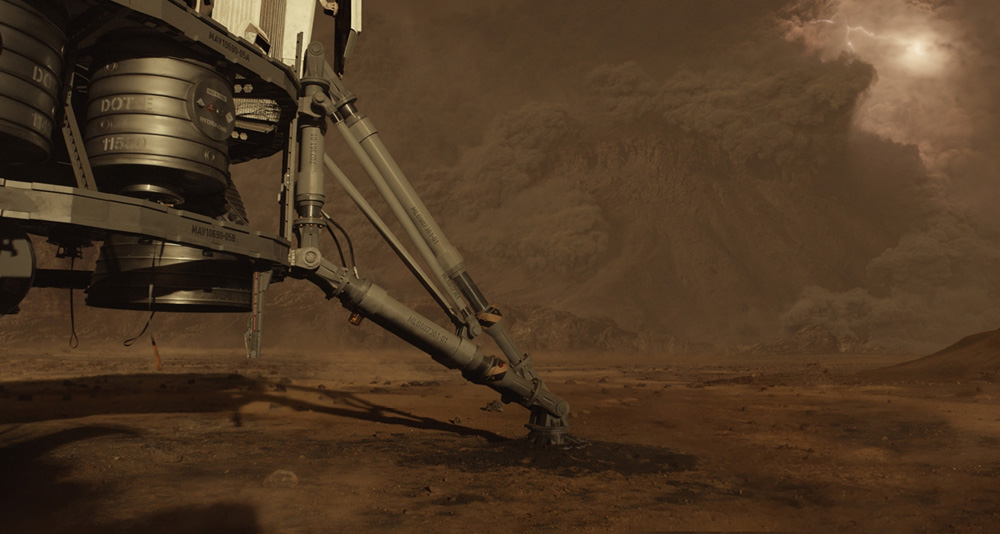 Each astronaut wears a protective helmet with reflective Perspex and gold visor pieces. In order to integrate them effectively into the environment, they would need realistic reflections for the visors. For most shots, the actors were filmed without the visors in their helmets and MPC added CG visors in post by tracking the helmets and rendering reflected versions of the CG environment. To complete the effect, the astronauts' bodies were tracked and CG versions of them rendered to create correct reflections of their actions in the visors.
The gigantic dust storm that strands the character Watney on Mars entered the story using the MPC FX team's fluid simulations to create the approaching storm front. Once the storm envelops the astronauts, the effect was realized largely with practical effects on set. Huge fans blew smoke and vermiculite particles across the stage. The team added layers of smoke, particles and FX simulations to the live-action plates to enhance the density of the storm, increase its ferocity and balance the look across the sequence. www.aeaf.tv