VER Rocks Live Event AV for iHeartRadio Jingle Ball with AJA
Every December, iHeartRadio runs the annual Jingle Ball Tour, travelling to 11 major US cities and starring the most recognised recording artists from the past year. The tour takes place both as a live music experience and on the iHeartRadio web and video channels. In 2017, the show included performances by Taylor Swift, Ed Sheeran, The Chainsmokers and others.
To produce the show at venues and also stream the content online, VER supplies the on-site AV support. VER's nine-person video crew is led by editor in chief Jason Harvey, who has worked with the tour for the past three years.
Fast Pace
The crew's portable video system includes five Sony HDX-100 cameras and supports six channels of playback that, along with a live feed of the concert inside stadiums, also run interstitial videos and commercials, brand IDs and motion graphics bumpers and pods announcing upcoming acts.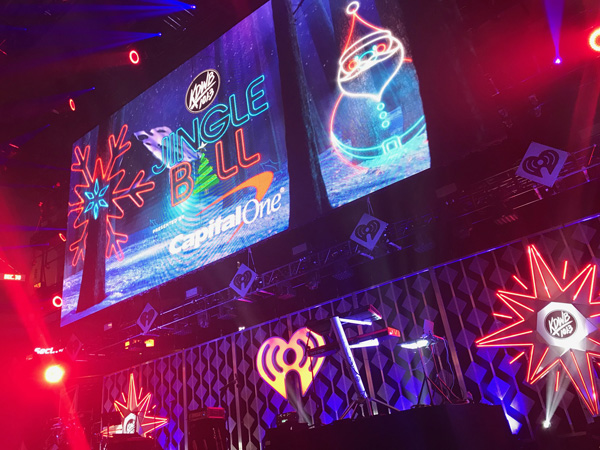 All camera feeds are recorded onto AJA Ki Pro Racks digital recorders and players, and audio is embedded with AJA FS2s that send one signal to the front of house and the other to the on-site pressroom. During the concerts, iHeart Media's back of house team switches, mixes and edits footage to be shared on the iHeartRadio web and video channels during and following each show.
The gear carried for the tour, which involves a large, precise range of tasks compressed into a short time frame, must above all be reliable and predictable, and output very high quality audio and video. "At this fast a pace, there is no margin for error," said Jason. "Our kit includes AJA Ki Pros, FS frame syncs and Mini-Converters, which we have used for the tour each year, because the devices' video and audio recording, conversion and playback are rock solid."
Three Ring Circus
During each concert, Jason is in charge of monitoring the live cameras and colour correcting feeds in real-time. He also monitors all 10 Ki Pro Racks to make sure they are recording and receiving accurate audio information. "The demands of each concert vary, and we chose Ki Pro Rack for dependability and flexibility," he said.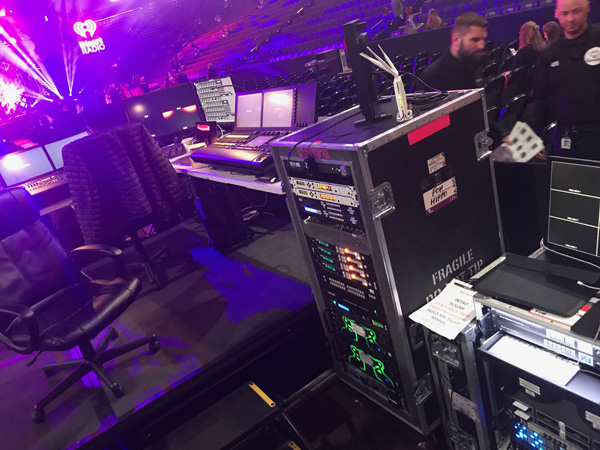 "We use so many of them - that is, at least one on every camera - because we'll sometimes need three versions of the same camera feed sent to three different editors who work on the footage simultaneously. We live stream several of the shows to the web and even turned the LA concert into a TV special, so we need to be able to accommodate both live-to-stream and produced content with the same kit at the same time."
In addition to performance footage captured at each show, artists typically bring their own stage backdrop video content with screens that the front of house operator manages. All artist content is loaded onto Green Hippo D4 media servers to be integrated with effects and live video capture and run as a single stream during each show.
Every Night
VER's AV setup is the same for each night, though the different venues range in size and design. The distance from the front of house musician to the media room ranges from 350 to 1,500ft - too far to run cable - so the team uses up to 16 fibre lines to run the feeds. Twenty AJA FiDO Mini-Converters, with 10 located in the front of house and 10 in the back of house, facilitate the fibre runs.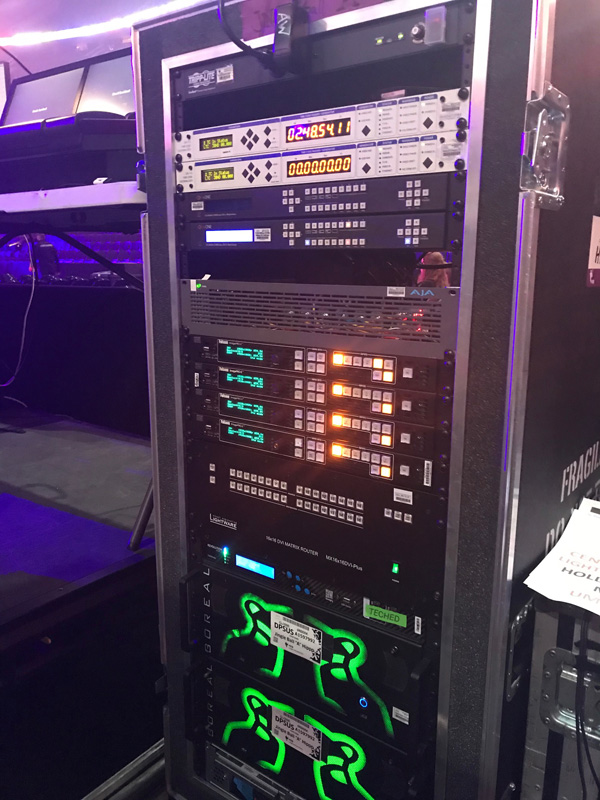 The entire gear kit is neatly racked into flypacks that fit into two trucks for transport and includes the 10 AJA Ki Pro Racks for recording, two FS2s for embedding the audio and the 20 FiDO fibre extenders in AJA DRM Mini-Converter trays for the fibre runs. Ten AJA 3GDA re-clocking amplifiers are used for video distribution with four AJA HD10AMA analogue audio embedders. Ten Hi5 SDI to HDMI converters and four HA5 HDMI to SDI converters support monitoring and HDMI capture, along with two of the Green Hippo D4 media servers and two grandMA2 lighting consoles. www.aja.com