A Massive Team
a52 devoted its VFX team to a dramatic, slow-motion 1:30 commercial titled 'Happy Days' for FOX Sports 1, the new sports network just launched in the USA on 17 August. The spot is a study of the competitive spirit as revealed by the emotive performances of athletes out on the field, as well as drivers on the track. The project, under director Joseph Kahn at HSI, involved the completion of about 70 complex CG shots in just two weeks to complement the live-action footage shot by DP Jeff Cronenweth.
Adding to the pressure of the short timeframe was the need to build nearly all of the crowd shots, stadium replacements plus a few race track scenes in CG. The commercial's heavy demand for crowd work required a52 to refine their production pipeline to effectively integrate Massive with V-Ray. The team also developed tools allowing them to design the placement, behaviours and paths for Massive agents in Maya, which could then be rendered in V-Ray.
On-set Action
As the pace of post production has gained momentum, on set data acquisition has become very important for a52 and was essential for this project. "Not only does it speed up our process further down the pipeline, it also allows us to see what we can expect once the edit has been locked and address concerns right away," explained head of 2D Patrick Murphy and data integration TD Tim Donlevy, who were on set capturing a large amount of HDR data and reference photos.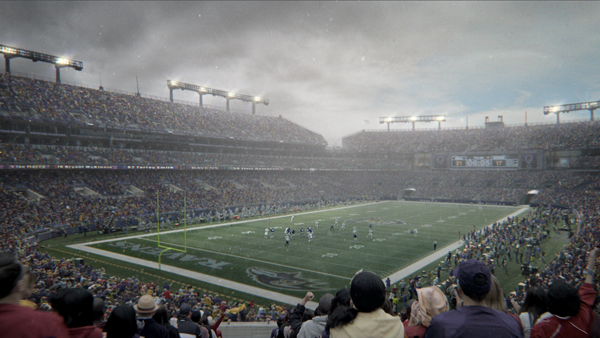 "We always work with the Script Supervisor and AD on set, and gather our own camera and lens information to make sure we're covered. We catalogued lens serial numbers and shot distortion grids, took laser distance measurements and inclination angles of all the arenas, and plotted camera positions on field. With all that information, it becomes straightforward to recreate the stands at the proper angles and match the number of seats per section."
The high-speed footage was all shot on Phantom with various lens packages, and the 24fps footage was recorded on the RED Epic. Instead of shooting on green screen, director Joseph Kahn and Jeff Cronenweth chose to capture all of the emotional action shots in camera in an effort to keep the spot grounded and tactile.
All hand held shots were captured in camera, giving this footage its somewhat frenetic feeling, and the team patiently camera tracked all of them. Because the shots are quite dynamic to give a strong sense of what it feels like down on the field during a real NFL game they wanted to make sure that their integration maintained this uninterrupted sense of realism. Lens flares were accentuated where needed, and they aimed to make each shot feel like its own special moment.
From LA to Baltimore - and Back
"One of the more complicated sequences was the Baltimore Ravens football sequence," a52 executive producer Megan Meloth said. "All the football footage was shot at the Coliseum in Los Angeles. Needless to say, the Coliseum and M&T Bank stadium in Baltimore look nothing alike, and it doesn't snow much in Los Angeles in July. So we sent Tim Donlevy to Baltimore, armed with camera plot charts, lens and camera info, and time of day reference stills to capture images at the same light positions and time of day as the Coliseum. We then used this as reference to replace the coliseum for every Baltimore Ravens shot in the commercial."
In some situations the natural light failed to coincide with the director's intentions. When necessary, the team accentuated existing lighting or replaced the sky and added flares to give scenes a more magical, immediate quality. For the Ravens shots, because the entire background is generated in post, they aimed to provide as much detail and subtlety as possible to match the look and feel of photography.
The Massive - Maya - V-Ray Challenge
Back in the studio, the main reason Massive proved so challenging to integrate with V­Ray is that no case studies or examples of how it should be done had yet been documented. "We are one of just a few studios using Massive with the V-Ray renderer," said a52's TD Chris Janney. "The TD team and artists worked together in this case to integrate Massive into the a52 pipeline, finding and solving the issues fairly quickly. Vlad, one of the founders from V-Ray's developer Chaos Group, also helped to get a V-Ray-Massive bridge running predictably."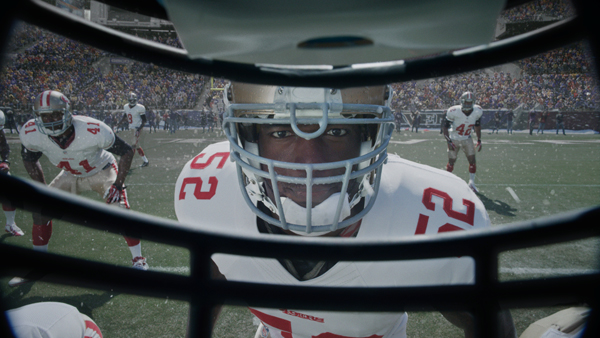 This pipeline turned out to be efficient enough so that artists unfamiliar with Massive could place agents, set up simulations and output V-Ray files for lighters to render after a few hours of tutoring. Because the specified renderer out of Massive is a Renderman type renderer - such as Renderman itself, 3Delight, Air and so on – users have an established pipeline to walk into. For rendering with mental ray, production-tested procedures are also available either on forums or in the Massive documentation. "With V-Ray, you have some pointers in the Massive documentation, but there were little to no case studies to turn to," said TD Chris Janney.
Familiar Workflow
"To that end, we've posted a lot of our notes on the Massive forum to help other artists that may have a V-Ray pipeline, but are using either a PRman compliant renderer or mental ray. We are now generating V-Ray .vrscene files out of Massive, but our lighters need to be able to use these in a way that fits as much into their every day toolset as possible. It's important to maintain a workflow that the team is accustomed to, integrating Massive as transparently as possible.
"They also need visual cues in their scene to know where the Massive crowd is going to be so they can light it. We solved this by defining the placement of agents in Maya with NURBS curves, then converting that placement as well as the geometry it's sitting on, both as spline placement in Massive and as its corresponding terrain. These Massive files out of Maya were brought into Massive to check placement, add animation curves and check variables."
Once the Massive file was simulated and the V-Ray .vrscene file was written out containing only the crowds, the artists returned to Maya to apply colour and lighting. For this, a script was created to read in the vrscene files and append them to the Maya V-Ray render at render time. The lighters have the terrain and curves in their scene to reveal the placement locations, and stand-in agents to show them what to place. The result is rendered with V-Ray standalone.
Suiting Up
The team built over one thousand unique textures, clothes and props specific to each stadium in the story. To increase the realism of the piece, and also allow them to generate this amount of imagery, they went through several reference images of crowds at the different types of sporting events required in the script, then set out to create as many different shirts, trousers, hats, shorts, hair styles, body styles and props as possible.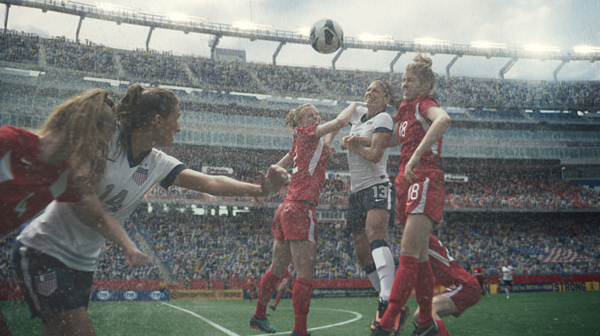 With a couple of modellers and some very quick texture artists, they created base materials for each venue, and then made variations on those base materials, with different logos as well as colour hues. The variation was extended by using random colour shifts on the materials within Massive as well. By starting with five variations on a T-shirt, for example, then producing five logo and hue shift variations per shirt, and finally creating ten variations on that style, they would already have 250 versions of T-shirts.
The auto racing shots involved some car-to-car altercations that came a bit too close for comfort. These interactions were actually captured in camera using older NASCAR models although it was up to a52 to replace the entire back end of the cars to bring them up to date, and add smoke, debris and sparks to accentuate the action. Most of the cars seen in the spot are CG, including 32 for the wide shots as well as the hero cars for the tight collision shots.
FOX ensured the team received the correct team decals to help the cars fit in. The lighting team's work in particular was critical to making the cars indistinguishable from those shot in camera. Once the surfacing was complete, the cars were rigged with prepped animation rigs using custom scripts and tools, and after building out geometry for the driving surface, they could animate.
2D Integration
The CG pipeline they developed also integrated smoothly into the 2D workflow. The compositing team working in Flame, led by Patrick Murphy and Andy Barrios, used the CG elements to create an atmosphere and look to make viewers feel they are a part of the action. The camera crew successfully captured rain and snow in camera, but a52 ended up adding CG snow into those Baltimore shots described earlier to make the falling snow feel more surreal. They also had to extract the rain and snow from the plate and put it back on top of the rendered CG, which involved a combination of generating new elements, reusing the elements from the plate and emphasizing what was there.
Megan Meloth commented that this project was a considerable undertaking for a one-office studio, but they tried to use that size to their advantage, as they did not have the option a larger team sometimes has to shift extra work onto colleagues. A smaller team like the one at a52 is often forced to look for new ways to become more efficient, benefitting both the short-term work for each project and their long-term ability to take on large scale projects for major clients. www.a52.com