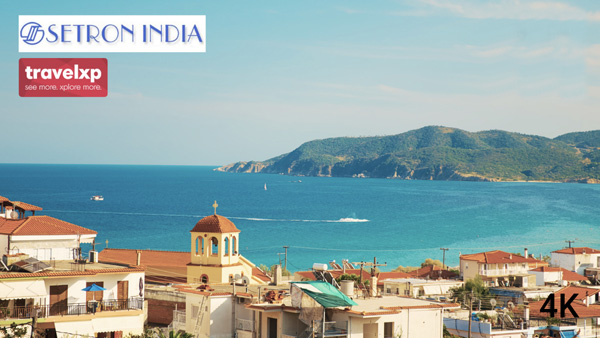 Travelxp, a travel channel brand based in Mumbai, India, has been producing and distributing content in HD since 2008 and in 2015 became one of the first producers to migrate its full production chain from HD to UHD 4K. Travelxp's videos are shot at locations around the world with global hosts, recording in English. The company's current in-house content library comprises about 1,000 hours and is growing rapidly.
When the company recently wanted to be able to run multiple HD and UHD 4K channels, simultaneously in varying combinations, they implemented Cinegy Air PRO playout automation. Cinegy Air PRO is a software-based system for HD and UHD 4K playout automation that uses standard IT server hardware and certified SDI video cards. Overseeing the sale and installation of the system was Cinegy's regional partner Setron India in New Delhi.
An advantage of Cinegy Air PRO is that many instances of the software can run on a single computer to support simultaneous multi-channel playout, all handled by a single Air PRO control application. In effect, such a configuration transforms the machine into a playout server broadcasting multiple independent channels. The channels can also be configured to stream programs live without purchasing further hardware or software.


Setron India Director Arjun Dhawan said, "Cinegy software is stable and has a simpler workflow than the system Travelxp had been using, so it has been relatively easy for the operations staff to use. The system has been up and running for more than six months without any reboots."
Early on in the project, the flexible nature of the Cinegy software and Setron's familiarity with it became important. Cinegy writes daily as-run logs, files that detail all the material that the system actually transmits through the user's channels over a period of time, in Universal Time Coordinated (UTC). Using UTC resolves issues related to seasonal time changes around the world, but Indian broadcast regulation requires as-run logs with local timestamps.
As a result, Setron would need to customise the Air PRO software in order to supply Travelxp with compliant daily reconciliation of its as-run logs. The logs were to be stopped and restarted at midnight each day. The recorded times of events in the logs from the previous day were then to be converted to the Indian Time Zone. As part of the project, Arjun Dhawan's software company ElectronicVerve developed a custom tool for Travelxp to handle this log split and conversion to any time zone, as required.

The ability of Cinegy and Setron to fulfill special requirements like this and successfully set up the workflow was a major factor in winning the business once the proof of concept period was completed.
"Local support is critical in India," said Arjun. "Cinegy appointed Setron as a Master Reseller, and that helped boost Travelxp's confidence. They also understood that we're not only about making a sale, but also about carrying out solid Level 2 backup – that is, regularly performing full backups. Our understanding of Cinegy software combined with a local presence means that Travelxp's operation is covered by on-site and remote support at all times."
To expand its UHD 4K services in the near future, Travelxp plans to take advantage of the scalability of Cinegy Air PRO and other Cinegy software modules, again working with Setron. www.cinegy.com