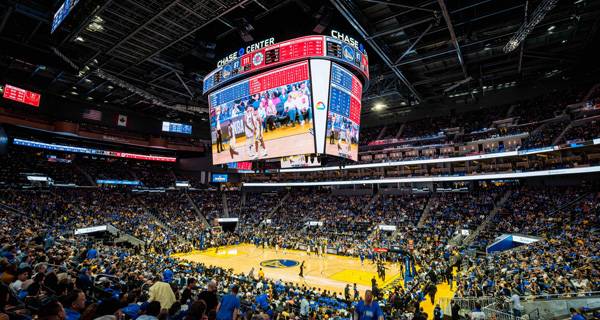 (Photo Credit Jason O'Rear)
Chase Center in San Francisco, California, is a modern, sophisticated sports and entertainment facility today, but when Scott Heitman, Director of Scoreboard Operations, joined the NBA's Golden State Warriors in February 2019, the team's future home was still a construction site. The organisation took this greenfield opportunity to build the arena's technical facilities from the ground up on SMPTE ST 2110-based IP infrastructure.
Working in live sports production for many years, Scott's experience had been primarily with systems based on SDI connections. One of his concerns going into the project was that he would need specialised education in packetised video but, from the operator's point of view, his transition into the new environment turned out to be surprisingly smooth.
Familiar and Transparent
Scott said, "Although the facility may be built on software-oriented systems and IP connectivity, it was important to us that it look and feel like a sports television production system. It had to be responsive, but it also had to feel familiar – on game days we rely on freelance operators to come in and run the show, and they had to feel instantly at home.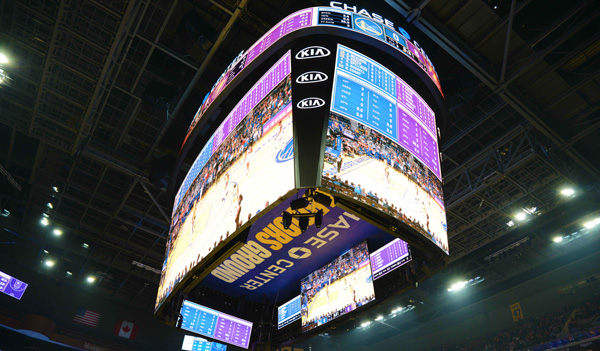 "So we needed router panels, for example, where you set a source and a destination just as we always did. I believe that most operators who come here are not even aware that they are working on an IP-based infrastructure – it is that transparent."
On game days, the crew works with whatever truck the broadcaster sends, sharing camera feeds and other images. Depending on the channel, they might be shooting 1080i or 720p. "Because of the large-scale displays and the digital signage look and feel, in-house we operate at 1080p/59.94," said Scott. "So as well as bridging between the truck's SDI and our IP, we have to convert between frame rates, interlace and progressive, and maybe between colour spaces."
Managing IP Endpoints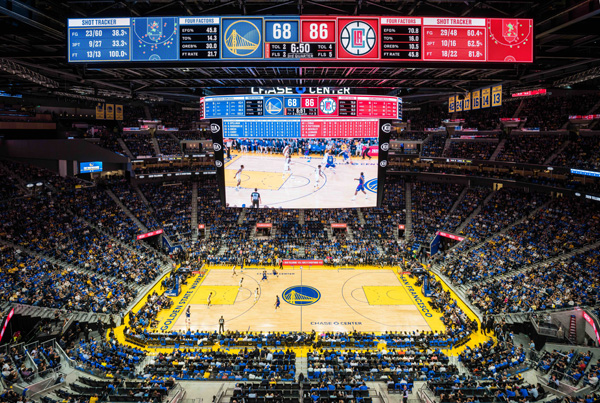 (Photo Credit Jason O'Rear)
The facility used the Imagine Selenio Network Processor (SNP) to implement a standards-based IP production and playout system, carrying UHD Native over ST 2110-20 IP video for routing and clean-switching. It is scalable, and allows the crew to access agile, flexible processing for different events and applications. It bridges between formats and is set up for when the Warriors move to 4K or HDR UHD – the change can be made with a click of a mouse.
With all elements accessed via IP, the central router is not a giant hardware box, but a 2RU Arista switch. "It effectively gives us 256 x 256 connections, even with only about a third of the rack populated. We have room for expansion as well, either in channels or in bandwidth. The Magellan SDN Orchestrator from Imagine manages much of the IP network, to keep it agile and efficient," Scott said.
Magellan fully supports SMPTE ST 2110 and ST 2022-6, and a large number of third-party IP endpoints via native APIs and open protocols required for live production and playout orchestration. It also allows the crews to have hardware and software router control panels, which helps achieve Scott's goal of maintaining the look and feel of a traditional system.
Agility
"We have six operated cameras and nine robotics, and if we are in a broadcast game, we share cameras and feeds to create really creative scoreboard shows," said Scott. One of the robotic cameras, incidentally, is up on the roof, giving us a great view of San Francisco Bay. Since many of the administrative offices in Chase Center have no windows, those staff like to use the bay camera, displaying on their office televisions, as a window!"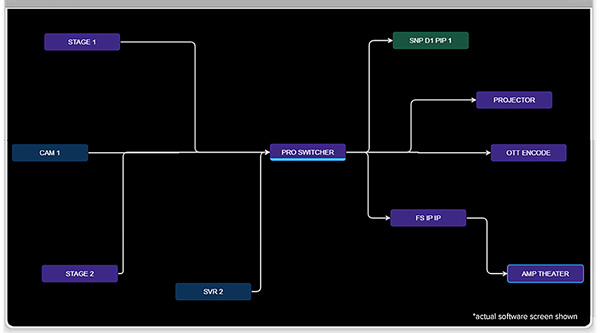 Imagine Magellan SDN Orchestrator

Selenio Network Processor (SNP)
The Warriors had a great start to the 2019-2020 season, but when 2020 came, Covid-19 changed everyone's lives. Scott said that the Chase Center served as a drop-off point for ballots in the recent US election, and the staff could use the outdoor displays for voter information, or for the latest Coronavirus advice, or to display material for the farmers' markets regularly held in the plaza. "All of those feeds and destinations were set up and controlled remotely, made possible through our IP and IT infrastructure," he said.
"One of the great advantages of a software-defined architecture is that we can control and manage the system from anywhere, so working from home was not an issue. Correction and adjustment of camera formats and audio track layouts and routing, can all be controlled remotely. Going SMPTE 2110 with a COTS core was definitely the right choice. We have the freedom to route any source to any destination, to handle any sort of content, and to control it from wherever we need to be." imaginecommunications.com
Photo Credit Jason O'Rear