Cinegy Capture 14 Unifies Ingest and Transcode for Video Workflows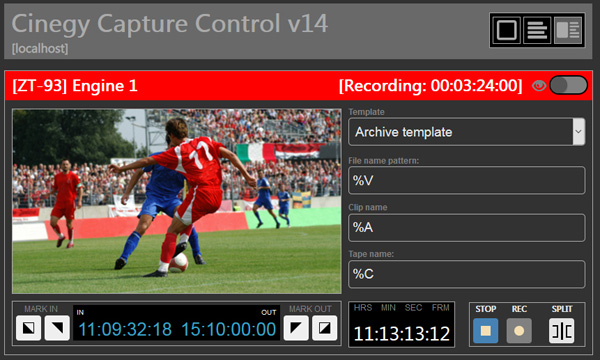 Cinegy Capture Web Control
Cinegy Capture software unifies the tasks of ingesting material and generating edit or web proxies, without confining the user to a single machine, and substantially changes the acquisition and transcode process. One or multiple instances of Cinegy Capture can be installed as a self-starting service on a commodity server or standard PC and configured to work wither with specified video hardware or with IP streams.
Once started, Cinegy Capture emerges on the network as an appliance that is controlled remotely via Cinegy Capture Control, one of the software's five component applications.
Cinegy Capture 14 allows you to use any PC or server with a supported SDI video card as a network-based ingest appliance that can be used from any other PC connected to the same network. Through the multi-camera control panel, Cinegy Capture serves as the multicam ingest tool for synchronous multichannel recording from live studios, in OB vans and on-site at events. Cinegy Capture is video-over-IP compliant and supports RTP, UDP and SRT transport streams and NewTek NDI streams along with the SDI-based video source.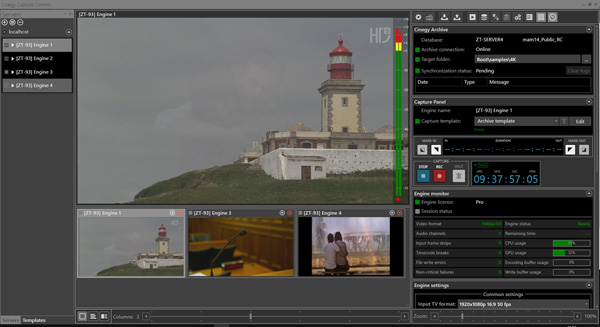 Cinegy Capture Control
Cinegy Capture 14 is the next major release of the Cinegy Capture software. As well as ingesting material, it can be used to generate edit or web proxies in formats and containers including MPEG2, H264, HEVC, Cinegy Daniel2, XDCAM/XDCAM HD, XAVC, AVC Intra, AVC Ultra, Apple ProRes 422, DNxHD/DNxHR – plus uncompressed video. Using centralised services, operators can work with the remote Cinegy Capture Control client or real-time Web Control application – whenever or wherever required.
Cinegy Capture 14 now supports 8K ingest and the SRT protocol for IP streams. WebCams can be used as an ingest source and watermark imprinting is supported. As part of improved integration with AVID, the software now handles AAF creation for MXF OpAtom files.
Cinegy Capture Components
The Cinegy Capture components, or clients, run on a Capture Engine and Capture Server, and include Cinegy Capture Manager. The Manager is installed with the Server and performs the core functions of recording and encoding, as well as controlling and reacting to devices. It performs all the stages of the Cinegy Capture Engine's management.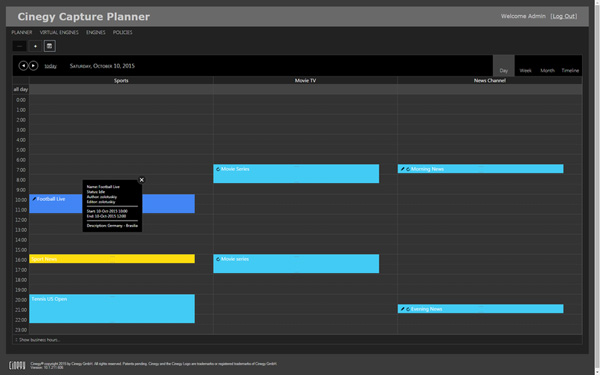 Cinegy Capture Planner
Cinegy Capture Control, mentioned above, connects to the Cinegy Capture Engines. Each Capture Engine is responsible for receiving streamed data and its encoding.
Cinegy Capture Planner is responsible for automated jobs processing according to the schedule. It can work with multiple servers simultaneously as an interface for scheduling recordings, and metadata can be attached to the acquired content.
Cinegy Capture Archive Adapter allows user to integrate Cinegy Capture with Cinegy Archive for direct ingest into centralised asset management systems.
You can also use a scalable Cinegy Capture Web Control panel used for remote control of capture via a web-hosted application from a standard PC or a mobile device. Operators can build a workspace that suits their particular job and that simultaneously controls multiple Cinegy Capture Engines, with real-time previews of all streams. www.cinegy.com