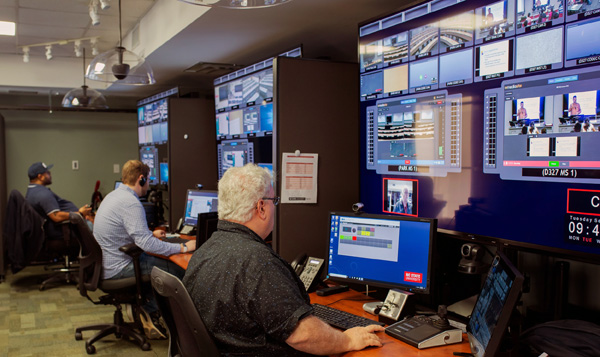 North Carolina State (NC State) University has been involved in distance learning for nearly 40 years, developing courses for students to follow at home, work and other locations. Several of the online programs at the university, now attracting more than 50,000 students around the world, are rated in the top 10 by US News and World Report and other rankings agencies.
Earlier on in the history of the programs, in the 1980s, courses were captured and recorded using physical media, tapes, then CDs and then DVDs that were shipped directly to students. During this time, NC State also broadcast various courses and special programs via LPTV (low-power television), microwave, satellite, ISDN, MPEG2 and H.323. The satellite and microwave transmissions were used mainly for synchronous learning – remote students were watching course lectures at the same time as the on-campus students. They could respond to the professor via two-way (H.323) video and or phone bridges, to create a sense of interaction with the class.
Broadcast-Standard Approach
Once the internet became reliable enough to deliver high quality material, courses began to move online. Distribution costs fell, while immediacy and interactivity improved and new collaboration applications made it easier to use the courses synchronously or asynchronously, including video on demand access.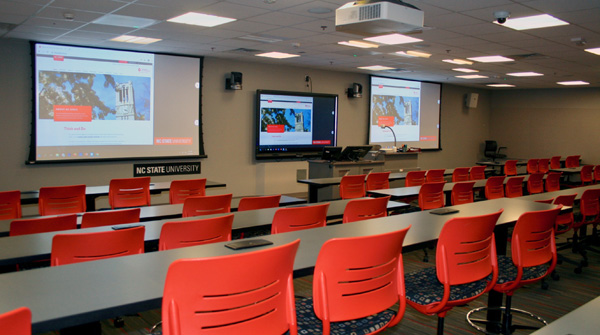 71-seat media-enhanced classroom.
Tony Pearson is senior associate director of Video Communication Services at NC State, and is part of the Distance Education and Learning Technology Applications (DELTA) team. DELTA works to integrate and support the learning systems used in NC State's academic programs, both on and off-campus and at a distance, in effect extending the reach of the faculty.
He said, "What set NC State apart was its broadcast-standard approach to the production of distance education courses. The workflow was based on a real-time production process supporting live transmissions or synchronous connections, or both, for designated courses every semester. Studio Classrooms, now referred to as media-enhanced classrooms, were set up where these classes were held."
Although they could be used for traditional on-campus teaching as well, these rooms were equipped as full production studios with specialised lighting, production switchers, character generators, desktop or ceiling microphones and up to six cameras, as required.
A Swift Transition
"As our Distance Education programs grew and improved, we started to see annual enrolments increase by 15 to 20 percent, calling for more efficient workflows and more classrooms. As a result of this growth, all designated control rooms supporting the media-enhanced classrooms were re-configured into equipment closets to create space for extra seating inside the classroom.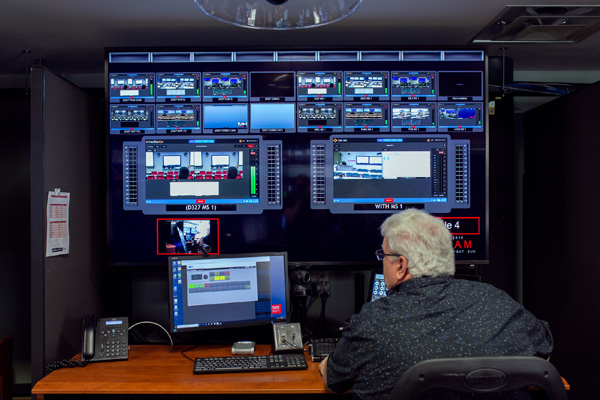 Monitoring eight classrooms simultaneously.
"This shift in operations required a swift transition from a control room model with dedicated technicians or video directors, to a centralised infrastructure. Once a space was identified for a centralised control room (CCR), Phase one was implemented with two consoles to support, control and monitor three of the media-enhanced classrooms remotely."
A key challenge was how to repurpose existing fibre that was no longer needed for microwave transmissions.
Serious Limitations
Since the CCR was located at the centre of the main campus, all existing fibre runs had to be rerouted and extra runs added for a home run back to it. The AV infrastructure design required the use of single mode fibre to transmit one SDI video source per fibre strand.
That design allowed a total of just four sources per classroom and placing serious limitations on the number of signals that could be transmitted back to the CCR. Including cameras and computer sources, a media-enhanced classroom might have anywhere from 12 to 16 video sources to be managed.
In terms of AV design, the answer to was to put a multiviewer in each classroom and send quad-split screen feeds over the fibre to the CCR – however, the technicians could only see a limited number of sources at a time. The multiviewer-to-multiviewer design carried bundled feeds of all sources transmitted from each classroom, resulting in a handicap.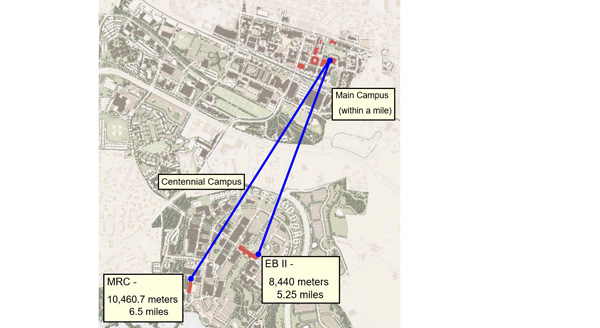 Routing design to display all classroom and confidence feeds, and to see, monitor and control everything.
"These feeds could not be unravelled, which meant the technicians had to approach routing design very creatively in order to display true confidence feeds of other remote sources, and to see, monitor and control everything," said Tony.
Migration to IP
Not surprisingly, DELTA could see that, moving forward, they needed an open architecture allowing much more flexibility and scalability for the next generation of remote monitoring and control in the CCR. It also needed to be standards-based, instead of binding their operations to a proprietary system that would limit future developments.
The system selection process took almost four years while, armed with a list of criteria, they looked at products that were presently on or entering the market. "Due to our ageing routers and multiviewer, our focus was on open architecture equipment using industry-standard interfaces – from signal acquisition, to signal delivery and monitoring," Tony said.
"We aimed to move away from dedicated SDI-connected routers towards an all IP processing platform, aware that we could not jump to a totally new type of system all at once. An SDI-to-IP hybrid system would have the flexibility and scalability both to replace equipment that had reached end-of-life status, and to continue use of our SDI legacy gear as part of the new architecture."
The good news was that their research coincided with the development of the SMPTE ST 2110 standard. Although they did research other standards and reviewed the various proposals for IP connectivity, they concluded that ST 2110 represented the most stable future for their infrastructure. But they had to be realistic about how much they could achieve in the first phase, and chose to install a new all-IP core at the CCR, built with the flexibility to deploy SDI-to-IP devices in their classrooms.
A further challenge was fitting this integration into the academic calendar. To make it work, production using the existing infrastructure had to cease until the end of spring semester, leaving only until mid-June to complete the installation. This left the month of July as the team's learning time to figure out how to support the new systems and be ready for the start of the fall semester in mid-August.
Selenio Network Processor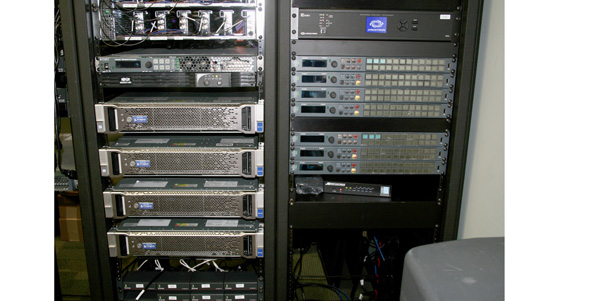 Imagine Communications EPIC Multiviewers, Seleno Network Processors and Magellan control panels.
As they evaluated all the likely vendors over those years, the systems from Imagine Communications scored high against the criteria list. Tony said, "Not only were they prepared to enter into a technical partnership with us, supporting us in our various goals, but the products they were developing met our requirements in a practical way.
"Imagine's Selenio Network Processor (SNP) is a small device containing four separate processing chains, with settings selected via software. What we mostly use it for is converting between SDI digital video and SMPTE ST 2110 IP connectivity. We have now successfully integrated a powerful, flexible IP core and, at the same time, did not have to abandon any of our SDI gear."
Imagine also supplied EPIC multi-viewers, which integrate well with the SNPs so that they can now set up whatever multi-view displays they need, wherever they need them. The SNPs supply 32 individual signals from each location, a much greater capacity than previously, allowing them to monitor as required and to reach other media supported areas and classrooms within the same building.
System Redundancy
One important development in the latest version of the SNP software allows them to incorporate the multiviewer functionality. "We can put up additional multi-view displays wherever we need them," said Tony. "That is also great for redundancy – we like to duplicate as much of the system as possible, to minimize the chances of down time.
"Also, if the medium-term future calls for social distancing, SNP multiviewer control allows us to reduce the number of people in the CCR by posting support staff in designated equipment rooms. Over the network, any technician in any location can control any combination of sources and destinations."
The system desgn has allowed them to remove a large SDI broadcast router and replace it with a completely non-blocking Cisco 256 x 256 HD router, a 1RU enterprise-class ethernet switch. The router acts as the core of the IP router fabric, and gives DELTA the freedom to grow and connect any device to any other.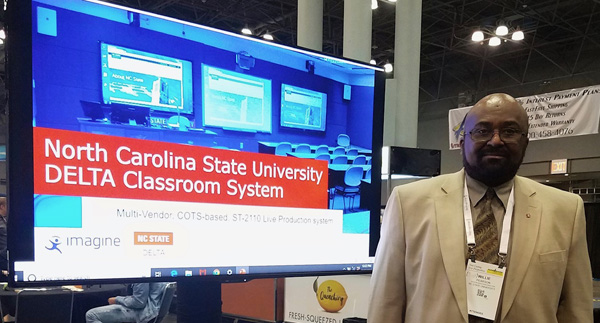 Tony Pearson is senior associate director of Video Communication Services at NC State, and is part of the Distance Education and Learning Technology Applications (DELTA) team.
Working with the AV integration team and Imagine, the system was up and running quickly and the team was ready to support classes within their 45-day window, in time for the start of the semester in August. The initial design and implementation still required encoding sessions for delivery and recording them inside the classroom.
But four months following completion, the redundant Selenio Network Processor at the core was configured for IP-to-SDI, in order to centralise the classrooms' capture encoders. This creates further redundancy at the core and means the operators can switch over to standby encoders in the CCR. All redundancies are directly controlled by Imagine Communications' Magellan SDN Orchestrator.
In Sync
"A major concern for us was that all sources had to be synchronised. In an IP network, that is best achieved using PTP (precision time protocol), which is defined within the ST 2110 standard," Tony said. "Because ST 2110 handles video and audio separately, rather than embedding the sound into the pictures, we needed excellent system timing to ensure lip-sync as well as clean switching."
These tasks have to be taken care of with minimal latency, as there are times when an operator needs to take control of a device in a remote classroom. Another concern was that fibre runs of over 10km might be too far for high bandwidth IP signals to reach. This was, in fact, one of their biggest concerns during the installation period, but fortunately never caused any problems.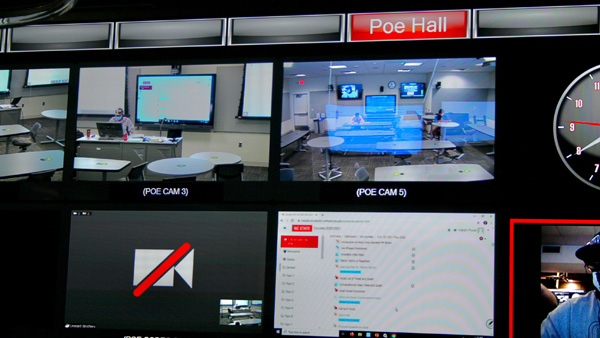 Using tallies and reverse video feed to address classroom problems.
Achievement
Tony mentioned the pride the team feels in what they have achieved. The system is designed to support eight monitoring stations, of which seven are currently in operation, and comprises 25 to 30 encoders that can be monitored at any time, from any of their facilities. He said, "When we bring visitors into our CCR they are genuinely impressed by what they see. The encoders are streaming live, and at the end of a class, the video is made available on demand within 15 seconds."
All workstations include tallies and talk back for each classroom so if there is a problem the instructor only has to push a help button. The technician can then use a reverse video feed to appear in the classroom and talk through and resolve the issues quickly.
"What I am most proud of is that we have implemented a system that is transparent to the end users," said Tony. "Our faculty can just proceed with their teaching and everything works behind the scenes. That is the main value of the system we designed with Imagine Communications and Cisco products, resulting in the flexibility and scalability to continue making NC State and DELTA a primary source for distance learning." imaginecommunications.com