Aputure Asia Live Streams to Users with ATEM Mini and Pocket Camera 4K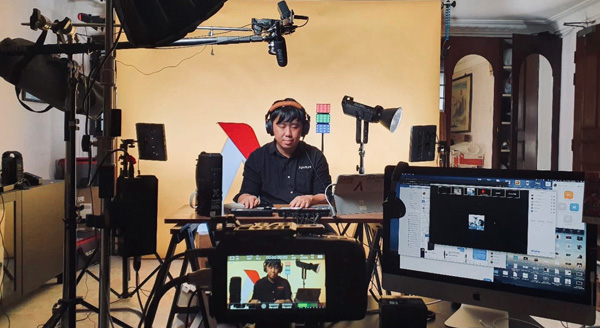 Aputure is a specialist designer of cinema lights and lighting modifiers with offices in the US, Europe and Asia, and has started live streaming product update news to customers and the filmmaking community from their main Asian office in Singapore. The new live stream, which began in March, can be viewed on Facebook as part of the public Facebook Aputure Asia User Group.
The stream, hosted by Aputure's Asia Pacific Marketing & Sales Director Jimmy Lim, takes place twice a week. One session is done in conjunction with Aputure US and focusses on Aputure Lighting Certifications, culminating in a weekly quiz in which winners receive certifications and products. The second stream includes weekly interviews with guest directors, DPs, photographers and gaffers, as well as wider discussion on camera work and lighting, and customer stories presented by Jimmy.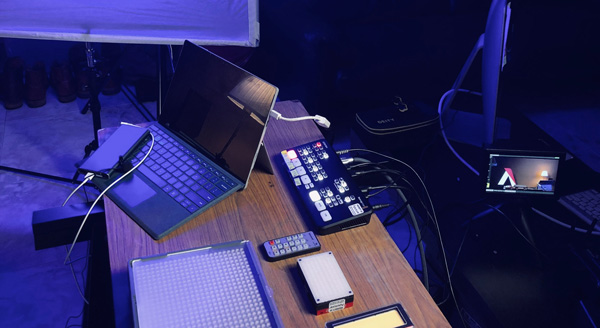 He said, "Streaming is more important now than it has ever been. Brands should be staying in touch with customers, and doing everything they can to keep the feeling of a connected creative community going. That is what we are doing with these streams."
Jimmy oversees each stream with two other Aputure team members – one in charge of audio and external monitoring stream performance, and the other for master control and onsite stream performance. Two Blackmagic Pocket Cinema Camera 4Ks, one for wide shots and one overhead for close ups, are switched live through an ATEM Mini switcher, which they also use for live picture-in-picture graphics. The overhead camera is fed into the ATEM Mini through a wireless transmitter.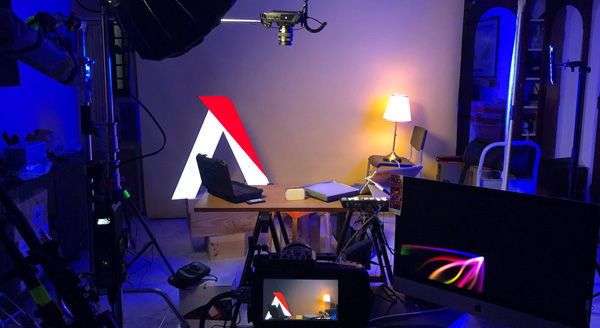 For audio streaming, lavalier or shotgun mics made by Deity Microphones are fed directly into the Pocket Cinema Camera 4Ks, which are also used to dial in audio signal strength. From there, the final switched feed is sent live over OBS (Open Broadcast Software), which is free, open source software for video recording and live streaming.
"Because the quality of the live streams will reflect the quality of Aputure's products, the streams we produce have to look good," said Jimmy. "Also, since the Pocket 4K is the same camera we use on our product commercials and lighting tutorials for the Aputure 4 minute Film School, we know that the Pocket cameras and ATEM Mini will output a professional looking stream, efficiently. The camera/switcher combination is easy to set up anywhere we need, and we love the look it gives us.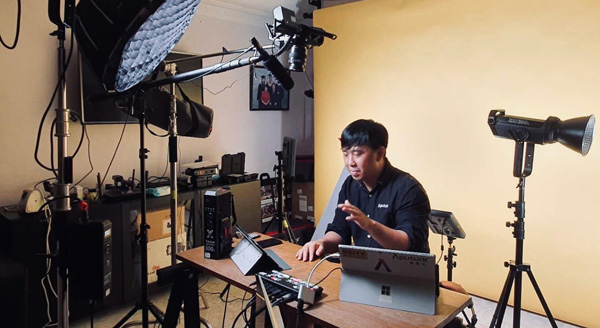 "The ATEM Mini worked with OBS quite easily and allowed us to connect a lot of different devices, both wired and wirelessly, without any issues. It has a clear and concise controls layout and gives us all of the options we need to switch video and audio for the stream."
The buttons for selecting sources, video effects and transitions, plus audio mixing, are on the front panel. Buttons are large so that the presenter can do the switching on his or her own, by feel. HDMI connections for cameras or computers are on the rear panel, with extra microphone inputs plus an HDMI 'aux' output for program video. www.blackmagicdesign.com