Sixty40 Production Studio has produced a music video for recording artist Harmonic 313 and his latest single 'Battlestar', pioneering a new stereoscopic camera technique to create a low-fi 3D effect. .Digital Media World Magazine issue 116 out now
---
click for larger images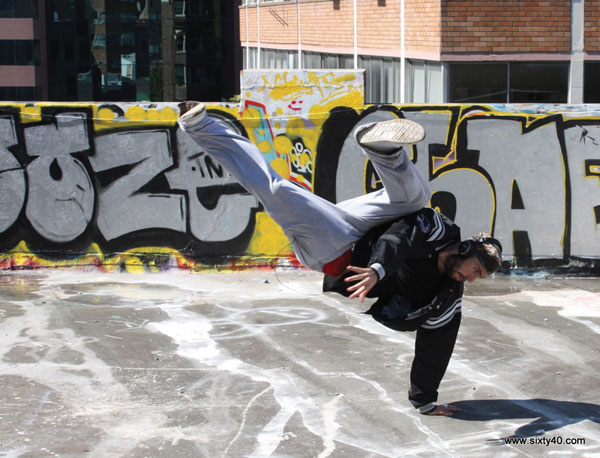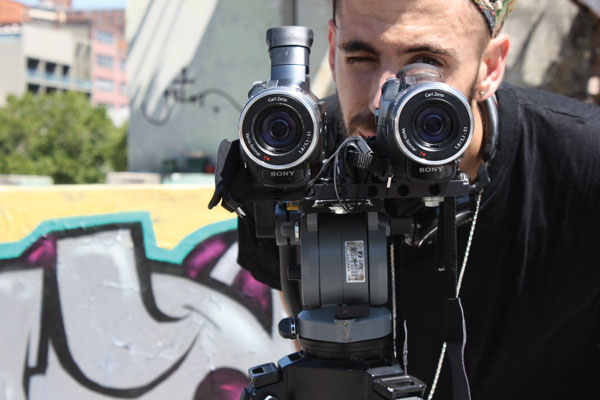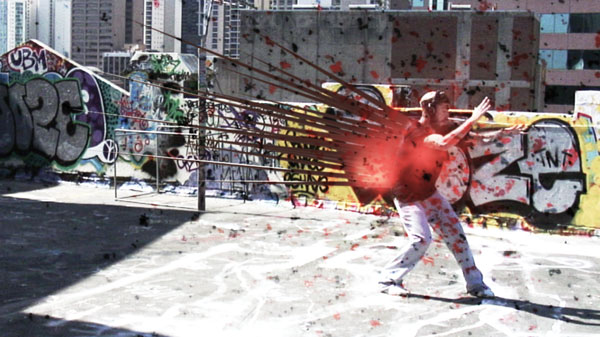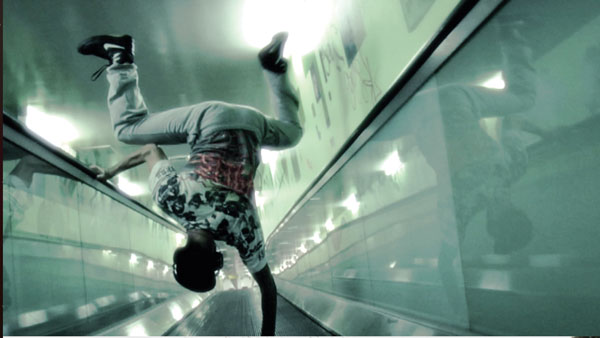 As admirers of the optical trick of making animated .gifs from stereoscopic pairs of photos, they decided to translate this technique into moving footage. Knowing that a person's two eyes feed 3-dimensional information to the brain to help judge distances, locations and speeds, they aimed to trick a viewer's brain into sensing 'binocular fusion' or stereopsois by blending two views into one moment in time in their video.

Two Eyes
Sixty40 therefore shot their video stereoscopically on two identical cameras separated in space to mimic two eyes. The clip uses a flicking technique, swapping from one camera to the other, as in the two-frame animations of stereoscopic pairs. In this way, a sense of depth is given to the footage by changing between the left and right eye views between each frame. In moving footage, this creates a sense of depth and adds intensity to each scene, resulting in an original vision for the artist's style of music.
To dramatise the hip-hop track, the crew recorded the performance of a b-boy dancer on two Panasonic P2 HD camcorders, which was also able to record their slow-motion footage at 50fps. They also used their own Sony HDV HC1E and hired another to pair it with. They shot on location at various venues, including a rooftop, near their studio in central Sydney.
They constructed a custom-built spreader on a tripod to hold the cameras an optimum distance apart, which took a fair amount of trial and error. HD quality shot in PAL widescreen was important for the 'two-eyes' footage because these sections of the video needed to be overlapped and integrated to achieve the correct alignment.

Post-Production
The post-production workflow began with exporting footage of their star's dance sequences from each camera to an HD QuickTime file, for each 'eye' view. These were edited in Final Cut Pro, adjusting according to dance quality and to progress the story line, and then exported again to two QuickTime files. In AfterEffects, they aligned the subject from both files in the frame, as they integrated the views from each 'eye'.
Some 3D animation was later mapped onto the live action in the form of violent black spikes emerging from the dancer and a nearby skyscraper to show that an alien had invaded. Mark Simpson at Sixty40, the Director of this production, said, "'Battlestar' is the most significant film clip we've made, for the level of freedom given to us by the artist and recording company Warp Records, and also for us to push our ideas into a full length clip. Harmonic 313 liked the result so much he went back and re-mixed his own track to fit the finished vision.
Sixty40 have recently set up a new website at www.sixty40.com where you can watch 'Battlestar' and other projects.
Stereo Spaceship
Harmonic 313 - aka Mark Pritchard - came to Sixty40 for his first ever film clip, although he had been releasing records since the 1990s. Sixty40 helped him choose which track from his new album would best suit video production, and helped develop the storyline. "Even a 'technique' video like this one needs a good storyline," maintains Director Mark Simpson at Sixty40.
'Battlestar' is the story of a deceptively small, binocular spaceship coming to earth and infiltrating an unsuspecting hip-hop dance pro in order to conquer the universe. Once invaded, the young dancer heads to the roof of a tall building to send off new parasitic ships. "When spaceships finally do attack earth, we'll never notice them until it's too late," Mark said. Sixty40 experimented and developed this new method to reveal the story through the two 'eyes' of this spaceship.
Featured in Digital Media World. Subscribe to the print edition of the magazine and receive the full story with all the images delivered to you.

Only

$77 per year.
PDF version only $27 per year
subscribe
Copyright 2009 Digital Media World for syndication please
CONTACT US